Friday
VCTR Tributes
Grandmother's Audience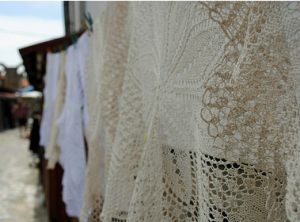 …as told by Sarah Cox to Elizabeth Richardson
originally published on the Chronicles of Chogyam Trungpa Rinpoche
Born in 1890, Sarah Louise Buffington, was an unusually self determined woman for her generation. With the onset of the First World War, she traveled to France (against her father's wishes) where she worked in a hospital, caring for wounded soldiers. She was a classical violinist and raised three children. In the mid-1970s, she encouraged her granddaughter, Sarah Cox, to pursue her interest in the buddhadharma. Before her death in 1983, Sarah Buffington made a connection with Chogyam Trungpa Rinpoche. This is the story of how they met.
Sarah Cox became a student of Chogyam Trungpa Rinpoche in 1975. She received a Certificate in the Performing Arts in Dance from Naropa in 1978. In 1980, she began to study Bugaku, an ancient form of Japanese court dance, with Togi Sensei. Sarah continues to practice, study, and teach dance in Halifax.
In July 1975 in Quissett on Cape Cod, I was hanging out with my grandmother on a hot summer day after lunch and she said, "What's on your mind?" I said, "Oh nothing." She said, "No, no, something's on your mind. " I said, "Well, actually, this brilliant meditation master has started a school called Naropa Institute in Boulder, Colorado and this wonderful dancer, Barbara Dilley, whom I met at Radcliffe, will be teaching there as well. My grandmother said, "That is not nothing. That sounds extremely creative and you had better go right away and check it out. I'm giving you a plane ticket for your birthday, so go next week!"
From that day on, my grandmother was always very curious about my meditation practice and Chögyam Trungpa. One time my friends and I were meditating up in the attic at her house, and when we came downstairs she said, "You've been meditating haven't you? I can tell. Don't be surprised if I join you one of these days!" When I mentioned my grandmother's interest to my friend Holly a few months later, she said I should find an opportunity to introduce my grandmother to Rinpoche.
I knew Rinpoche was coming to Cambridge later that spring and would give a talk at Harvard, so I wrote a letter requesting an interview. As the date of his arrival got closer, I kept in close contact with Rinpoche's attendant and had my grandmother save a few days that week to possibly meet him. I was delighted to get the green light one day, and we were even asked what we would like to drink at the interview. My grandmother liked to drink scotch, and I did too.
Originally my mother was not included in the meeting, but when I spoke to her that afternoon, there was this longing in her voice, and I asked if she would like to join us, and she said yes. I checked with the attendant, who said it would be fine and what would she like to drink? She also said scotch.
We went to the house in Cambridge at the appointed time, met my mother there and were ushered in. It was April and in the living room was a large Chinese vase with a beautiful spring branch of apple or cherry blossoms. Rinpoche's wingback chair was to the right of that and to the left was a couch along the wall. My grandmother sat to the left of the vase on the couch. I sat at the other end and my mother chose a straight chair across from Rinpoche's chair. We were all slightly nervous.
When Rinpoche arrived, he was wearing a pale grey spring suit, and his head was closely shaved. He was impeccable. He was having milk to drink. There was a moment of tremendous space and a kind of excitement and tension in the room. I wondered who would speak. My mother straightened her spine slightly in the chair and asked, "What will you speak about tonight at Harvard?" After a short pause, Rinpoche replied, "Well, first, I'll look around at everybody and then I'll know what to say." At that my grandmother slammed her fist down on the arm of the couch and exclaimed, "Oh, how intelligent! I wish all our politicians were like that!" And then my grandmother said, "You know Myth of Freedom? I just love that title. I've read all about you in Born in Tibet. Would you like to know where we're from?"
During the course of the interview, Rinpoche was offered a cigarette by his attendant, and my grandmother, after a moment said, "You know I think I'd like one of those too." Then we all smoked along with him. Later as Rinpoche crossed the room to leave, my grandmother uncharacteristically stood directly in front of him and gazing up into his face said, "I could just talk and talk to you." He smiled tenderly back and said, "Don't worry, we have plenty of time."
After he had gone and my mother and grandmother and I were standing on the porch waiting to leave, my grandmother gave me a look and said, "That was no interview; that was an audience. I know royalty when I see it."
Before the audience, while we were getting dressed at the Ritz, my grandmother had been teasing me about my new lacy slip and new dress, raising an eyebrow. Later, after meeting Rinpoche, she said: "Oh, I can see why you did that. He's so handsome!"
A few years later, when my grandmother was dying, we were all gathered around her bed, and she said to her three children: "You should all be very curious about what Sarah's doing with Buddhism."
~~
Have a story to share? Please send it to us!
Post Tags:
Chogyam Trungpa
,
VCTR Tributes
Share: