Wednesday
Atlantic Canada, Shambhala News Service
New Director of Dorje Denma Ling
The Kalapa Court is pleased to announce the appointment of Ms Heather Scott as the new Executive Director of Dorje Denma Ling, effective October 19.
Mr Lennart Krogoll, outgoing director, is retiring after 3 years of devoted service to the Sakyong's vision. He served with particular skill and inspiration in bringing Shambhala into the local neighborhood — making great friends for Dorje Denma Ling and creating relationships that will help Shambhala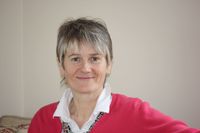 vision grow in Nova Scotia. Please join us in thanking Lennart for his loyal service.
Heather Scott has lived in the neighborhood of Dorje Denma Ling before it existed. She first connected with Shambhala when she attended a Level I there in 1994 and served on the Dorje Denma Ling Council from 2009-2014. Heather has experience working in a number of nonprofits, was instrumental in setting up and establishing Shambhala Online, and is working on her PhD. in Transformative Leadership. She is looking forward to bringing her training, passion and inspiration into her service as director. Please join us in welcoming Heather to her new position.
Post Tags:
Atlantic Canada
,
Shambhala News Service