Tuesday
Sakyong and Family
Letter from the Sakyong Wangmo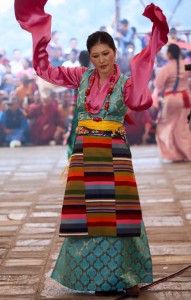 The Sakyong Wangmo writes to us from Nepal
As we prepare to celebrate the birthday of the Kongma Sakyong, I felt inspired to share some thoughts and feelings with all of you. As everyone knows, this has been a tremendous year for our family, first with the birth of our third child, Jetsun Dzedron, as well as the continued deepening and expansion of the Shambhala teachings with the many deep retreats and public programs that the Sakyong has led, all of which have deepened our understanding of basic goodness and enlightened society. After teaching a public program in Poland for the first time, the Sakyong then traveled to Nepal where I joined him along with Jetsun Drukmo, Jetsun Yudra, and Jetsun Dzedron in order to attend a very important empowerment ceremony at my family lineage's monastery in Pharping.
This was an important moment for my family because my father, His Eminence Namka Drimed Rabjam Rinpoche, conferred for the first time in its entirety his personal collection of teachings, known in Tibetan as gongter, or "mind treasure." He first started to receive and compose these teachings in Tibet and has continued to the present day. As young men in Tibet, he and the first Sakyong often shared their vision, insights, and inspiration. Now, many years later, that collection of teachings is being passed on to and held by our Sakyong. This joining of the Shambhala lineage and world with my personal family lineage and clan of the Ripa tradition was especially important for me.
In attendance were tülkus, khenpos, monks, nuns, and a very large lay community of Himalayan people from Nepal, Bhutan, and India. A cheerful group of Shambhalians, as well as students of Ripa Centers from Europe, Russia, and Southeast Asia, were also in attendance, I am happy to say. The days were quite long, with a lung, "reading transmission," given by my brother, Dungsey Lhuntrul Rinpoche, every morning, and the abhishekas, "ritual empowerments," conferred by my father in the afternoons. At the end of each day, the Sakyong would then lead the individual bestowal of the empowerments to the entire monastic and lay communities, which often numbered over a thousand people.
Between the empowerments, the Sakyong and I would meet with local dignitaries and students, and in the midst of it all the Sakyong gave a talk to all of the Western students gathered, explaining the significance and meaning of the ceremonies. For my family and myself, the entire experience was very moving, for my father seemed especially happy and sometimes quite emotional since he was passing on his life's work. It was a very deep, significant, and busy time. Everything ran smoothly under the guidance of my brother Gyetrul Jigme Rinpoche.
At the conclusion of the abhisheka ceremonies, my sisters and I were invited to lead the sacred Lingdro dances associated with Gesar of Ling. This was a wonderful and inspiring occasion with both male and female warriors dressed in ancient costumes of Ling performing a circular dance of warriorship.
After the abhisheka was completed, the Sakyong did a personal retreat, which I was very happy about since he had been constantly traveling and teaching. What often strikes me is how the Sakyong is so deeply immersed in both the profound and ancient traditions of Tibet and his understanding and familiarity with the West and our modern culture. It feels as though he is tirelessly working for all of us and I believe for the true betterment of the world. I was glad that he could have some time to rest and rejuvenate. I'm also very happy that the Sakyong will be performing pujas for the health and prosperity of our community before he departs Nepal. These pujas are something that the Sakyong does annually, and I am delighted that he will be able do them this year in Nepal.
I feel inspired to share with all of you that one of the main messages and teachings that came from my father's mind treasure were the teachings on Gesar of Ling and warriorship. Therefore I would like to encourage all of you to take to heart our profound, rich Shambhala teachings on warriorship. More than ever, I feel a spirit of fearlessness and gentleness encouraging us to go forward. As a mother, I feel especially moved by these teachings because they provide guidance and inspiration, not only for my children but for future Shambhalians and warriors to be.
As I write to you here in Nepal I feel a great sense of blessing and good fortune to be connected to all of you. I wish to extend my love and tashi deleks to all of you.
Yours in the vision of Shambhala,
The Sakyong Wangmo, Dechen Chöying Sangmo
Post Tags:
Gesar
,
Gongter
,
Namkha Drimed Rinpoche
,
Sakyong Mipham Rinpoche
,
Sakyong Wangmo