Monday
Community Articles, Featured Stories
A Polish Monk Finds Home
Nordzin's Story: A Gampo Abbey Reflection
by Tsondru Nordzin (Jarek Paslawski)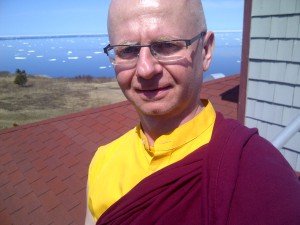 Before coming to Gampo Abbey, I lived in Poland where I was born. I worked for a logistic forwarding company as a manager. Having job and a family with two children, going to a place like the Abbey seemed best left in the realm of my dreams. Sometimes, though, life surprises us by writing a new scenario.
My first interest in meditation began 10 years ago when I was 38. At that time, I discovered that I have a mind and it is workable. I was very lucky, as I spent only half a year exploring the virtual spiritual "hypermarket" on the Internet. I tried to find something spiritual, but didn't want anything connected with a religion. Buddhism especially was instantly bypassed in my search. Ironically, I eventually found my way to Shambhala, mostly by chance. After completing level 1, I felt that Shambhala was truly my path. I was home.
After starting in the vajrayana, at some point I felt that I would like to deepen my practice. Practicing my sadhana quite regularly, I felt like it influenced my life a great deal, but still something was lacking. There was a sense of chaos, and a lack of grounded view. So, when in my life a new situation popped up unexpectedly, what came to my mind was attending the One Year Monastic Training at Gampo Abbey. It was not an easy decision, but I really felt confident that it would be beneficial for me. Now, as my monastic retreat is coming to an end, I have to admit it was the best decision I have ever made.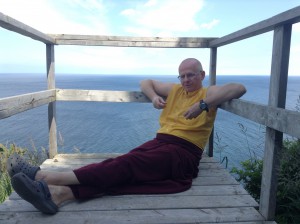 Life at Gampo Abbey is not only meditation, but also studying, developing, systematizing and grounding the dharma view. Whatever one learns can simultaneously be put into practice and applied to life. Living in community, there are plenty of situations every day that provide opportunity to watch one's mind during interaction with others. Through the process of regular practice, the mind gradually becomes calmer, more clear, open and sensitive. The actions, actor and their results are more vivid. You do feel more and more.
During solitary retreat in the cabin, you have an occasion to deepen even further. Ten hours of practice a day is quite a shift. You really feel balance and strength. Such a mind is pliable and easy to work with. You feel peace, confidence and absence of fear. Joy and appreciation appear; everything becomes simple. You feel like you are complete, and you don't need anything more.
Soon I will be back home in Poland. I realize that I cannot take these insights with me, but now I know how it is. This pliable mind I have access to can be my ally, but can also be challenging. At the end of my time here, what I have to express is my gratitude toward all the people I have met during the monastic training program. I have never learned in my life learned so much as I have over this one year, just by being here at Gampo Abbey with all of them.
Jarek Paslawski lives in Poland, Szczecin. He is 49 years old, has two children and works in the field of logistics. In his free time, Jarek enjoys running, doing yoga and dancing the tango.
Post Tags:
Gampo Abbey
,
Poland
,
reflection