Thursday
Featured Stories, Practice Centres
Work Together and Rebuild
KTC meditation center in Columbus, Ohio, severely damaged by fire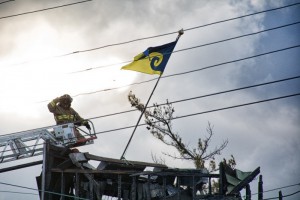 News of this weekend's fire has been spreading quickly through the Shambhala community, gathering support for our friends and fellow practitioners at Columbus KTC. The following story originally appeared on their fundraising page, as they reached out to connect with others and begin drawing together the resources needed to rebuild.
We all were saddened to see the devastating fire that damaged the Columbus Karma Thegsum Choling (KTC) building early in the morning of Sunday, Jan. 31, 2016. The former church has been the KTC's home since 1990; the center itself has been in Columbus since 1977.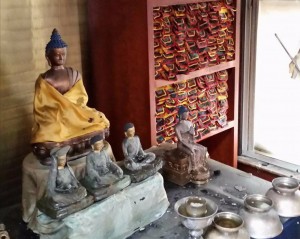 On the day of the fire, while investigators searched for a cause, KTC friends and neighbors from our Franklinton neighborhood helped us salvage some of our most precious shrine items: Our original Buddha statue filled with mantras and relics and dating back to the founding of the center; our set of Buddhist scriptures, singed but still whole; and a few statues given to us over the years by our spiritual friends and teachers. Thus we have salvaged a few of the external supports of what are called the Three Jewels of Refuge: Buddha as the teacher; Dharma as the path; Sangha as the guides and companions.
Upon hearing of the fire, Khenpo Karthar Rinpoche, the abbot of our home monastery in New York, gave us precious advice: "Do not be sad; work together and rebuild." Rinpoche said that rebuilding our center was the best "prayer" we could perform in the face of this devastating change.
Since the fire, we've been touched by the many offers of help we've received via telephone, email and social media; thoughts and prayers have been shared with us by people of all faiths, showing that a diverse community like ours can come together at times of difficulty. We started this GoFundMe page to thank everyone for their prayers and to give them a practical way to contribute. We will regularly keep you updated on what we learn about the fire and its causes, and what our little community of Central Ohio Buddhist followers is doing to carry out the "prayer" of rebuilding our center.
Our home in Franklinton – where we have sheltered our aspirations to spiritual growth and trained a generation (or two!) of local meditators – has been destroyed, but from the true residing place of love and blessing in our hearts, may we all come together to manifest a new place of refuge in the heart of Columbus.
We've set an initial goal of $108,000 to help pay for costs and furnishings not covered by insurance, to rent space (if necessary) to house our programs in the coming weeks, and to form the basis of our next steps – whatever they might be – to provide a home for our dharma family in the days to come. Donations large and small are welcome. Any unused donations from this initial phase will go toward what we anticipate will be our next step – a capital campaign to bring the KTC "home" in the future.
Thanks for whatever help you may offer. You have our deepest appreciation.
May all beings benefit!
Post Tags:
Columbus
,
Karme Thegsum Choling
,
KTC