Sunday
Featured Stories
Crossing Into New Territory
A Shambhalian caregiver shares his personal experience of caring for his parents during their passages through dementia, illness and death
by Larry Barnett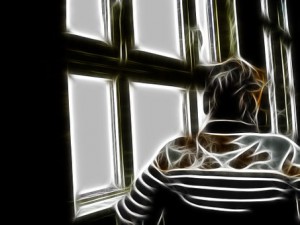 I knew we'd crossed into new territory when my father called me at midnight. "Where are you? I thought we were having lunch today," he said matter-of-factly. "We are going to have lunch, Dad," I replied, "But that's not until noon." "It's past twelve-o'clock now, where are you?, he asked. "Dad," I said, it's midnight now, not noon. Have you looked outside and seen how dark it is?" "Shit," he exclaimed, "I guess I'm confused." "It's ok, Dad…go back to sleep and I will see you later in the morning. Get some rest. I love you." I hung up and lay in bed for a while, then got up and made some Oolong tea.
The last years of my father's life were difficult. One physical problem after another plagued him, and he was not by nature a patient man. An engaging, scrappy Brooklyn boy who earlier in life had been successful, charming and full of stories had by 90 years-of-age become stubborn, controlling and angry at his own failing body. He had never cultivated an internal or spiritual life, and as his eyesight, hearing and heart function steadily diminished, he became deeply depressed, and began to slip into episodes of paranoia. He could not and would not talk seriously about dying.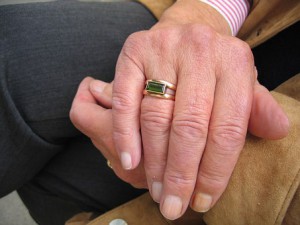 My sister and I had earlier agreed that having him move close to me would be best; my mother (my parents had divorced long ago) was aging poorly as well, and was already leaning heavily on my sister. My father eventually agreed to move from New York and relocated to a small apartment three minutes from my home in Sonoma, CA. His wife had died, his friends had died and I, alone, was the only person in the world he would trust.
As time went on I became his daily caregiver. His ability to keep himself clean slipped away. A man who used to come home from his his day at the office in a suit and tie and would scrub himself like he worked in a coal mine began to look shabby and dirty. I clipped his nails, cut his hair, and washed his body. He became attached to certain items of clothing; a torn blue sweater, worn-out sneakers, frayed and stained blue-jeans. He refused to wear anything else.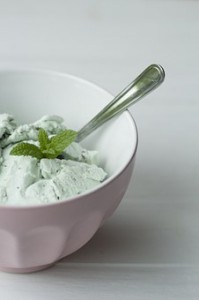 As his taste-buds and sense of smell faded, he'd only want to eat ice cream – mint chocolate chip. Despite all this loss, he desperately continued to try to exert control. He could not see well enough to write his own checks, so I wrote them for him; he would make me read what I had written back to him two or three times. While driving him to a doctor's appointment, he would insist on telling me where to go, even though he could not see well. The less capable he became, the more controlling and angry or depressed he behaved.
He became convinced some "hit men" from New York had been hired to shoot him, and called the police. He then called me and I went over to his apartment. He was calm and seemingly rational; there was no talking him out of his opinion. I realized that I needed to agree with him, to enter his delusion in order to help solve the situation, systematically explained to him how "thin" his "case" was, and that we needed to get more and better evidence before involving the police. He agreed and I cancelled the 911 call that he had made. Tellingly, though consciously he was unable to face his own mortality, his subconscious fed him tales of death.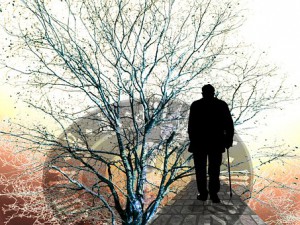 My own life had been put on hold. Caring for my father became my full-time job and preoccupation, but also my daily practice. At times it felt claustrophobic, but I would remind myself that a particular type of primal debt was being paid, that early in my life others had cared for me in every way, that not everyone is given the opportunity to gain this particular merit. I relied on my meditation practice, and its lessons of observation and examination. I watched my own emotions rise and fall with my breath. Stepping outside, I would raise my gaze skyward and come to rest in open space. At other times, I would simply cry.
This went on for a year; we lunged daily from one crisis to another, until his failing health was more than even his stubborn will could resist. While his dependence upon me increased, there was less and less of him I knew. In many ways the father I had loved and known for so long was gone. I can even say by that time though I loved him, he was very hard to like. We Buddhists speak of selflessness, but rarely find it so close. Caregiving is perhaps the practice of realizing selflessness.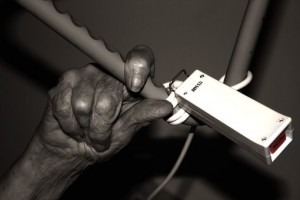 When he landed in the hospital, his heart and kidneys failing, his doctor and I agreed that hospice was in order. He could be kept alive for months, but it would be at the cost of tubes, transfusions and sedatives. In his earlier, more competent days my father had clearly expressed that being kept alive at such cost was not what he wanted; he'd even put it in writing. I brought him home to die, though we never discussed it.
We stopped his medications, and he had periodic bouts of agitation and anxiety. He'd sit up, call me to him and say "It's time to leave, the car is waiting. Let's go!" Another time he asked me to find his wallet and bring it to him. He opened it, pulled out his American Express card, gazed at it, and then slipping it back in hugged his wallet to his breast and fell asleep. Ultimately, his strength gave out, and within 10 days he died in his sleep, his hands grasped tightly around the rails of the hospital bed we had set up at home. I chanted the Heart Sutra and burned incense over his still body. When I presided over his cremation, I noticed his hands remained as they had been when he had died, still grasping for dear life though holding nothing, and I thought about my own acts of grasping.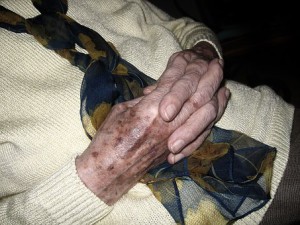 A year later, my mother neared death in her apartment in New York. I'd go back every few weeks to help look after her. Her passing was quite different from my father's, though she too had entered an imaginary realm; confused about where she was kept asking to "go home." I'd walk her to the elevator, get in with her, let the doors close and then open the doors again without moving. "Here we are, Mom," I'd say. She'd smile at me, we'd get off and go back into her apartment.
Knowing she was dying, she asked me one day, "How long will this take?" I explained that none of us know that answer, and we both laughed. Three days before her death, she asked to sit up on the edge of her bed. My sister sat on one side of her and I on her other. My mother leaned towards me. "Oh, Lar," she said,"it's just not fair." I knew she was talking about the effort of dying. She looked me in the eyes and smiled, "Get out while you can," she teased softly with her last words to me, and we gently laid her back down to sleep.
A month later, my wife told me about the fast-growing lump in her breast.

Larry Barnett is Shambhala's former Director of Communication, a past Center Director and a past SMC Board Member. He lives with Norma, his wife of 40 years, in Sonoma, California. Larry has two children and three grandchildren.
images courtesy of Pixabay
Post Tags:
care for the caregiver
,
care giving
,
caregiving