Monday
Community Articles
After the Bodhisattva Vow
Members of the Portland Shambhala Center work together to create community and connections for those who have taken the Bodhisattva Vow
by Jan Rogerson and Willa Rabinovitch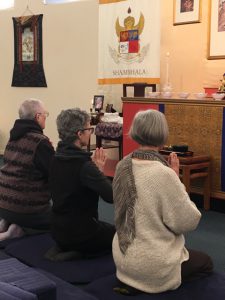 The Bodhisattva Vow ceremony, attended by family, friends and sangha, was moving and inspiring – a momentous and life-changing event.  Afterwards, we wondered how to maintain a strong connection to the vow and its significance in our practice and our lives.
Acharya Gaylon Ferguson visited the Portland Shambhala Center in June 2015 and taught for two days on the Bodhisattva Vow.  His encouragement to all of us vow-takers included: 1) Practice the Mahayana Morning Liturgy; 2) Study Chogyam Trungpa's The Bodhisattva Path of Wisdom & Compassion; and 3) Study Shantideva's The Way of the Bodhisattva. Inspired by these instructions, we set about implementing them as a way of strengthening our bodhisattva practice.
We had several challenges to work with.  One was finding a space for our Bodhisattva Path Study Group.  The Center's calendar was chock-full of evening programs, so we first considered holding the study group in a sangha member's living room.  But as word spread about the study group, interest quickly blossomed to more than a living room could hold.  So we proposed a creative solution to the Center leadership:  if our study group assembled quietly 15 minutes after shrine room programs started and if we ended 15 minutes before those programs (giving us 1.5 hours to meet), could we use the common area to meet in?  The answer was "Let's give it a try," and it has worked out beautifully.
A second challenge was finding someone willing and capable to guide the study group discussion.  After much casting about, we were very fortunate when our Center Director, Lisa Stanley, recommended we ask Ray Sten, a long-time and serious student of the dharma, if he would be interested.  This turned out to be an auspicious and inspired suggestion, as Ray has been a wonderful guide.  His calm, incisive and learned approach has been a great model for others in the study group, who have found the courage to step up to leading the conversation when Ray occasionally has been unable to attend.  We decided to start with Shantideva, and have been having great discussions about this inspiring text, using Pema Chodron's No Time to Lose as an additional resource.
Another challenge was finding a good time in the schedule for the Mahayana Morning Liturgy Practice.  As a place to start, we finally settled on Tuesday mornings at 9:30 a.m. – after the Center's regularly scheduled morning meditation practice.  This 9:30 a.m. time makes it difficult for those who are working during the daytime to attend, but early morning meditation occurs daily at the Center, and we wished to practice before noon, especially considering that this is a morning liturgy practice.  Most attendees are retired, but also are able to commit to keeping the practice going so that it is reliably available for drop-ins to attend.
We've also been taking turns learning how to be the umdze or the drummer, and have had some fun times learning how to coordinate body, speech and mind.
The study group meets twice a month (second and fourth Monday evenings) and the liturgy is practiced twice a month on the second and fourth Tuesday mornings.  The regular inspiration that these activities provide has been an important support to those of us in Portland traveling the bodhisattva path and bringing Mahayana practice and study to our sangha feels like a small step on that path.
And now as long as space endures,
As long as there are beings to be found,
May I continue likewise to remain
To drive away the sorrows of the world.
Shantideva, verse 10.55
---

Jan Rogerson serves as a member of the Shambhala Working Group on Aging.
Post Tags:
bodhisattva
,
bodhisatva vows
,
generosity practices
,
Portland
,
vows