Monday
Featured Stories
America and Me/Shambhala and Me
Part one of a three part series describing one Shambhalian's experience growing up as part of an interracial family
by David Ken Engelbrecht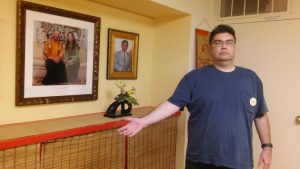 The essence of warriorship, or the essence of human bravery, is refusing to give up on anyone or anything. We can never say that we are simply falling to pieces or that anyone else is, and we can never say that about the world either. Within our lifetime there will be great problems in the world, but let us make sure that within our lifetime no disasters happen. We can prevent them. It is up to us. We can save the world from destruction, to begin with. That is why Shambhala vision exists. It is a centuries-old idea: by serving this world, we can save it. But saving the world is not enough. We have to work to build an enlightened human society as well.  – Chogyam Trungpa
It was Sunday, May 8th 2016, a partly sunny day with a mildly chilly breeze, when Michaela McCormick, a member of the mandala-wide Diversity Working Group, and I met for coffee at a Starbucks in Portland, Oregon.  She had recently gotten her proposal for starting a Diversity Working Group at the Shambhala Meditation Center of Portland approved by our council. She asked me if I would be interested. I read the proposal and said yes. We had a great conversation, and talked about next steps. I suggested we write our stories of our experiences with racism, discrimination, stigma, and how we got to The Kingdom of Shambhala. We could then post them on our center's blog. This is my story of America and Me/Shambhala and Me.
I was born on September 15, 1974. My dad is white, college educated, a veteran, and worked at the Veteran's Administration for twenty-nine years. During the Vietnam war, he was stationed in Japan, and this was where he met my mother. My mother grew up in post World War II Japan. She had a high school education and was poor. They married and moved to America. My dad's brother said, "So you married a f***** Jap." This was how my father's family welcomed my mother to America. Back then, interracial marriages and interracial children were not as common as they are now.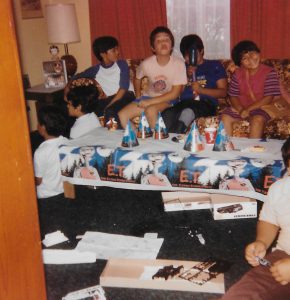 My dad wanted to raise me in a mixed neighborhood in Los Angeles. Instead, we moved into an area that was changing. The white people were moving out and it was becoming a predominately Mexican part of town. At home, I either ate fried chicken and mashed potatoes ,or sashimi and white rice. When I went over to a friend's house, I might eat menudo and corn tortillas.
During the fourth grade my mental health challenges started. The stressor was that my parents were going to get a divorce. Mental illness ran on both sides of my family, so I might have been genetically predisposed. This first, but not last, stressor led to me acting out in school. I was assessed by the school psychologist. It was recommended that I be put on medication, but my parents did not want that. Instead of getting me non-pharmacological treatment, my parents sent me to a school in a different part of town. This different part of town was Brentwood. The public school there was much different. I soon learned about socio-economic class in America. The second major stressor happened on the school bus in the 6th grade. I won't go into the details. Some things belong in and will remain in my therapist's office. All I will say is the trauma was physical abuse.
When I got to junior high school, I showed signs of depression. I sat in a corner. One day a girl came up and asked me if I was OK. I said yes. She then said, "Are you sure?" and I said yes again. I was too young to know what was going on. I also did not know I was going to be a target for the bullies. I went to a school where some students were bused in from other parts of Los Angeles. Some were in gangs. I remember the students' self-imposed segregation on campus. Being half white/half Japanese, I really didn't know where I fit in.
My parents were closer to divorce and were not really involved in my life. The bullies started their ruthless verbal and sometimes physical abuse with no adults to stop them. They called me Fat Jap or Lard. Sometimes they choked me or threatened to kick my ass. If I did my homework, they tore it up. My hygiene deteriorated. I was doing poorly in school. I was assessed again. The school psychologist asked me to draw a picture, and I drew one of Freddy Kruger from the Nightmare on Elm Street movies. She interpreted it as my dad sexually abusing me. This was not the case, but nobody would believe a disturbed teenager. Social Services got involved. There was neglect at home, but no sexual abuse. My parents got divorced and I went with my father. We moved out of the county. My mother married a younger man who was an alcoholic. I dropped out of school. I dropped out of society. I was angry. I hated mental health and social workers. I would go into a long period of social isolation.

The loneliness was great. My dad had a long commute and wasn't around. One day, I decided to hang out with the bullies again. They were better than the isolation. The bullies were now going in and out of juvenile hall. They were violent and getting into drugs and alcohol. Some came from traumatic backgrounds. Others were in gangs. They were being expelled from school. They were outcasts. I felt like an outcast and felt I belonged with them. I started drinking at age 16 and got into drugs at age 17. I got a tattoo of "Lard" on my arm. Any identity was better than none (this was "me" proclaiming that "I exist").
Things reached a climax when I found myself a witness in a murder trial. The bullies I grew up with wanted me killed because I was a snitch. I was now an outcast of the outcasts.This was when I descended into the dark world of mental illness and addiction. The despair was great. I did not know what was going on anymore. I was confused and lost. I wandered around aimlessly. My life was pointless. Ignorance became dominant. Wisdom and compassion were hidden. This was 1994.
Between 1995 and 2009, I was in and out of psych hospitals and rehabs in Los Angeles. People living with mental illness and addiction could end up in the health care system, the legal system, or both. I was lucky, because I ended up in the health care system. I didn't go to prison. In California, the inmates self-segregated in the prisons. There were race riots. Where would I have fit in?
2009 was my last year in Los Angeles. I was in a 28-day crisis house and I had a copy of a book by Pema Chodron. It was When Things Fall Apart. The first chapter is called "Intimacy with Fear." I had lived with extreme fear for so many years. I tried to get rid of it with alcohol, drugs, and psychiatric medications. Nothing completely or permanently got rid of it. Numbing didn't work. Stuffing didn't either. I had a great talent for turning a minor fear into a catastrophe with my imagination. I never thought about becoming intimate with fear and my other emotions.
I decided to talk about it with the therapist. I remember in his office there was a picture of two children dressed like Buddhist monks. I told him what I read and he seemed to understand what I was talking about. I told him I was interested in mindfulness and meditation. He let me borrow a book by Jon Kabat Zinn. At that time, I did not know I would one day find myself involved with a global meditation community that was connected with Pema Chodron.
Post Tags:
addiction
,
discrimination
,
mental health
,
Mental illness
,
race