Sunday
Dharma Teachings
Peace is in the Heart
A Harvest of Peace video message from Sakyong Mipham Rinpoche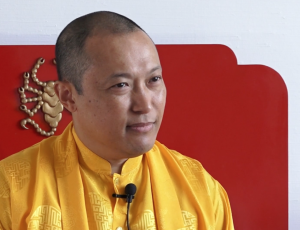 Click here to see the video, or read on for a transcript of the talk. Click here for a French-language translation.
Harvest of Peace 2016
Kongma Sakyong Mipham Rinpoche: Hello, everyone. Cheerful Harvest of Peace Day and season. This is an important time for all of us when we check in as a community at the concluding of the summer programs and as we head into fall. It's a wonderful opportunity to gather together and connect with the elements and the cycle of the year. I feel that this year particularly has been an extraordinary year, because personally I have spent many, many years trying to establish Shambhala as a true community with a sense of sangha and where our principles of basic goodness and enlightened society are actually manifesting, and that occurred at the Kalapa Garchen this year at Karmê Chöling, where we gathered a hundred of our key leadership from all over the world. To me it felt like the first time it wasn't based just on our meditation and practice, and it wasn't just a church element of our spiritual path. Rather, it included the Kasung, the economy, and the leadership. We had all the four pillars, and there was a real sense of solidity.
Shambhala is really moving into more of a community feeling, with household and children and how we live. This has always been my wish: to have a more holistic and balanced community, with the core message of basic goodness and enlightened society. I feel like if we become this and embody this, then this year and the next will become a process of us really manifesting and expressing basic goodness in the world.
Also on this day, I send greetings from the Sakyong Wangmo and our Jetsunmas—Jetsun Drukmo, Jetsun Yudra, and our newest member Jetsun Dzedron— who are all growing up quickly and are enjoying being in this family of Shambhala. To me it's a wonderful example of raising our literal family and growing up with these principles and teachings. Many of us are having families and thinking about the future, so it's a time when we are trying to include the families and the sense of family strength. When that occurs, there is a sense that we feel proud and confident about who we are, so much so that we want to share and raise our own families in it. That's a big shift in the Shambhala history, and we are to the point where I feel like it's happening. Especially now that we have many generations, it is an essential moment for all of us that there are actually these families. That's talking about the future. We are at a point where it's not simply about the past, and obviously not simply about what's happening now, but also how we are going to go into the future. That's a real sense of Shambhala raising its gaze, seeing into the future, and realizing that much of what we are doing now is establishing the basis for what is to come.
A strong theme that came out this year was a sense of our connection, our dedication, and our loyalty to basic goodness—and how when we as warriors of Shambhala maintain our loyalty to basic goodness, that becomes a foundation of how we can sustain ourselves, build community, and also help others. That sense of unequivocal dedication, loyalty, and confidence in our basic goodness is the basis of building this culture. If we have that, it begins to add a lot of power and strength. It also adds delight and a sense of cheer and clarity. We feel like we are participating in something deep, while also serving and offering. There is a real sense of raising our gaze, so we need to have a good seat as a community. Basic goodness needs to be planted in our heart, with the vision of how we can create a good world from this. So we need to be strong and have a sense of lungta.
Especially now, with so many challenging and difficult and painful situations happening around the world, there is probably more anxiety, fear, and trepidation than in recent memory about where the world is at. Themes like "Who are we?, How are we as a human being?, What is our basic goodness?, How do we relate to life?"—these are actually no longer just theoretical, or even spiritual, questions. Rather, it is really a human issue. For us, this is part of who we have been and are, but now it is actually needed in the world. Shambhala can now play a role.
Certainly on this day I invite everyone to gather, celebrate the season, and have a moment of deepening, contemplation, connecting to the heart, connecting to family and friends. Really the tenderness of the day and the tenderness of this time that we are living in, is allowing us to touch it. The teaching within Shambhala is really balancing bravery and courage, and also tenderness and vulnerability. So it is us working with these teachings of how to be vulnerable, how to be open, not just shut down. But also, that has to happen through a sense of bravery and extending out. So right now, it is important for us to have our community, and for that community to really embrace that deep feeling of human unconditioned goodness and how that feels. If we can do that, then we can actually begin to inspire other people.
To me, it is an important time for us and for what we are doing. And also, I think that as a community, as a Shambhala community, I am very happy because we are balanced more with all the different aspects of life. So on this day I really encourage everyone who is involved in the Dorje Kasung, who is involved in the economy and the enrichment of the community, who is involved in leadership training, who is involved in practice and study—in Shambhala meditation, the Shambhala Sadhana, the Scorpion Seal path, and all these—to realize that we actually have a very well-rounded community. And it's time for everyone to come together and to rise up in this way and to bond.
So on this day, I send my blessings and love to my friends here, and all of you and all of your family. May you have a wonderful Harvest of Peace, and may that peace be in the heart.
Post Tags:
Harvest of Peace
,
Harvest of Peace address
,
Sakyong Mipham Rinpoche