Tuesday
Featured Stories
Queen Mother of Bhutan
On Friday September 23rd, the Sakyong and Sakyong Wangmo hosted the Queen of Bhutan to tea at the Boulder Shambhala Center.  
by Melanie Klein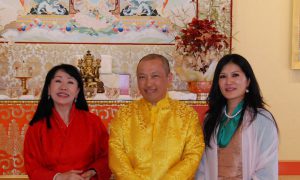 Known as the Queen Mother, Ashi Dorji Wangmo Wangchuck is the first wife of Jigme Singye Wangchuck, the fourth King of Bhutan, who abdicated in 2006 paving the way for his eldest son to assume the throne.  The Queen Mother leads the Tarayana Foundation which works to improve quality of life for the Bhutanese people, especially those living in remote areas. She is also the author of two books, one about Bhutanese culture and society, the other a personal memoir.
The Sakyong Wangmo, dressed in green and gold, greeted the Queen Mother in front of the Boulder Shambhala Center (known also as Dorje Dzong). From there she escorted the Queen Mother inside and through a reception line of smiling staffers offering khatas.
A tea reception followed in the Sakyong's private office brightened by colorful thangkas and the warm autumn sun.  Commenting later, the Sakyong reported that he and the Queen Mother exchanged books, and discussed the many connections that exist between Shambhala and Bhutan.
These connections include a request sent to the Vidyadhara, Chögyam Trungpa Rinpoche, by the Bhutanese royal family in the late 1960s. According to the Chronicles of Chögyam Trungpa Rinpoche, when the Vidyadhara was at Oxford in England the royal family asked him to seek out Prince Jigme Singye Wangchuck, then studying at Ascot, and provide him guidance during his stay. Soon after, the Vidhyadhara was invited to Bhutan, and while there he famously composed the Sadhana of Mahamudra at Taktsang.
After tea, the Sakyong and Sakyong Wangmo led the Queen Mother to Dorje Dzong's main shrine room, and there the Sakyong treated her to a personal tour.  Clearly taken with the Sakyong's description of the Rigden, the Queen Mother and her entourage offered prostrations at the Rigden shrine.  Strolling around the room, the Queen Mother, a warm and gracious figure, slipped her arm around the Sakyong Wangmo's waist and asked to be photographed with her hosts in front of the shrine.
The Queen Mother was in Boulder primarily because she was invited to speak at and participate in the Jaipur Literature Festival.  While she was here she also accepted an invitation to visit Naropa University which offers a student exchange program in partnership with Bhutan's Royal University.
Due to a change in travel schedule, it became possible for the Sakyong and Sakyong Wangmo to extend an invitation to tea.  Afterward, the Sakyong expressed his delight at having met the Queen Mother, and his appreciation of her humanitarian activity.  He was also pleased to know that Shambhala enjoys significant recognition in Bhutan today, and anticipates new and rewarding connections going forward.
Post Tags:
Bhutan
,
Sakyong and Family
,
Sakyong Wangmo