Saturday
Featured Stories
Shambhala Hosts the UNtraining
A daylong training session brings together individuals committed to unlearning their social conditioning around race 
by Robert Pressnall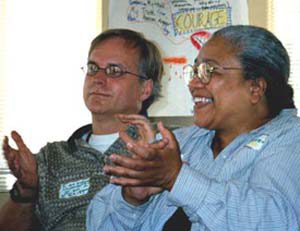 "Loving yourself is a political act. We are taught not to love ourselves, and from that place we are easily manipulated. Love yourself so much that this love changes the world."  – Rita Shimmin, co-founder of the UNtraining
Grounded in the view of basic goodness, both Shambhala and the UNtraining came together in a daylong program, Shambhala Hosts: The UNtraining, on September 10, 2016, at the Berkeley Shambhala Center. The UNtraining is a provocative and compassionate approach to heal our unconscious collusion with racism. The program was co-led by Shastri Charlene Leung and Ms. Janet Carter. Charlene is Chairperson of the Diversity Working Group in Shambhala, and  an UNtraining teacher; Janet is the Director of the UNtraining, and a long-time Shambhala practitioner.
Charlene expressed her joy that these two intimately related parts of her life were coming together in this daylong program. She shared that while the UNtraining has been essential to healing racism for her personally, it has also profoundly deepened her understanding of basic goodness. Basic goodness of self, basic goodness of others, and basic goodness of society are expressed when we allow ourselves to uncover and feel the depth of racism while held within a supportive community. She also shared that she could not have gone as deeply into the UNtraining without her Shambhala Buddhist practice.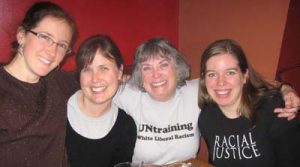 The UNtraining creates a caring environment to explore risk, safety, and community. The premise of the UNtraining is that we are all affected by racism. No matter how aware our parents may have been, or how liberal, loving or spiritual we may be, we have been trained by media, educational systems, and the continual subtle feedback from those around us. The result is that we have unconsciously internalized a system that privileges some and oppresses others.  (from UNtraining.org )
For Janet, "the foundation of the UNtraining is that we can experience ourselves as multidimensional beings — with both basic human goodness AND the social conditioning we did not choose to take on as children. I hope this day with the Shambhala community is an example of how this path can unfold. It's a taste, a beginning, of the work we can choose to do with ourselves, work that has the potential to make Shambhala a more welcoming place for everyone."
UNtraining programs meet monthly for five hours, in race-specific groups over a six month period, and are facilitated by an UNtraining teacher. In groups of ten, using the skillful means of contemplation, experiential exercises, discussion, videos, history, reading, writing, and drawing, we can become more aware of, and gradually "unlearn," our social conditioning around race. We can do this by holding whatever arises for us in basic goodness, including fear, anger, shame, blame, guilt, or defensiveness.
Rees Sweeney-Taylor, the Center Director of Berkeley Shambhala, who attended the program and has done one of the six-month UNtraining series, commented: "The UNtraining is an ideal way for Shambhala warriors to fulfill their Enlightened Society Vow by personally and socially exploring some of the most challenging issues of our time."
Ms. Jane Arthur, the Minister of Government for Shambhala, attended the daylong program, and wrote: "I see the UNtraining opening our eyes to our unconscious conditioning/habitual patterns around race that keep us separated from each other, unable to connect directly with people. Enlightened Society depends so much on our deeply genuine connections and relationships…and the UNtraining is a potent skillful means to help us gently and clearly reveal these unconscious patterns."
In addition to Jane and Rees, fifty people attended the program, including Mr. Cody McGough, Director of Northern California Shambhala, four Shambhala Center directors, Acharaya Alan Schwartz, and several Shastris from the Northern California region.  The significance of Shambhala leadership engaging in healing racism is monumental.  As a predominantly white organization, we must wake up to the pervasiveness of the racial hierarchies we have all inherited, hierarchies that we continue to unconsciously support.
The UNtraining was co-founded over twenty years ago by Robert Horton and Rita Shimmin, an African-American/Filipina woman. They created an intelligent and gentle way to explore our social conditioning and take steps to unlearn habitual patterns regarding race. The UNtraining offers White, PoC (people of color), Chinese, and White Jewish groups.  Race specific groups create a level of safety that helps us more accurately see our social conditioning around race and the effects it has on others. Through awareness, we naturally increase the choices we have in everyday life encounters. We all can learn to un-do both individual and societal/cultural cocoons. We are reminded that we cannot do this work alone. Through community we can bring painful and uncomfortable experiences into the space of healing.
Comments from participants show how they experienced the program:
"I know it made an impact as I am now 'tracking' my subtle racism and overriding it moment by moment."
"This work is very important to the health and integrity of Shambhala."
"The inquiry revealed much, and the ground of basic goodness was familiar, profound, and a good base for establishing a container that was non-judgmental."
"There was the sense that our community was gathering around a painful topic. The warmth and care and compassion that Janet and Charlene brought provided an opportunity to discuss in dyads some difficult issues related to race that have implications for the future."
"Thank you so much for offering this powerful day. I hope there's more!"
---
Editor's note: find more about UNtraining at their website: UNtraining.org
---

Robert Pressnall is a Way of Shambhala Director, member of Berkeley Shambhala Center, part of the Shambhala  Diversity Working Group, and a long time participant and member of the UNtraining.
Post Tags:
diversity
,
race
,
social justice