Saturday
Featured Stories
Deer Park, Part One
Reflections on a recent event at Shambhala Mountain Center; part one of a two-part series.
by Acharya Daniel Hessey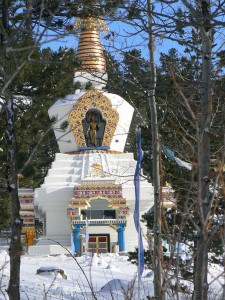 "My father personally experienced the horrors of war and genocide. That led to his bravery in declaring basic goodness. He felt that if this message was not proclaimed, humanity would continue to move toward a troubled future because our feelings about our nature would be unexamined and unresolved. Although it is necessary to protect human rights, he felt that laws governing these rights could be a positive declaration of human dignity that arises out of victory over aggression, rather than a negative protective agent that arises from fear."
Sakyong Mipham Rinpoche, The Shambhala Principle: Discovering Humanity's Hidden Treasure
Above each gate of the Great Stupa of Dharmakaya at Shambhala Mountain Center are sculptures of the Wheel of Dharma, with two deer resting on either side. The sculptures recall the story of the deer who approached the Buddha in Sarnath, the "Deer Park" of Varanasi, India where he first turned the Wheel of Dharma.
Sarnath became known as "Deer Park" due to the compassion of an ancient king. One day, while out hunting in the park, the king came upon a doe. He was about to shoot her when a bodhisattva who, seeing that the doe's life was endangered, incarnated as a deer and offered his own life to the king in exchange. The king was so inspired by this generosity that he created the park as a deer sanctuary. When the Buddha gave his first teachings, the deer approached him, ears perked high, alive with gentle attention.
For 50 years, the deer at Shambhala Mountain Center have not been hunted. They have been free to wander the land without fear of humans. Walking on the path from the Stupa to the lodges, one often sees a deer and a fawn, or a small herd of deer with new antlers, who barely look up from grazing as we pass. Deer enjoy gathering in front of the Sacred Studies Hall as participants enter to meditate, and in the summer, they rest in the shade beneath the Commissary.
Last week, early in the morning, an SMC community member saw a black pickup truck pull up to our gate on County Road 68C. The driver got out of his truck and shot a buck on SMC property. He then drove off, leaving the deer, dead, at our entrance.
This sad event rocked our community. As we mourned the loss of the deer, but we could not help but feel that the fear, chaos, and aggression of national events in previous days had now come to our very doorstep. The killing of the deer seemed all too resonant with the fear of the future and of each other that had been catalyzed by the Presidential election and its fallout.
These events, both local and national, call into question views we have held sacred and inviolable. We may feel that that being different is suddenly more dangerous, and that the teachings of gentleness and openness are somehow naive and ineffectual.
It may be tempting to cast blame during this time; to point the finger at Republicans or Democrats, at one class or group or another, or at anyone who doesn't share our personal beliefs. And yet to do so is to miss the point.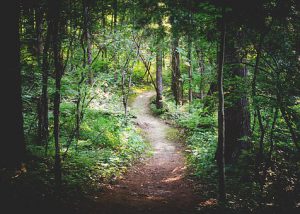 This election season fanned flames of fear that were already burning. As Shambhalians, we must take a bigger and broader view. We must look deeper and understand the dire situation facing ordinary people in our country. Rather than blaming, it is helpful to look at and contemplate the cultural, economic, and political underpinnings that have led to the widespread fear we are now experiencing. All beings long to be happy, safe, and free. Although each of us may have a different understanding of what that means and the path we take to get there, this longing is common to all of us.
Until the last few centuries, most of humankind lived in close-knit communities in which people were dependent upon each other and on nature. Humanity understood the inseparability between itself and the natural ecology, and viewed the Earth as sacred. Wise leaders from many religions and wisdom traditions created rituals and ceremonies to honor the seasons and elements, leading their communities to attune to the rhythms of the natural world. They understood all too well the grave consequences that arise when human society decouples from the natural wisdom of Earth.
The Industrial Revolution of the 19th Century brought about rapid change, development, and population growth throughout the world. In the mere 250 years since then, the power of industry, technology, and the virtual realities of electronic communication have led to a profound disjunction both within human society and between human society and Nature.
This modern era of growth has also led to the production of fossil fuels, a development which has sown the seeds for the irreversible climate change with which we are now grappling. This change will not only radically affect the natural world, but also political, economic, cultural and family life.
---
Editor's Note: this story will continue on November 28 with Part Two.
---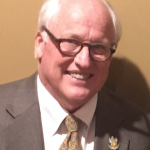 Daniel Hessey discovered the dharma in 1973 through Trungpa Rinpoche's book Meditation in Action and moved to Tail of the Tiger (now Karme Choling) the following year. He has lived in Shambhala communities — Karme Choling, Shambhala Mountain Center, and Marpa House -­- for the majority of his adult life. He served as co-director of what is now Shambhala Mountain Center from 1985 to 1992, and has served on its Board of Directors for five years. He has taught the Shambhala dharma extensively in the United States, Canada, Mexico and Australia. He is now the resident Acharya at Shambhala Mountain Center.

Post Tags:
basic goodness
,
social engagement
,
violence