Thursday
Arts and Poetry
Tiger Dancing with Flowers
Portland hosts a new series celebrating the Path of Appreciation in Dharma Arts: Tiger Dharma Arts Salon
by Abbey Pleviak
Tonight the Dharma Arts Council hosted our first Four Dignities Dharma Art Salon of the year, on the warrior quality of Tiger.  Societal Health and Wellbeing Director Mark Douglass gave a heartfelt and moving talk on the Path of Appreciation as manifested by the Meek qualities of Tiger, including appreciation, curiosity, and contentment.
We began with a contemplation of something in our life that arouses appreciation, and Mark reminded us that all the wonderful feelings we experienced were generated fully by ourselves.  He explained that we always have the opportunity to live this way — rather than engaging in the disappointing habit of always seeking after what will make us happy, we can relax into appreciating what we already have.
Mark then led us in an exercise of creation.  We wrote a poem together based on the ikebana flower arrangements on the shrine (one of the two is pictured above).   We each contributed one word, and because there were so many of us in the room, we came up with two poems.  Here they are:
1.
Sumptuous
upright light,
reaching vitality spreading
frumpy reaching twiggy motherly
lively welcome
branching, joining, opening
Sumptuous
*
2.
silliness willow
textured poetic wild color
wholesome fleeting highlight
space
unhindered antlers
*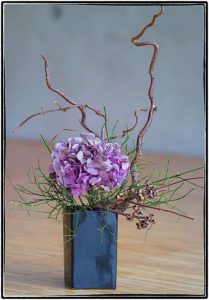 Mark reminded us of a quote from Oscar Wilde, "It's good to be a work of art, or wear a work of art."  He took it one step further and encouraged us all to go "live as works of art"!
Next to come is the second-part of our Tiger Dharma Art Salon, on Tuesday, Jan 31, following our evening sitting session (details here).   Performances will include Chi Gong with Gardner Murphy and tango with Raj Arockiasamy. All questions and offers of participation are greatly appreciated.  You can contact us at: [email protected] .
---
A version of this article was originally published on the website of the Shambhala Meditation Center of Portland.
Post Tags:
Dharma Art
,
dharma arts
,
tiger