Tuesday
Community Articles
I Can Be Clearly Now
A story about learning to see, and be, with directness and true clarity
by Lisa Freedman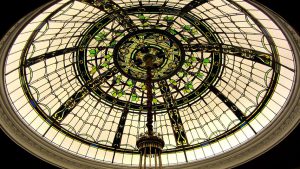 "I'm going to the Met tomorrow. The Metropolitan Museum of Art. I will be seeing it for the first time." A tweed-jacketed gentleman winked as he said this, and stepped out of the eye surgeon's waiting room into the bright day.
Another gentleman, this one in jeans and work boots, but also of a certain age, looked at me. I told him that my dog's sweater used to be red, a dull, earthy red. "But it's really magenta. Clashes now with the orange-red leash!"
He said, "For me, it's the games. All the subtle signs I never saw before, the little moves. Hi-def for real. I hope Super Bowl 2018 is epic, just like last Sunday."
A few days after I took Mary Lang's Drala class at the Boston Shambhala Center in January, I had cataract surgery on my right eye. A week later, I had it on my left. The word "cataracts" refers to chemical changes in the lens of the eye that make it cloudy and distort vision. Given that "clear seeing" is one "quality we generate in meditation," as Pema Chodron puts it, I was curious to find out if there'd be any synergy between the drala class and the surgery to replace my old lenses with a new pair, totally transparent.
Here's what happened: Mary taught us that drala energy – or the dralas, as the embodied version of the energy can be called – is beyond aggression. The dralas inhabit and help us access primordial, limitless reality, beyond a sense of self and other. This is the ultimate realm of simply being with what is, not struggling to assert a self or protect a self.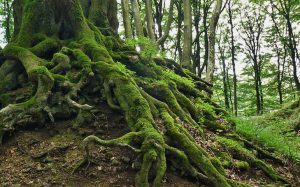 I pretty much understood in my head what Mary was talking about. And when we went to Larz Anderson Park with instructions to do aimless wandering for half an hour, I was able to still my mind and sense an intelligence around me. I brought my heartbreak – a sadness bound tightly to my ego's ideas about what should be and about who is right and who is wrong – with me to an old tree with broad arms low to the ground. I asked permission, then brushed aside some wispy, bare branches hanging down, and entered this tree's cradle of loving kindness. I felt the bark and admired the micro world of moss – leaves and buds and seeds. Then the breeze kicked up. Even though it was unseasonably warm, I appreciated the branches' protection from the wind.
Mary described Shambhala as an earth-based and hearth-based culture. We practice in our households and centers with family and friends, and we practice as we travel through our days. If we want to welcome drala energy, it helps to be present, to know where we are in space, to feel oriented. I thought about this as I left the eye surgeon's office that morning. I noticed more nuances of blue in the cloudless sky, and a louder vibration of red from the stop light at Sixth Avenue. I turned north for a block, and arrived at Ansonia Pharmacy, a quiet place with three aisles of interventions for what ails one. No soda or chips or greeting cards. But they did have reading glasses.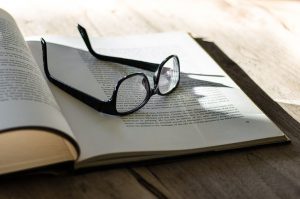 And I did need them post-surgery. I had grown up with an optometrist father, and in kindergarten, I wore light blue cat's eye glasses with thick lenses. Over the years, I became more near-sighted, but reading was always easy and available, and it gave me an easy escape when I didn't want to expose myself as a klutz by joining the kickball game on my street, or when troubles at home weren't being acknowledged. A few years ago, my mom found a copy of my Scholastic Weekly Reader from third grade. The back cover had survey questions. "What do you want to be when you grow up?" My answer was there in big, careful, pencil letters: "An author and a teacher."
The resolve of my ten-year-old self left me before I finished high school, but after quite a few detours, I did land where I had said I wanted to: with an MFA in creative writing and with, at the age of 42, my first class to teach. Well before I hit 50, I realized I was reading less. "But everybody reads less," I told myself. "It's the digital age. I have to read less because I am reading students' pieces and that requires a different kind of attention." I was right, to a degree, but I was also in denial. Snap. When I put on the 1.0 magnifying glasses, the words on the page of "Magic for Beginners" by Kelly Link, which I had just assigned to my students, flowed up from the page, and the story took shape in my brain-mind-imagination.
I hadn't had such an effortless, non-aggressive reading experience since I first learned how to translate squiggles into letters and words. Kelly Link's story was clear, and my own story — that I love to read and I had been missing reading for more than a decade — was clear, too. In that instant of looking through those new glasses with my new artificial lenses in my eyes, obscurations I'd been holding on to dissolved.
A line from Mary's teaching came to mind: "The moment totally opens one to vastness."
It's tricky what I am up to here, using that jolt of zero-effort reading as a metaphor for the clear seeing that I mentioned at the beginning, quoting Pema Chodron. A lover of reading is a part of my identity, a label I use to assure myself that I'm special, distinct from everybody else. I'm not meditating to reinforce this egocentric, doomed project. But I am meditating and learning about drala to move "closer and closer to [my]self . . . to understand [my]self so much more clearly." As Pema Chodron puts it, "Meditation helps us clearly see ourselves and the habitual patterns that limit our life. You begin to see your opinions clearly. You see your judgments. You see your defense mechanisms. Meditation deepens your understanding of yourself." In this context, I am very lucky to have scheduled my cataract surgery so soon after Mary's drala class. Without those teachings, I might have skimmed over the clear words swimming in to my brain. I might not have noticed that I'd been telling myself stories about reading. I might have missed, right there at the back of Ansonia Pharmacy, the limitlessness of that moment of clear seeing.
---

Lisa Freedman teaches creative writing at the New School in Manhattan. She's grateful to have been led to Sky Lake and the Shambhala path in 2014. She's also thankful to Mary Lang, all the Drala class students, and everyone else who brought the event into being.
Post Tags:
drala
,
Drala Principle
,
seeing
,
senses
,
Shambhala Culture