Friday
Dharma Teachings
Humanity, Chaos, and Wisdom
Reflections on favorite passages from a book by Sakyong Mipham Rinpoche
by Susan Firer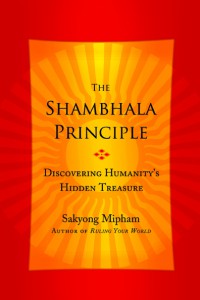 I've been re-reading the book, The Shambhala Principle, written by my teacher Sakyong Mipham, who is the head of Shambhala. I would like to share a few passages that I try to keep in mind.
"If we hold to the belief that humanity has already failed, and try to limit the damage with a mediocre social vision, we are surrendering to an underlying belief that humanity is bad. When we stop believing in humanity's possibilities, we stop building our future. If we have the bravery to proclaim basic goodness and move beyond our doubt about humanity, it will be harder for evil to arise."
"When individuals do not know their goodness, negative tendencies begin to stir. If our whole social premise is based on paranoia about tyrants and terrorists creating havoc, we are fostering an environment of suspicion and fear in which even more individuals will become disenfranchised from good human society." The Sakyong goes on to speak about what his father (Chögyam Trungpa) said: "What about the ability to help others?" His father concluded that "humanity must raise its social consciousness, see the big picture, and strive for a good human society." His father also suggested that "rather than participate in society by dismantling or alternatively, by not participating at all – instead we should create something better." As the Sakyong puts it: "My father felt that an enlightened/awake society depended mostly on empowering people on a human-to-human basis, independent of any particular political structure or religion: He had witnessed the pitfalls of most of them."
I also have witnessed the slow and steady increase in fear, aggression, and confusion since 2001. I think that this very moment, and every moment following it, is an excellent opportunity to start creating something better, as Chögyam Trungpa suggested so many years ago. When I talk to people now, two fairly distinct characteristics show themselves: extreme views spanning the spectrum, and tolerance–an openness to working toward unity. It has been my understanding, through my 21 years of studying and practicing the Shambhala dharma, along with my experience living and being among many different groups of people in my 47 years on this earth, that extreme views of any sort are not helpful. They further divide people, create enemies, and generate a sense of separation and paranoia.
I have been fortunate to have had very good teachers, friends, and acquaintances who work very hard to not get pulled into extreme views. Rather, they work toward meeting people where they currently are, with an open mind and heart. These people do not tend to hold onto or solidify a story line, if you will, about who or what they are. Rather, they take the time to look, listen, and seek wisdom instead of making judgements about themselves or others. They don't speak harshly about people who have a different understanding than their own. In other words, the folks I look up to are trying to find common ground rather than to point out the differences or perceived misunderstandings of others. They create situations where true dialog can take place. They don't try to "win" someone over to their way of thinking. Instead, they listen, try to understand, and connect with others. They relate to people directly, heart to heart, without the question of ideology clouding their connection.
Let's work to try to understand one another rather than destroy each other. Aggression may solve things temporarily, but it's far more warrior-like to use wisdom and compassion to create a situation that will endure. We all have a lot of hard work ahead of us. One of the biggest challenges I think we all face is to look at ourselves very honestly. It's easy to judge others, and it is easy to slip into group mentality. It's far more difficult to look inward. When we are not afraid to honestly look at ourselves and our actions, at how and why we do what we do, and at why we believe what we believe, that's when real change can take place. I firmly believe that we have to start with ourselves, and to stop placing blame on others.
I would like to start wrapping this up with another excerpt from The Shambhala Principle, which was written in 2013: "I believe that the pain and confusion of the world is now so vivid and unavoidable that we have no choice but to acknowledge it. Perhaps this means that when we are finally fed up with torturing ourselves, others, and the planet, out of our exhaustion will arise a gap in which we come to our senses and collectively rediscover a more natural state. Only by staring directly at the confusion – examining it and absorbing its reality – will our species discover a way forward."
Another gem that I often think about: Chogyam Trungpa had said long ago, "Chaos is very good news." His son Sakyong Mipham further defined what his father meant by "chaos," saying his father was referring to chaos in the way the Greeks had used the word, "to indicate a wide-open expanse." Chaos, the Sakyong says, "is the openness where things fall apart and new creations arise. The space created by chaos provides an opportunity to reconnect with what lies under the chaos and negativity – inherent awakened nature. When things seem very bad, there is an opportunity for something good to take place."
Chaos should be regarded as extremely good news – Chogyam Trungpa
I am committed to helping people reconnect with themselves, to be more open to connecting with others who may not share the same beliefs about how to "fix" things. I suppose it is with a heavy heart that I write this particular blog. I am witnessing people afraid to speak and share themselves with others because they are afraid they will be labeled as something they are not. I see friends and family speaking with aggression and hatred toward one another. I see this continuing as long as we allow ourselves to be motivated by passion, aggression, and ignorance.
Let's be brave and strong and engage with one another in ways that open us up rather than close us down. There is a saying I learned when I started my meditation practice: "not too tight, not too loose." It refers to how we work with our minds and the meditation technique. If we are too tight, the mind becomes like a wild horse that you are using too much force to control, and it pushes all the harder to get away. If we are too loose, we are at the mercy of discursiveness and cannot engage our wisdom and awareness. The same concept is presented in the martial arts. When you tighten up your technique, and the ability to be fluid and responsive to the energy you are working with is compromised, you also get hurt more easily. When you loosen up and relax into the situation, much progress is made – you feel the energy more, and you become more flexible and fluid. It's the same with our daily lives and our interactions with uncomfortable realities and concepts – not too tight and not too loose.
---
Susan Firer is a co-founder of Windhorse Retreat Center. This piece originally appeared on the Center's blog page, at https://windhorse.shambhala.org/blog .
Post Tags:
compassion
,
Creating Enlightened Society
,
Enlightened Society
,
wisdom