Sunday
Community Articles
Marpa House Invitation
Living community for meditation practitioners invites applications from new members
by Jessyca Goldstein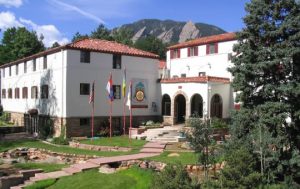 "Marpa House is an extraordinary resource. Whether you are a long time practitioner or relatively new to contemplative discipline, Marpa House provides a unique, supportive group living situation in Boulder.  Practice and daily life are skillfully merged in this contemplative community. It embodies Shambhala vision by working on the vision of enlightened household in simple practical ways. It is a gem within the Shambhala community."
Acharya William McKeever
Marpa House resident
Are you interested in a lifestyle that deeply supports and enhances your meditation practice? If you are even a little bit curious about living in an urban meditation community, read on!
Marpa House is a urban Shambhala residence in Boulder, Colorado. It was founded by Chogyam Trungpa Rinpoche in the spiritually fertile and socially progressive climate of 1973, as a place to ground enthusiastic students in a housing solution that supported the new practices they received. More than forty years later, Marpa House continues this mission and is stronger than ever, supporting thirty residents as they directly experience the intersection of daily life and practice — as each day they renew the realization that in fact there is no difference between the two.
Marpa House is a true manifestation of what we learn and practice at our Shambhala Centers. Steeped in the vision of both Sakyongs, Marpa House directly explores the principles of basic goodness and the manifestation of enlightened society.  We hear 'basic goodness' and 'enlightened society' all the time, but what do they really mean and how are they actualized? At Marpa House I believe we are actually living them each day–which is both extraordinary and, at the same time, very ordinary.  Joy and conflict arise as we are cleaning our dishes (or not), and our practice is alive with us each moment. I see people enter at the beginning of our lease year in September, and within a short period of time they are a part of something special–without realizing quite how it happened. One of my favorite aspects of Marpa House is that one may initially see a new housemate only at face value, and yet within a short amount of time feel that person's inner worthiness. It brings me so much delight to witness, and I feel it myself.
We are also so fortunate to have Lady Konchok (the Sakyong's remarkable mother), her husband Lama Pegyal, their son Lama Gyurme Dorje, and his wife Tenzin Yudron in residence. Acharya Bill McKeever is also a resident, and offers his teachings and wisdom.
Similar to a Land Center, we have weekly rota assignments, a daily group practice schedule. and shared dinners. Residents share a stocked kitchen, communal dinners, three meditation rooms, a garden with patio and Koi pond, and a large living room area for socializing and relaxation. We are open to applications from practitioners of various contemplative traditions and we provide a structured group meditation schedule and practice support for our residents.
How does it work? The first step is to fill out an application and apply, even if you are not certain this is the place for you. Once we receive your application, we set up a time for conversation, to get to know one other. From there, if you are still interested, we set up another meeting and go deeper into your aspirations, to see if Marpa House is a good fit for you.
To learn more, please visit our website: Marpa-House.org.
---

Jessyca Goldstein serves as the Executive Director of Marpa House.
Post Tags:
Creating Enlightened Society
,
Enlightened Society
,
Marpa House