Monday
Pacific Northwest, Regions
Seattle Bound
New Shastri brings a feminine perspective to Seattle
by Andrea D'Asaro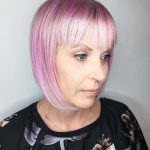 Our new Shastri, Trinley Busby, is relocating to Seattle from her home in Vancouver as our center's first female Shastri. She brings a deep passion around opening Shambhala to greater diversity, including the power of the feminine.
Her work in diversity includes ten years of reaching out to marginalized populations in Vancouver's Downtown Eastside. Trinley said, "My work in housing and poverty activism led me to a career in social service support, working with people living with concurrent mental health and substance abuse challenges."
She's happy about her move to Seattle, which "feels friendly and welcoming." Trinley is married to our Center director, Michael Busby. She said, "I am excited to be here with Michael and because of my longstanding relationship with the Seattle Center, where I did my Sacred Path levels: it feels like my second home."
Together with our Center's other Shastris, Trinley is rolling out Phase 2 of the Shambhala Educator Path, the new training program for future teachers. "In the coming years, we will be hosting and training folks in Seattle at all levels on the Shambhala Path."
Trinley first met Sakyong Mipham Rinpoche in 2006. In 2013, she was appointed as a Shastri, a senior Shambhala teacher. She enjoys mentoring upcoming leaders in Vancouver and elsewhere in North America.
As a steward for the Ziji Global Council, the Shambhala youth organization, she was on the teaching team at the Ziji Collective Global Summits in Mexico 2015 and in Berlin 2016. Many of our members already know her from the talks she has done at open house and the Contentment in Everyday Life series, which ended in March.
Many members also know Trinley from the December 2016 Cultural Humility diversity training with Shastri Charlene Leung, Chairperson of the Diversity Working Group. This program opened the way for the inspiring "Can We Talk" spring program with Shastri Ben Hines. As she takes up her new duties here in Seattle, Trinley will continue leading Cultural Humility weekends for other centers in North America.
Post Tags:
diversity
,
Seattle
,
Seattle Shambhala Center
,
shastri