Friday
Mountain States
Living Beyond Hope and Fear
Boulder Shambhala Center hosts Climate Change Symposium, September 15-17
by Karen Smith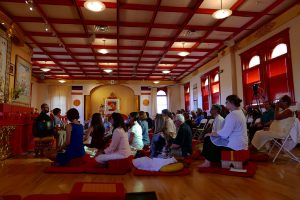 This September the Boulder Shambhala Center will host the second annual Living Beyond Hope and Fear climate change symposium. This year's event carries the subtitle of "Warrior Principle, Climate Action." The symposium is part of an ongoing effort at the Boulder Shambhala Center to provide a space in which the critical issues of our world can be met with insight from multiple wisdom traditions, ideas from enterprising organizations, and the windhorse of gathering together in beautiful surroundings with good food and drink.
Center Director Melanie Klein explains, "Last year, the Boulder Shambhala Center's climate change group presented the idea of gathering scientists, systems thinkers, and artists to come together for a weekend of engagement with Boulder climate leaders, to explore how the teachings on enlightened society might create a sound foundation for effective climate action. It was very exciting to see this idea become a reality, and we'll be building on last year's effort. This year we'll explore why bravery is essential for moving forward with this critical work, and how appreciating our world–and one another–can sustain us along the way."
This year's symposium, co-sponsored by the The Joanna Macy Center, The Authentic Leadership Center, and The City of Boulder, will include elements similar to last year's event. There will be two plenary speakers: Acharya Marty Janowitz, a longtime sustainability leader as well as senior Shambhala teacher, and Sahar Alsahlani, a Muslim peace activist who will present a teaching arc from "radical interdependence" to "sacred activism" to "healing from separateness" — the brave act of connecting directly with our world, with others, and with our own heart's goodness.
The symposium will offer breakout sessions led by mostly local climate leaders presenting on a variety of topics including permaculture, creating political and economic will for climate change, transitioning out of fossil fuels and addressing Colorado oil and gas in a non-aggressive way, and the idea of "Placemaking."  There will be an interfaith panel, led once again by Rev. Fletcher Harper of GreenFaith, in which Jewish, Muslim, Christian, and Buddhist representatives will speak on their faith's role in addressing climate change.  And, on Sunday morning, symposium participants will gather in an open space at the foothills of the Rocky Mountains, to connect with our precious world under the guidance of Ava Hamilton, an Arapaho Nation leader whose tribal lands once included parts of Boulder County.
The symposium will be held September 15th-17th. More information can be found at www.livingbeyondhopeandfear.com.
Post Tags:
Buddhist Response to Climate Change
,
climate change
,
environment
,
environmental activism
,
Environmental Initiatives