Thursday
Featured Stories
Queer Pride at Shambhala Los Angeles
Reflections on queer identity and its expression within Shambhala: part three of a three-part series
by Eugene Castillo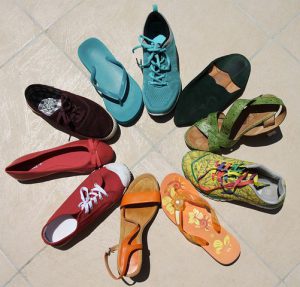 The main question I wanted to address in this series of articles for the Shambhala Times is: "why?" Why have a meditation group for LGBTQI people? Isn't that another form of "other-ing?" Haven't we already been "othered" enough? Shouldn't we try and integrate into the greater community? My personal response is this: the fundamental notion of queer identity is indeed "other." Yes, it is. No doubt about it. But this "identity" so many of us try to express, celebrate, and articulate is actually a wholesome state of being that society has all-too-painfully suppressed.
In 74 countries around the world, expressing this identity is illegal. Let us not forget that. When Chögyam Trungpa came to the United States and was teaching in Berkeley, right across the Bay in San Francisco gay men were routinely being locked in jail because of where they gathered. The only safe place to assemble was in bars. Many of those men lost their jobs and families because of it. Even today, in the U.S., being queer is f-ing dangerous, no matter how you look at it. We can't pretend it isn't. We can't afford to.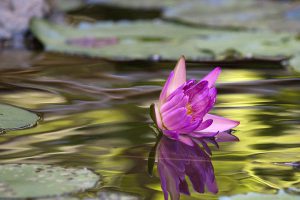 So, from our deepest Buddhist teachings, it is said that one cannot move toward the absolute or ultimate reality until the relative has been fully embraced. Most of my gay, lesbian, and trans friends would agree that our queer identity is full of potential, creativity, strength, humor, and wisdom. To fully appreciate the "queerness" in us can help us to relax into our mind and body. It can develop gentleness and tenderness, particularly for that wounded, rejected, "othered," and ousted part of us. We can feel our sad, tender hearts.
This identity is part of a bigger whole that allows us to see ourselves fully, to cheer up, to heal our conflicting emotions of the uncertainty within us, to embrace our innate fearless nature. And then we can just let go and open – into space. There is a practice for working with this identity. The meditation practice that supports us is gentle, full of curiosity and accommodation. Sound familiar? That's what I heard during that prophetic Level One training weekend. The tears flowed freely down my cheeks. At the time I didn't know why, but I felt like I was in love.
In Taking the Leap, Pema Chödrön shared that someone sent her a tag one could wear around the neck. It read: "Sit. Stay. Heal." There might be some raised eyebrows at the idea of a bunch of gay folks coming to our center to meditate. Well, first of all, one of the largest proportions of disposable income in Los Angeles County exists within the LGBTQI population. Second of all … never mind. 'Nuf said.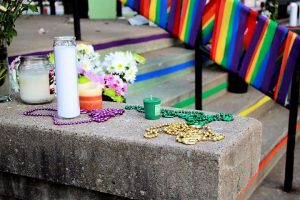 So, of course, yes! We are going to open our doors and offer the basic instruction of the practice of meditation in a safe, caring and nurturing space – a space of basic goodness – and those of us who hold this space open will radiate kindness and inspiration, perhaps with "that special flair, that special something," ya know? We will offer this space for our LGBTQI brothers, sisters, nephews, nieces, neighbors, dry cleaners, doctors, accountants, aunts, and uncles. Far too many in our community have had ingrained in us: we do not belong. Anywhere. And society has paid the price. Society will continue to pay that price until we choose something different. Have we too soon forgotten the grief and horror of the killings at Pulse nightclub in Orlando just over a year ago?
So, if we seek to promote the vision of the Great Eastern Sun that accommodates all possibilities, if we desire to remain faithful to the inspiration of our teachers and our vows, if we truly demand to see an enlightened society on this earth, in our lifetime, in our own community, during such dark times filled with hate, I hope my sangha sisters and brothers will understand that WE MUST. We have good reason to offer this opportunity to the community at large, to learn to meditate and to do it together. The stakes are high. We will welcome LGBTQI individuals and help them to "sit, stay and heal." Some of them will become future Shambhala warriors. And we will hold this space until we need not do so any more. I supplicate the protectors that that day will come sooner rather than later.
May many beings benefit. May basic goodness dawn. 
---
For more information about Los Angeles' Queer Pride Meditation, visit the website: https://la.shambhala.org/queer-pride-meditation-group/
Eugene Castillo is a gay man and a member of the Los Angelels Shambhala community. He is a classical musician and a member of the Diversity Working Group.
Post Tags:
Gay Buddhist Sangha
,
LGBT
,
lgbtq
,
social engagement
,
social justice
,
social transformation