Tuesday
Community Articles
An Arrow Lands in Nova Scotia
Joyful parents share a birth announcement, and also a birth poem
by Walker Blaine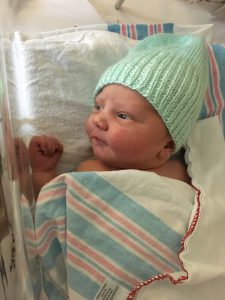 Patricia and Walker Blaine are delighted to announce the birth of their son, Griffin Arrow Blaine, who was born in the morning on Tuesday, August 22nd 2017, the Year of the Fire Bird, in Halifax, Nova Scotia.
After his arrival, Griffin uttered a few quiet cries and began what seemed like a prolonged glance surveying the room. The senior physician at the birth remarked, "That is one chill baby." After weighing in at 9 pounds, 10 ounces, Griffin has spent most of his time relaxing and settling into life at home in Halifax.
A griffin is a legendary animal that is half eagle, half lion and able to journey in heaven and on earth. "Arrow" represents long life, and his parents' aspiration that he be able to accomplish his goals like an arrow striking its target.
Please join us in celebrating the arrival of another Shambhala warrior.
KI KI SO SO!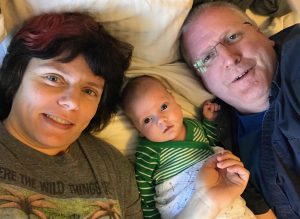 ---
Bodhichitta Monster*
It came into the apartment armed with kitten claws
And speaking a language of tiny cloud-moans and nose whistles
Riding love-laced breath that drove occupants and bystanders alike
Into coos and ahs while everyday language spun into sonorous praises of beauty,
Aspirational predictions of greatness,
And meanderings about cuteness
Or well-dressed mini-people appearing as business magnates,
Drunkards,
Or satisfied buddhas.
The caretakers, exposed to long gusts of the fragrant pheromone winds,
Slowly found their speech wavering past mere babbling,
Into sleep-tranced inversions,
"I'll be doing the dishes so we'll have something to wear,"
While the possessions of the dwelling shifted this way and that,
Like broken stores flooding the decks of a storm-wracked ship.
All this chaos and joy—happy squeaks and grown-up laughter—
Summoned by the simplest wish:
Let's invite the smallest possible houseguest into our home.
---
Bamboo Humour
September 14, 2017
Halifax, Nova Scotia
* Bodhichitta: "awakened heart," the seed of compassion for all beings.
Post Tags:
babies
,
baby
,
baby news
,
birth
,
Birth Announcements