Wednesday
Arts and Poetry
The Sweeper, A Buddhist Tale
Writing a dharma story for children
by Becky Hazell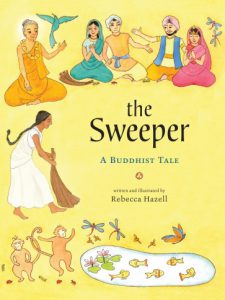 Writing about dharma for children can be tricky. The story can't be too simplistic or moralistic because it won't engage a child, but you also want to offer something meaningful. I remember a sweet book someone gave us when I was pregnant with my first child, called something like Growing Up Buddhist. It was so well intended but so preachy that I couldn't get through it myself, much less expect to read it to my child.
So when I wrote The Sweeper, A Buddhist Tale, I kept my audience clearly in mind, along with Nobel Laureate Isaac Bashevis Singer's take on what literature is about: "To instruct and entertain." I've written award-winning nonfiction books for young readers based on Shambhala principles before, but this is my first fictional story for children. It's based on a famous anecdote about the Buddha giving meditation-in-action instruction to someone who would never find time to do sitting meditation. Some say the story is about a monk, but that made no sense to me; why become a monk if you never ever get to meditate? Other versions say the Buddha gave the instruction to a woman servant, which made more sense to me. So I wove a story around a busy servant girl who dreams of greatness. Who was she, and what was her life like before and after his instruction?
So the story follows her life. It parallels a traditional fairy tale with an oppressed heroine, finding the right 'prince,' and a happy ever after ending—except not exactly! Padme is transformed by her meeting with the Buddha (he is actually the prince) and by her faithfully doing her 'working' meditation, and her life seems to evolve into the classic fairy tale pattern of finding happiness.
But she also learns the truths of impermanence, suffering, and no abiding self. And she has a big heart, so her happy ever after is different, too.
The Sweeper does something else as well. Women have often been marginalized in Buddhism, and Padme is a heroine who finds truth herself and whose questions to the Buddha have echoed through the centuries.
It was a delight to write this story—and to illustrate it. Since the plot involves Padme's relationship to nature, I added lots of animals, including two monkey friends whose lives correspond to hers. Including them was a spontaneous artistic decision that I'm glad I made. As I did the illustrations, I got to reflect a lot on monkey mind. The usual way it's spoken of is as a metaphor for chattering mindlessness. But monkeys do something else quite well: they mimic. I once saw a chimpanzee at a zoo pick up a cigarette someone had thrown him, put it to his lips as if smoking, lie back with his hands behind his head, and bask in his audience's laughter and applause. (I was horrified that anyone would throw a cigarette to him, of course, but he knew better than I did how to handle the situation!)
This is not an idle aside: our monkey minds also see wisdom and seek to emulate it. The little monkeys in the book do just that, so there is a sub-plot in the story that parents can explore with their children.
The illustrations also give some feeling for a long ago and very different culture, where people lived their entire lives within one group, whether a household or a village, and where opportunities for growth and learning were limited. There are masters and servants and wandering monks and nuns.
In the illustrations I mingled the monks and nuns (in my imagination, the Buddha's wife Yasodhara and his son Rahula are in one of the pictures). Doing this was both an artistic and a societal decision. The Buddha admitted women fully into his sangha, though with more rules, and the genders must have mingled because he then had to come up with further rules like 'Monks can't make nuns do their laundry.'
It was also a real challenge to figure out, more or less, what people wore and what their architecture was like 2600 years ago, and I had to dig to find anything. The Ajanta Caves murals inspired some of the building interiors, for instance. I also watched quite a few Indian movies about ancient heroes and heroines to get some hints on attire. I may have gotten everything wrong, of course, but it was delightful work!
Last, I'd like to say that the instruction and entertainment offered in this little story are not just for Buddhist children but also are for all children growing up in today's confusing, fractured world. It may help them see that the values of kindness and compassion are universal and to be found everywhere, when we remember to look for them.
Post Tags:
Arts and Poetry
,
book release
,
Children
,
children and families