Sunday
Featured Stories
Nunnery Bread, Nomadic Families
An update on recent activities by local volunteers for the Gesar Fund
from An van Bolhuis, Eric Elbers, Nyima Kunga, Martin Regtien, and Han de Wit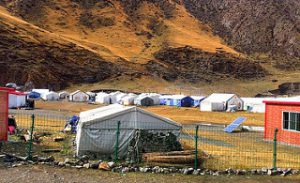 The hamlet of Gaduo is 75 km from Dönda, shown on the map below.   A nunnery is located in Gaduo, but it doesn't look at all as we might imagine a traditional nunnery as being. They have no buildings for housing or practice areas, and instead use only tents. They do have one shed, which has been equipped as a kitchen.
The local Gesar Fund volunteers bought a steam bread machine for the nuns to add to their kitchen equipment. This allows them to prepare better bread for their own community, but also for the nomads who live there. In addition, the nuns are now able to sell their extra bread to the day laborers who work in the neighborhood.
The board is currently in consultation with the local volunteers, to see if it might be possible and useful to expand our Gesar activities by offering more support to this Gaduo nunnery.
Community Center Repairs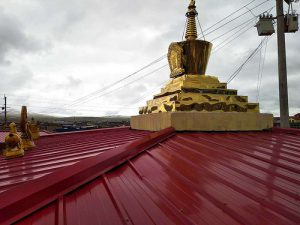 The Gesar Community Center in Dönda recently underwent an emergency roof renovation.
During the building of the Center, the foundations had been made climate proof for the weather expected on the high plains. Even so, after several extreme winters with never-before-experienced sub-freezing temperatures, it appeared the concrete roofs were starting to leak.
The solution was to cover the concrete roofs with thin sheets of red tin.
Poverty Alleviation
As part of one of the pillars of the Gesar Fund objective of poverty alleviation, Gesar Fund has decided to provide one-time support to four nomadic families. Each family will receive 1,500 yuan, which is approximately equal to 200 euros or 226 US dollars.
Each of the four families is affected by very unfortunate circumstances, and can make excellent use of this financial support. In one family the father died, leaving a disabled mother alone with four children. In another family, both parents are seriously ill, and the children are being raised by their grandmother and older sister. The local volunteers of the Gesar Fund have the freedom to make ad hoc expenditures within a certain budget, if they see a situation in which the support will make a significant difference.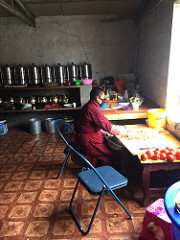 In addition to the Fund's project-based work, there are circumstances in which it is no more than human to take direct action, such as helping these four families in difficult times. These actions are only possible thanks to your donations. The Gesar Fund thanks our donors very much!!!
---
To make a contribution or become an ongoing supporter of the Gesar Fund, please click here.
Post Tags:
Gesar Fund
,
monks and nuns
,
Surmang