Saturday
Featured Stories
Cultivating Dignity
Creating Enlightened Society is the work of fully welcoming ourselves, each other, and our lineages
by Kelsey Blackwell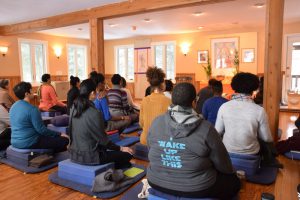 We came from Pennsylvania, Florida, Georgia, California, Oregon, Massachusetts, Illinois, Canada and beyond. Traveling to Sky Lake Retreat Center in New York's Hudson Valley, we were not deterred by the bomb cyclone that delivered some of the most severe weather the Northeast has seen in years. We navigated the ensuing flight delays, cancellations, and reroutes; the snowy roads and extreme cold because we heard the call–it was time to be together.
This was an historic event: Shambhala's first residential retreat for people of color, Cultivating Dignity with Acharya Gaylon Ferguson, Shastri Charlene Leung, and Acharya Arawana Hayashi. More than 30 Black and Brown bodies gathered – queer, straight, trans, men, women, and gender neutral folk; some new to Shambhala and some well along their path; from early twenties to late sixties, we were singers, poets, academics, teachers, writers, dancers, therapists, and much more.
---
I am from a father who was there but who I never got to know

 I am from a mother who was kind but fastidious to a T

 I am from moving to New York at age 3 crying every morning before nursery school – why do they speak English? I stopped speaking for a year

 I am from being known as the quiet one and dutifully playing the role given to me
---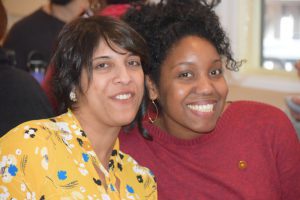 That first day it was -4 degrees Fahrenheit. We made tracks in freshly fallen snow and around billowing juniper smoke, called out KiKi SoSo watching our breaths join with the crystal air.  Then we stayed inside. It wasn't just the cold. Many of us didn't know each other and we wanted to.
Shastri Leung offered a contemplation to explore where we're from: the threads, the people, the places, smells, and sounds that collided to shape us. As voice after voice lifted up, there was a richness and a deepening sense of "coming to know." Like flavors marrying in a stew, we were meant to be together. In our stories there was familiarity and overlap. We shared tenderness, sadness, laughter, and knowing mmm, hmmm's.
---
I am from Grandma Jan, Grammy, Papa and Big Momma

I am from greens and cornbread, "chit-chats" and baked yams with marshmallow clouds

I am from Trapper Keeper & British Knights; New Kids on the Block and "Straight Up Now Tell Me"

I am from squirmy hair braiding and momma's chastising: "sit still and be quiet"
---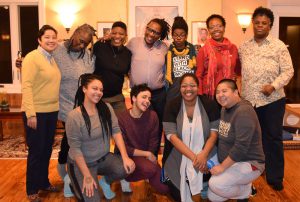 Acharya Hayashi led us in Social Presencing Theater, inviting us to tune in to our bodies and let them naturally respond to our needs and the environment. "Sometimes the reason we talk is because we're afraid to feel," she said. We felt our bodies and how they responded to being part of a group. In our sharing, there were noticings of boundaries, belonging, othering, and a natural tendency to take care of each other.
We felt our internal landscapes and we felt the unseen: lineage, Shambhala's and our own ancestors. They came to the snowy wood, joined us in the practice hall and in the music of spoons in bowls and the humming dishwasher on silent mornings.
And there was laughter, so much laughter.
---
I am from Sunday mornings in flowery dresses, standing and sitting and standing and kneeling in unison with the community who raised me up.

I am from hot combs for special occasions, tensed shoulders and crossed fingers.

I am from weekly ballet classes with rich white kids and a Dominican girl named Blanca.

I am from poppin' wheelies after school with my Puerto Rican, Cuban, Ecuadorian, Panamanian, and Jamaican crew.
---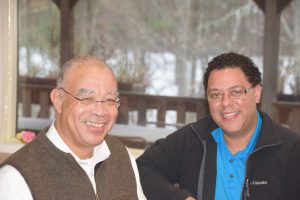 Acharya Ferguson invited us to welcome ourselves – the broken and the broken down, the not quite right, the too big, the talents we hide, our shame, secrets, anger, longing, and all the bits that so often get swept to the corners. This welcoming "is like a big hug, an embrace from grandmomma," he said. It felt like healing to make this gesture towards ourselves.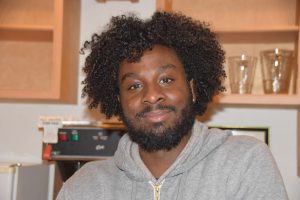 We were reminded that this welcoming is creating Enlightened Society. Healing personal and social oppression is creating Enlightened Society. It is remembering that we belong on this earth. "It is creating space for what's here to be here," Shastri  Leung said. "We can create a society that is more humane, cares more for people and allows us to bring out our gifts."
We shared why having this space, "our space" felt so important as PoC and Shambhalians; why when you're not the only Black or Brown body in the room or one in a small number, something needed is made available:
·      Because our multifacetedness is invited and understood
·      Because microagressions don't happen
·      Because there's room for many voices
·      Because of the relief of shared stories, identities, struggles, and hunger
·      Because we can just practice
·      Because we can explore how these teachings dismantle the pain of living in an inequitable society
And then we danced. We shook our hips and dropped it like it was hot. We raised our arms and rapped and sang. It didn't matter who knew the words. It didn't matter who knew the moves. We did our dance how we do our dance, and it was vibrant, alive and accepting like maybe what it feels like to get free.
---
Where I'm from is never feeling like I look like you, curls too tight, skin too light, spirit too free, I'm just me.

Where I'm from is indigenous-ness, blackness, whiteness, outside of all the checkboxes of rightness.
---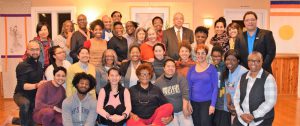 We would like to offer a deep bow and sincere thank you to Sky Lake Retreat Center, The Shambhala People of Color Scholarship Fund, private individuals, and the New York, Boston and Atlanta Shambhala Centers for their generous support and financial assistance. We also want to thank Shambhala Centers across the mandala that offered scholarships to participants.  Without such generosity, this celebration of practice and deepening of community would not have been possible. Your support was felt during our time together and gratefully received. From our hearts, thank you.   
Post Tags:
Acharya Arawana Hayashi
,
Charlene Leung
,
Gaylon Ferguson
,
people of color
,
Sky Lake Lodge
,
social transformation