Thursday
Community Articles
Women's March Los Angeles
Shambhalians participate in the LA Women's March, offering a meditation flash mob to accompany the main event
by Jason Elias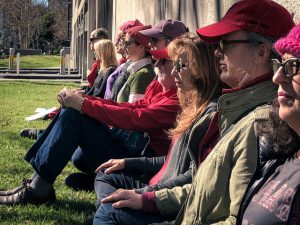 On Saturday, January 20, 2018,  hundreds of thousands of people showed up for the Women's March in downtown Los Angeles (local news station KTLA estimated participation at 400,000). As part of that event, under the guidance of Acharya Emily Bower, Shambhala Social Action spearheaded a Meditation Flash Mob along the marchers' path.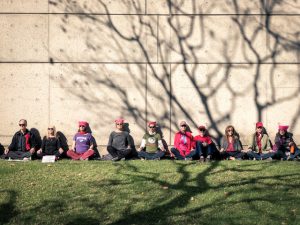 Roughly 15 of us gathered  together and did some sitting meditation for 20-25 minutes near the corner of Hill and 2nd. As we sat, a remarkable number of people stopped to take photos and video of us. For the most part, it felt like these observers were supportive of our action, and were also having their interest piqued. Whatever the reason for their stopping to see us, it was a wonderful experience to be there with Sangha, and it felt very good just showing up.
Interestingly, at one point near the end of our sit, a video cameraman accompanied by a man in a suit filmed us for a few minutes, then walked off and shouted very loudly, "Make America Great Again!!"
Overall, the entire day was fantastic, the crowd was huge and peaceful, and it felt good to sit open-heartedly as the marchers passed.
Thanks to everyone who came out, and thanks also to those who were with us in spirit.
---
(Photos © Jason Elias)
Post Tags:
protest
,
social action
,
social engagement
,
social justice
,
social transformation