Sunday
Opinion Pieces
Remembering Milarepa Day
Reflections on the preciousness of group practice and the inspiration of Milarepa's songs of enlightenment
by Carol Henderson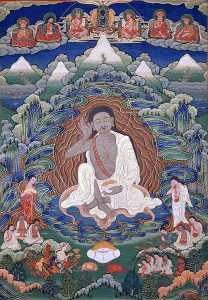 In the early days of my connection with Shambhala Buddhism, I happened to drop by the local center in Seattle on what turned out to be Milarepa Day, the first full moon of the Tibetan New Year. Something was going on in the main shrine room, and it drew me in. Practitioners were taking turns reading aloud from The Rain of Wisdom, and invited me to join them. I can still feel the magic of that long-ago afternoon, encountering for the first time these now-familiar lineage stories, poems, and songs, spoken in many different voices accompanied by the gentle sound of falling rain outside. The cool and misty weather made the shrine room feel even more welcoming: warm, bright, filled with rich texture and vibrant color. The perfect time, place, and companions to meet with these teachings.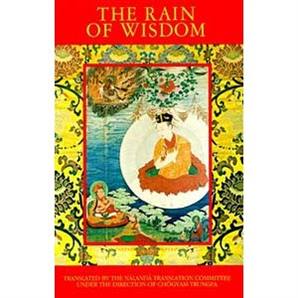 The Rain of Wisdom is a compendium of songs of enlightenment, handed down to us from Milarepa himself and from other great meditators of the Kagyu lineage. A work that crosses centuries of time, bringing these stories alive in the present day with extraordinary intimacy and power, this text has become known as one of the treasures of Tibetan culture, famous for beautiful prose, striking imagery, and emotional intensity. Most of all, it is cherished for the heartfelt devotion and depth of insight evident in these stories; just listening to them lifts the spirit and rouses inspiration to practice — a lovely and bracing way to start the new year.
I now live more than three hours' drive from any center, and seldom get the chance to participate in group practice, which for me is now occasioned by substantial advance planning rather than by cheerful happenstance. Yet I still feel a deep connection with this wonderful text, and love to settle in each year on Milarepa Day to read aloud on my own.
Compiled by the eighth Karmapa, Mikyo Dorje, and translated into English by the Nalanda Translation Committee with the guidance of Chogyam Trungpa Rinpoche, this text is said to provide a direct connection to the wisdom insight and enlightened mind of the Kagyu lineage masters. It is said to provide a remedy for practitioners in times of disruption or uncertainty. According to Chogyam Trungpa, "Even reading one passage is better than going to a psychiatrist or taking a dose of aspirin."
This was certainly true for me on that long-ago day in Seattle. I had just been through months of political turbulence in my workplace, and had recently resigned from a position that had defined my identity for many years. I found myself unable to land another job, struggling with the sudden loss of income and confused about what to do. Uncertainty and disruption were my daily companions, along with their good friends sleeplessness and anxiety. The Milarepa Day practice had an almost magical effect; attuned to its larger view, I was able to appreciate the humor and openness of my situation, rather than being stuck in fear and apprehension.
Once again this year, Shambhalians will gather to practice the Milarepa sadhana, and to read aloud from The Rain of Wisdom. The first full moon comes on March 1st, with some centers celebrating on the day itself, and others over the following weekend to allow more of their members to attend. From Boston to Boulder, Portland to Philadelphia, and all over the world, practitioners will once again encounter the magic of Milarepa Day. And here in my little shrine room, I will be joining in too.
---
To find a Milarepa Day group practice near you, check your local center's website, or search the sangha-wide program listings here.
---
Carol Henderson currently serves as Editor of the Shambhala Times. She very much appreciates the sangha at her far-away nearby centers: Albany and Sky Lake.
Post Tags:
milarepa
,
Milarepa Day
,
rain of wisdom