Sunday
Community Articles
Gardening at Dechen Chöling
Gardening as a path to enlightened society, through sustainability practices
by Guy Mosel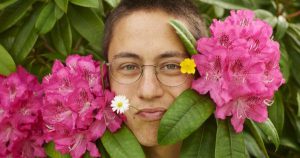 For Simon Bertin, Head of Garden at Dechen Chöling, gardening is about more than just growing food – it's a crucial element of an enlightened society. "Gardens should be places of contemplation," Simon says. "They should be beautiful, inspiring and uplifting."
"I would like our garden to be a place to attract the drala – to connect to that energy beyond aggression."
Dechen Chöling's Ziji Gardens are named after the Ziji Collective, a global network of young people within the Shambhala family. The word 'ziji' itself is Tibetan and is used within Buddhism to mean 'unconditional confidence.'
Simon's vision for Ziji Gardens is partly informed by the emergence of 'spiritual ecology,' a movement founded in the United States that believes the great 'ecological crisis' of our age can only be addressed by reassessing our "underlying attitudes and beliefs about the earth, and our spiritual as well as physical responsibilities toward the planet."
Dechen Chöling has had a garden since the centre was first founded in 1994, and its principal purpose remains to provide fresh fruit, vegetables and flowers for the community. The garden now produces 50 to 60 different species every year, from apples, berries, and herbs, to salad greens, tomatoes, beans, and root vegetables like parsnip, turnip, and carrot.
A renewed purpose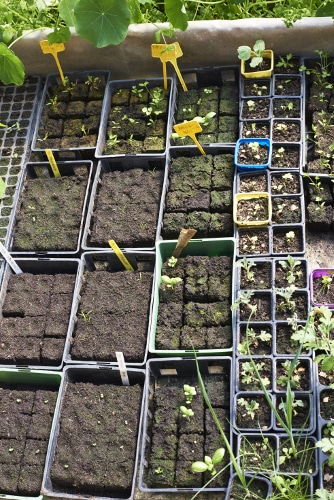 But with its new name and a new statement of intent, Ziji Gardens will look to broaden its influence within the Dechen Chöling community and beyond. For Simon, that means placing the garden at the heart of the community. His hope is for the garden to become an intrinsic part of meditation practice, both as a physical location to practice and a way to connect to the earth in a more literal sense.
"We invite people to come and rest and enjoy the gardens when they are at Dechen Chöling," Simon says. "It can be a place to meditate or just to more physically connect with the earth, by either helping out or even having your own plot."
The garden is also slowly becoming another important bridge between Dechen Chöling and the local community. In 2017 the gardening team ran three one-day workshops where local residents were invited to come to Dechen Chöling to experience the garden, taste some of the produce and exchange knowledge on subjects like producing and managing seeds.
Dechen Chöling is not the only Shambhala centre making its garden more central to its mission. The Karmê Chöling centre in Vermont, USA, has a garden apprenticeship programme focused on organic gardening, while the Shambhala Mountain Center in Colorado has its own 'SMC Garden Project,' centered on sustainability.
If you're interested in getting involved with Ziji, you can join the team by applying for Dechen Chöling's Meditation in Action programme. To find out more about Ziji Gardens, please visit their Facebook page.
Simon's top four gardening tips:
As you walk in your garden, slow down your pace and feel how you feel.
At every opportunity, contemplate your relationship with the Earth as a being.
To deepen your knowledge, use all of your senses.
Have gratitude and love towards nature.
Post Tags:
Dechen Choling
,
food
,
gardening
,
sustainability