Saturday
Sakyong and Family
Wiadomość od Sakyonga Miphama Rinpoche
20 marca 2018 r.
Do szlachetnej społeczności Shambhali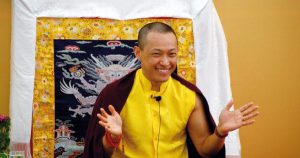 Piszę do Was dzisiaj z otwartym i czułym sercem. Jesteśmy teraz w czasie głębokiej refleksji, ale również bólu, pomieszania i zranienia. Taka głęboka refleksja jest możliwa dzięki śmiałości i odwadze osób, które doświadczyły w naszej społeczności krzywd lub alienacji. Zostało rzucone światło na to, jak wiele jeszcze uzdrawiania przed nami, jaki ogrom pracy w tworzeniu bardziej sprawiedliwego, wyrozumiałego, wrażliwego i silnego społeczeństwa, w którym każdy czuje się szanowany, usłyszany, bezpieczny i traktowany z godnością.
Wszyscy potrzebujemy zastanowić się nad tym, w jaki sposób nasze własne działania mogły ranić innych, w jaki sposób możemy poprawić nasze zachowania teraz i w przyszłości tak, byśmy w pełni uczestniczyli w dojrzewaniu naszej społeczności. Mamy wielkie szczęście posiadając nauki o byciu wojownikiem Shambhali. Teraz musimy je ucieleśnić i zamanifestować na poziomie osobistym, w relacjach międzyludzkich i społecznie. Przyszłość naszego społeczeństwa zależy od tego, czy nasze postępowanie będzie zgodne z tak drogimi nam pryncypiami.
Ja osobiście kontemplowałem życzliwość. Czuję, że dla naszej społeczności to odpowiedni czas na autentyczną pracę z tą jakością, jako bezpośrednią metodąodnoszenia się do głębokich zranień społecznych. Zachęcam Was wszystkich do tej pracy, w każdy możliwy dla Was sposób, choćby zaczynając od krótkiej kontemplacji: jak być bardziej życzliwym. Mimo, że może się to wydawać działaniem nazbyt uproszczonym, pozwoli nam wszystkim dotknąć naszej własnej dobroci i życzliwości, by wspólnie tworzyć silne, troskliwe i dobrze prosperujące społeczeństwo.
W przeszłości nasza społeczność stawiała czoła trudnym kwestiom, co prowadziło do głębszego zrozumienia i harmonii. Czy jesteśmy w stanie usłyszeć innych, nawet jeśli to trudne, pozostając jednocześnie w przestrzeni życzliwości i otwartości serca? Aby pójśćnaprzód musimy połączyć nasze człowieczeństwo z głęboką mądrością. Drogąosiągnięcia tego jest życzliwość/dobroć.
Chciałbym byście wiedzieli, że jestem oddany i w pełni będę się angażował w tę ważnąpracę razem z Wami. Zachęcam Was do osobistego zaangażowania się w zasady bycia wojownikiem i inspirowania do tego innych. Obyśmy kontynuowali wspólną pracę na tej drodze wspólnoty, odwagi, głębokiego słuchania, a zwłaszcza życzliwości.
Wasz, z sercem życzliwości,
Sakyong
W kwietniu Sakyong zaoferuje społeczności Shambhali dalsze nauki dotyczące tematu krzywdy i uzdrawiania.
Post Tags:
Healing
,
kindness
,
Polish
,
Sakyong Mipham Rinpoche
,
Unconditional Healing