Sunday
Arts and Poetry
Jumpstart Your Creative Flow
The first of three articles on art, creativity, and the creative process
by Katey Schultz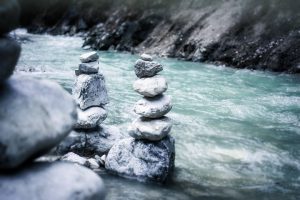 Every week in my Into the Flash online class, I offer a mindful flow exercise. This is a mindfulness, meditation-inspired exercise that I design specifically for writers and creative types to help them "come at" their imaginations and their creative practices in fresh ways. I believe that if we want to write stories and memoirs that imagine "outside the box" or contribute something new to the cultural conversation, then we have to think outside the box, too. That requires working with the imagination directly…engaging with it intentionally by bringing awareness to our own entry points and pathways as writers. In the end, Mindful Flow exercises assure that we a) don't get in ruts, b) write with radical empathy and precision, and c) create work that speaks to the human predicament in meaningful ways.
As a way to jumpstart my creativity each morning, I've been experimenting with short exercises to get me into a mindful flow. I'm a new mom, and uninterrupted writing time can be challenging to prioritize. Mindful flow isn't a new concept. Numerous scholars address mindful or creative flow and plenty of scientists who study it as well. In my former life as a Montessori middle school teacher, "flow" was a guiding principle in the environment I created and the way I carried myself as a guide. (For persuasive research on creative flow, check out Mihaly Csikszentmihalyi's book Finding Flow: The Psychology of Engagement with Everyday Life). Lately, trying to parent well and simultaneously balance my need for the feeling of "flow" that deep imaginative work induces, I've been experimenting with effective pathways for other creative types who may also be pressed for time or curious about writing. Here are some of my preliminary conclusions.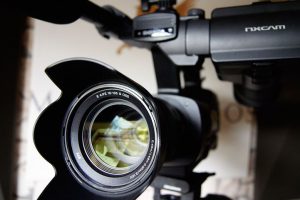 As a writer, visual images speak to me, and often suggest the beginning of a story (or trigger a memory, in the case of nonfiction). I've started making short video clips to inspire the beginnings of flash form writing. Flash form–which can be fiction or nonfiction–is typically 1-3 typed double-spaced pages and is a longstanding literary, playful, memorable genre of writing. I've found that using a different medium, such as video or an evocative image, invites the start of a new story without having to build an entire world from scratch. I can dive in immediately and start working my creativity muscles. The idea with these exercises is "First thought, best thought," and when approached playfully but with focus, these exercises can yield surprisingly powerful writing.
As a self-supporting, full time creative entrepreneur, there are many entry points for my imagination. I've started making one sketch a day in a very informal notebook, with my very unpracticed hand. The painter Chuck Close once said, "The advice I like to give young artists, or really anybody who'll listen to me, is not to wait around for inspiration. Inspiration is for amateurs; the rest of us just show up and get to work. If you wait around for the clouds to part and a bolt of lightning to strike you in the brain, you are not going to make an awful lot of work. All the best ideas come out of the process; they come out of the work itself."
While I agree, I also think there's something to be said for keeping ourselves available to inspiration, or even for "faking it" until we make it. When I'm playing around with my daily sketches, that's exactly what I'm doing–faking it–because after just a few minutes, my mind feels more open and ready to approach my writing tasks at hand. That's not passive, but it's not nose-to-the-grindstone "work," either. It's consciously working with my own imagination; not unlike stretching before or after a long run.
Another way I encourage my imagination and creative process is by collecting quotes and clips of other artists' work that inspire me. The cross pollination of being inspired by many forms of art can present new ways of looking at your own art, through a different lens. Here's a clip of Picasso at work. Talk about intuitive!
When I watch this, I am reminded of a quote from the philosopher Francis Bacon: "The creative process is a cocktail of instinct, skill, culture, and a highly creative feverishness. It is not like a drug; it is a particular state when everything happens very quickly, a mixture of consciousness and unconsciousness, of fear and pleasure; it's a little like making love, the physical act of love." The only thing that doesn't fully resonate with me here is what Bacon describes as happening "very quickly." I think that describing the creative process or art-making process as something fast can feed dangerously into the stereotype of the artist working in a flurry of insight (much like the lightning bolt Chuck Close cautions against).
But a sketch a day–even by a writer who never intends share her visual artwork with others–is the result of years of living, breathing, making, seeing, and engaging. It might take 30 seconds, but it took me nearly 40 years to get to that 30 seconds, and that's why these quick, deep exercises for engaging with the imagination can be so powerful, no matter who you are. Everyone has a story that tells how they arrived at this moment, this next sentence, this next line in a sketch. Creativity can't be "seen" or "measured" in terms of time and accomplishment. It's a slow unfolding; a time lapse of a flower opening.
Why would someone want to measure that and risk taking the flow out of it? Just let the flower unfold. Better yet, be the flower.
---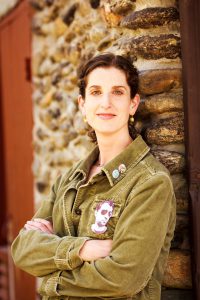 Katey Schultz's story collection, Flashes of War, was awarded IndieFab Book of the Year from Foreword Reviews and received a Gold Medal from the Military Writers Society of America. She has won more than half a dozen flash fiction contests, been awarded writing fellowships in 8 states, and is currently working on a novel. Ten years ago, Katey founded Maximum Impact, a mentoring service that provides transformative online curricula for the creative writing process, helping writers articulate precise language and authentic meaning in their work. Explore her resource guides, ecourses, and writing at www.kateyschultz.com.
Post Tags:
creative process
,
Creativity
,
mindful flow
,
mindful writing
,
writing