Monday
Art Happens, Share it Here
Art Happens: A Revisioned Wall
By Jennifer Holder, for the column "Art Happens"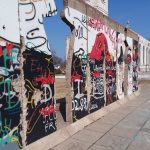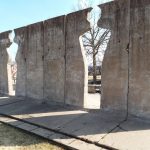 This monument was given to Fulton, Missouri as part of its connection with Winston Churchill. Artist Edwina Sandys took eight sections of the Berlin Wall to create "Breakthrough," a work of art that emerged from the clearest physical manifestation of polarization there is, and hopefully will ever be. I chose to photograph the two sides, East and West, and place them next to each other here.
As I was taking pictures, I felt so drawn to the edges of the wall, the exposure of the cement and reinforcing beams that once separated a people. I looked at the Eastern side and felt like I was looking at my own death: filled with the roughened facts of bullet holes and keeping signs of life underground.
I looked at the Western side and was saddened by seeing so many different faces, as if somehow people were emerging from the Eastern side to be drawn with spray paint by those who felt their presences on the other side. And as I was creating these galleries, I couldn't help but wonder why all the faces are looking in the same direction. What, when this wall stood as constructed, were they witnessing?
The snail hit me hard, as I often think of myself as snail-like, withdrawing into my shell at the slightest hint of being touched.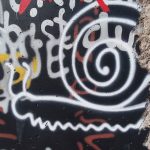 I believe I am inspired to share this work of art with the Shambhala community because it shows how art can be made in any moment in time, among any situation–no matter how devastating, oppressive, relief-filled, hopeless or hopeful, just like the alternating sides of these visions of the Berlin Wall. The strange thing was, as I was viewing the two sides, I actually felt the presences of Easterners more. Perhaps when we enter the strength of silence, we can hear what is unspoken, unspeakable, forbidden even.
But the truth is that I don't know whether to protect myself right now, or to dive deeper into my reserves of compassion to face the truth.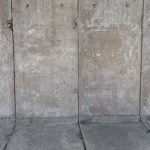 An Olive Branch documents were released to us all, and we were given the power to choose how much of it we could handle. After I set down my phone and the email announcement, all I wanted to do was create this post of the Berlin Wall, of Edwina Sandy's vision of a "Breakthrough," and of my own intrigue with the things that seem to separate us–only to bring us closer together … someday.
Welcome to the first post in our new column Art Happens. To read more about the column, click here.
Do you have an "Art Happens" moment to share? Send it to me at [email protected].
Post Tags:
Art Happens
,
Berlin Wall