Saturday
Opinion Pieces
Mother Burma, What is the Truth?
By Larry Steele
This week, Daw Aung San Suu Kyi, the heroine of Burmese democracy and leader of her multi-ethnic but majority-Buddhist nation, stood before the United Nations' International Court of Justice to defend her country, now called Myanmar, against charges of genocide.
Around the world, people hope to hear a message grounded in compassion and wisdom from the Nobel Peace Prize laureate, who is also the State Counselor and Foreign Minister of Myanmar. Many wonder how she can defend her government when a million Muslim Rohingya refugees from her country still are confined at the world's largest refugee camp, in Bangladesh.
I visited Myanmar in 2018 to meet the pro-democracy Burmese monk, Ashin Issariya, whose nom-de-guerre, or warrior's name, is "King Zero." This year he visited the United States to speak at the Boulder Shambhala Center's wonderful conference, "Voices of Courage: Facing Extremism in Myanmar… And Wherever it Occurs."
King Zero supports Aung San Suu Kyi. So do most Myanmar Buddhists and some ethnic and minority communities. In the face of international criticism, "The Lady" still symbolizes their continuing struggle for democracy.
Compassion for the Rohingya, however, was absent from her opening statement at the Court of Justice. Instead, the State Counselor took a legalistic stance, arguing that the violence in Rakhine State did not rise to the level of genocide. It would be difficult to "assess the intent" of military leaders who were dealing with a rebellion, she said.
"It cannot be ruled out that disproportionate force was used by members of the Defense Services in some cases in disregard of international humanitarian law," she said. "There may also have been failures to prevent civilians from looting or destroying property after fighting or in abandoned villages." She asserted national sovereignty and said investigation and punishment of specific violations should be left up to Myanmar's own military justice system.
The United Nations and human rights groups have documented that Myanmar's military and civilian vigilantes used summary killings, threw babies to their deaths, committed mass rapes, and burned whole villages to cinders. Regardless of intent, Myanmar's actions drove the Rohingya to flee for their lives.
Aung San Suu Kyi said "Myanmar is committed to voluntary, safe and dignified repatriation of displaced persons from Rakhine under the framework agreement reached between Bangladesh and Myanmar."
The Rohingya, however, are too terrified to return.
Myanmar's cycles of inter-communal violence "should be countered not just by practical measures aimed at sustainable development and rule of law, but also by nourishing a spiritual mindset of unity," the State Counselor said.
She listed the "practical measures" her government is taking to implement that framework including working to "expedite citizenship verification," "issue birth certificates to all children born in Rakhine, regardless of religious background," "enable more Muslim youth to attend classes at universities," "provide scholarships for students from all communities," "promote social harmony among all communities," and "close Internal Displacement Camps."
The Gambia, the small West African country that brought the genocide case to the International Court of Justice on behalf of the 57-member Organization of Islamic Cooperation (OIC), charges that Myanmar's violence against the Rohingya continues to this day. They seek an immediate injunction, which the court has little power to enforce.
The trial could drag on for years.
For Myanmar to regain its place as a new democracy based on Buddhist values, Aung San Suu Kyi and her supporters will need to hold themselves and their military accountable and begin to keep the promise to benefit all people.
Are you interested in more coverage on Myanmar from the Shambhala Times? Click here for a recent book review. 
---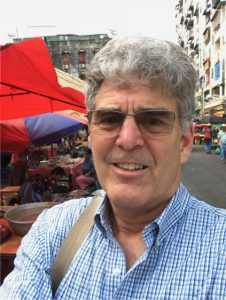 Larry Steele, who practices with the Seattle Shambhala Center, is a former world history teacher and international business person.
Post Tags:
buddhism
,
burma
,
Daw Aung
,
genocide
,
ICJ
,
Myanmar
,
Rohingya
,
world events