Thursday
Community Articles
Touching the Earth Collective—August 2020 Newsletter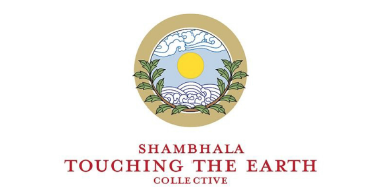 This year, the Touching the Earth Collective is delighted to initiate a collaboration with Family Camp, by sponsoring several camp activities
and sharing the wonderful article below. 
---
Recalibrating East
A testimony about Family Camp, one of Shambhala's jewels.
By Donna Stephens, Marcelle Gilkerson and Tracy Suchocki
PART ONE: What is Family Camp? How does it work?
Family Camp is a program that "unfolds" because the ground is unconditional goodness.
How do we create an unconditional program? An unconditional relationship? An unconditional family or society that excludes no one?
We can't. We simply open. There is no curriculum beyond generosity, patience, discipline, exertion, meditation and wisdom.
And at Family Camp, we open every summer with our trust, commitment, and presence. We are not creating anything at Family Camp, we're simply allowing what is self-existing to become apparent.
It is different every single time.
It is all so poignant and touching because you can't put it in a box or ever replicate it once. It is the experience of being present. We show up together for the opening, for the middle and for the end.
This presence makes us better people. We stand a little taller, our eyes are brighter. When we let be, we have the opportunity to let come. It feels magical! This invitation is extended to us moment by moment all the time. Why does this not happen with the same potency when we are home? Because we are busy! We don't allow ourselves to enjoy and appreciate our world.
Click here to watch Katie Frank's wonderful video about Family Camp, entitled 'Buddha Camp.'
Family Camp has been held with great thought and intention, and loved by many hearts. It happens at a certain time of year that often begins on August 1. On August 1 of this year, about two hundred people who usually go to Karmê Chöling in August will stay home. Yet Family Camp will still happen. In order to do this, we need you and long for you. Please come join us. It can't happen otherwise.
This year's camp is about something bigger than Family Camp—it is about the unique ways we each show up; how we care and how we love. The invitations to participate and host meet us wherever we are in the world and we hope it will expand our sense of community.  This format makes that possible. It will include a beautiful collaboration with the Touching the Earth Collective, and many offerings. Everyone is invited.
By the magic of zoom, we can gather for a lhasang where we will connect our hearts, extending goodness far beyond our homes into the world. We can still share a cup of hot chocolate on a cool fresh Sunday morning in our PJs and then stand under the clouds, proclaiming the day's weather to each other. We can stretch in a grassy field and feel our feet slip because of the morning dew. We can share stories, songs, tears and strength while each standing in our own space, open.
How do we bring Family Camp home?
Through these glimpses of "awake," we recognize the power and intention of our own experience.  We arrive in each moment with an open mind and heart.
Join us.
PART TWO: How will it work this year? How can I join?
You are warmly invited to join or create a virtual event for children and grown-ups throughout the month of August. These experiences represent KCL Family Camp "At Home." These gatherings will include (but are in no way limited to):
Speaking True, Listening Deep circle practice with Barbara Bash,
Great Goodness Tales (marvelous, mysterious and perhaps some that will scare your socks off) storytelling with Laura Simms,
Sunday Morning Meadows with Tracy, Marcelle and Donna.
Evening Singing with Family Camp friends…and so much more!
Please join or make an offering; host a photography expedition, plan a talent show, introduce your pets, or simply invite a few friends for an after-dinner concert from your living room!
View the list of what others are offering and pick something that piques your fancy or click the link below to host your own event.
Click here to scan the list of offerings and register. 
Click here to view a calendar of existing offerings.
Click here to contribute and make an offering.
In each class, you will have the option to make a donation that supports the energy and resource it took to bring this together. Touching the Earth Collective activities AND MORE TO COME!! Children are strongly encouraged to lead a group!
Please return often to see an updated list of additional offerings.
PART THREE: How has it worked in the past?
A conversation about Family Camp

Over the years, Family Camp has been held by a number of individuals who have supported the camp as a whole. Irene Woodard recently interviewed the three parent-directors of Family Camp from 2002 and 2020.
Donna Stephens (DS), Tracy Suchocki (TS), and Marcelle Gilkerson (MG)
Irene Woodard: What is most important that people should understand about Family Camp?
DS: There are so many most important things! It raises our children. It raises us. Family Camp transforms lives.
TS: We are all part of family. Small children, young children, sisters, brothers, aunts, uncles, parents, grandparents, great grandparents, ancestors. Family is PATH. Together, families create society. A society is family.
MG: Family Camp is the place I have felt most myself, vulnerable, and alive. It is where I learned to let the world in and feel the brilliance of everyone around me–in the children and other parents and the earth and the water and the air and the fire.
To read the rest of this interview, please click here!
---
Touching the Earth Collective
— Featured Member —
Every month, we will offer a space for one of the Collective's members to share about their work, art, or passion…
Ruth Wallen
Artist Statement
I am an ecological and community-based artist, my work dedicated to the flourishing of the systems of interrelationships in which we live.  Originally trained in environmental science, I turned to the art to promulgate visions for community and ecological health and well-being. My projects, in the form of installations, web sites, artist books, performative lectures and site-specific work are based on repeated, mindful contemplation of place, extensive research, and collaboration with scientists and community activists.
Over the last ten years, I have been walking with trees, alarmed by their rapid, massive die-offs.  In California, where I live, over 150 million trees have died since 2010–ravaged by beetles, drought, fire, and a warming climate. Human beings and trees are bound in reciprocity. What are the full implications of the death of hundreds of millions of trees?
I walk with trees to bear witness, to express my gratitude and grief, returning to the same areas every year, while gradually expanding my scope.  I walk in areas that are still healthy as well as those experiencing significant loss. Usually, I walk alone, in silence, carrying a camera and stopping when I am moved to photograph. Later, I combine these images into large photomontages that invoke drala, expressing the feeling sense of my walk, my love and gratitude for the living and dying trees. As opposed to the grandiose sublime, my images encourage active exploration, offering a series of glimpses, incomplete views at a variety of scales that evoke the enchanted vibrancy of life.
Interactivity is central to all of my work. In particular, many recent and planned projects provide public spaces to mourn environmental change and loss.  As we know from our practice, moving toward pain instead of pushing it away, allows for opening to compassion, vulnerability and humility as opposed to the numbing despair that comes from retreating into fear. Grief also demands accountability. Through feeling grief, outrage, and love, through sharing these sentiments publicly, we can reimagine new ways of being.
Click here to access the full article.
You can learn more about Ruth Wallen's work here.
---
We omitted Featured Artist Mary Lang's Web link in the July Newsletter.
Here it is: www.marylang.com
Thank you, Mary, for your patience and understanding. 
To join the STEC google group and be added to our mailing list, please email: 
[email protected]

Any comments regarding this newsletter content can also be sent to: 
[email protected]
Post Tags:
community
,
Culture
,
Enlightened Society
,
environment
,
green
,
shambhala
,
Touching the Earth