Wednesday
Shambhala News Service
The Wisdom Of Pema Chödrön Summit
You're Invited! Join us for a free summit inspired by the teachings of Pema Chödrön.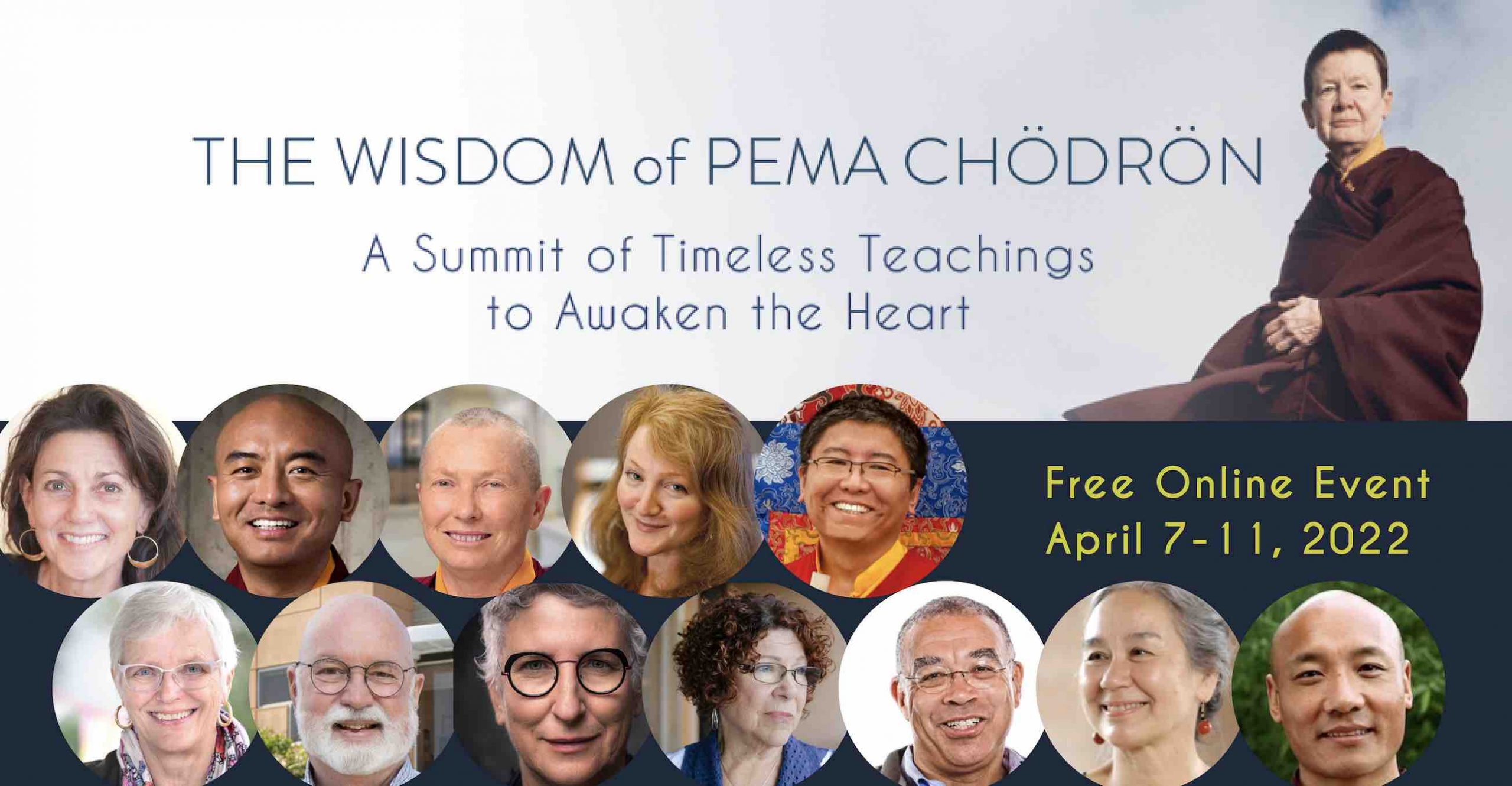 Pema Chödrön has been a guiding light for millions of people around the world. She has shown us how to appreciate life, embrace uncertainty, and find courage and compassion when things fall apart. Her wisdom is supportive, grounding, and truly transformational.
We all know how it feels to be overwhelmed by uncertainty and change. It is our deeply ingrained habit to seek solid ground, and we often find ourselves grasping for it. Pema's teachings illuminate how we often go looking for peace in all the wrong places, and that the key to working with life's difficulties is in learning how to let go and to trust our innate goodness.
We are delighted to invite you to a one-of-a-kind opportunity to hear from 11 Buddhist teachers and heart friends inspired by Pema Chödrön to celebrate her example and explore powerful teachings to transform difficulty and live fearlessly with an open and compassionate heart.
The Wisdom of Pema Chödrön: A Summit of Timeless Teachings to Awaken The Heart is a FREE online event taking place from April 7-11.
Sign up HERE to save your spot!
When you sign up, you'll receive a free gift: 5 Teachings of Pema Chödrön (instant PDF download).
Hosted by Krista Tippett, award-winning creator and host of On Being, this free, 5-day summit will include presentations from Tsoknyi Rinpoche, Mingyur Rinpoche, Elizabeth Mattis Namgyel, Gaylon Ferguson, Judy Lief, Fr. Greg Boyle, Tami Simon, Margaret Wheatley, Anam Thubten, Karma Lekshe Tsomo, and Arawana Hayashi. 
In addition to the inspiring talks, spiritual teachings, and practice instruction from summit presenters, each day of the summit also includes Tonglen and lojong workshops with Judy Lief and exclusive archival teachings from Pema Chödrön, courtesy of Shambhala Publications.
This free online summit is for you if you've found yourself asking:
How can I shake feelings of restlessness and learn to be ok with uncertainty?
How can I embrace life's ups and downs and use challenges to awaken my heart?
How can I learn to practice loving-kindness when I feel hurt or betrayed?
How can I move more gracefully through undeniable change?
How can I bring more joy into my life, and into the lives of others?
As Pema says, "From great suffering can come hatred, resentment and despair… or from great suffering can come great openness of heart and a great sense of kinship with others." We hope you'll join us for this opportunity to cultivate openness, kinship, joy, and resilience, inspired by one of the greatest Buddhist teachers of our time, Pema Chödrön.
Post Tags: