Tuesday
Filed underVCTR Tributes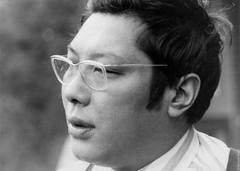 poem by Jan Watson
Sir: We have missed you for 25 years
And we long for you still.
You are with us. You are here.
And still we miss you.
You taught us everything we need to know
To mix our minds with yours,
But we cling fast to duality
And still we miss you.
You are Shiwa Okar, the Rigden, the Dralas,
'The trees and the greenery and so on'
You are our direct perception.
And still we miss you.
You gave us your son, half grown
We watch him train and expand
Blossoming into White Light, bright,
Illuminating your terma, the Shambhala path, for us.
And still we miss you.
Thank you my Lord –
For living with us in this realm
For listening to our endless bullshit,
For teaching us a little humbleness –
' The stairway of the forefathers,'
For living us, for awakening our devotion,
For being with us – constant and still.
We miss you.
No additional entries found
Website Development by Blue Mandala using Wordpress MU.
All content and source Copyright © 1994-2021. Shambhala International (Vajradhatu), Shambhala, Shambhala Meditation Center, Shambhala Training, Shambhala Center and Way of Shambhala are registered service marks of Shambhala USA
Privacy Policy