Thursday
Filed underVCTR Tributes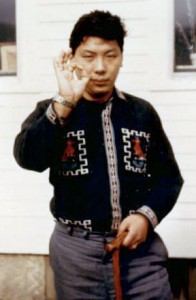 from Jonathan Michaels
Back in the early 1980's, I was living at Karme Choling, working as the head of the kitchen. At one point, the Vidyadhara and his family were in residence in their nearby house and I was doing the cooking for them. I had not yet gone to Seminary and was still very much wondering and doubting whether Trungpa Rinpoche was indeed the right fit for me (too arrogant to question whether I was the right fit for him).
Anyway, I was in the kitchen at BPB working and the whole family was milling around, but then, at a certain point everybody left except Rinpoche who was sitting in a chair at the kitchen table facing away from me. I was far too shy too say a word and I just continued my work. However, I was watching my state of mind, looking avidly for some sign that this was indeed my root guru. I noticed that I was extremely aware, but I remember thinking to myself that if the current president, Ronald Reagan, were sitting in that chair, wouldn't I be equally self-conscious and aware?
Later on, I was back at Karme-Choling, talking to my friend and boss, Noreen Morris, who asked me eagerly how my encounter went. I went on about how ordinary (that was the word I used) it was and she began to laugh. I asked her what was so funny and she asked me if I had any idea how much energy was pouring off me at that moment? And then I realized that she was right–I was entirely energized in a way I had never been before. And I realized that however challenging I found his behavior to be, this was my teacher and I surrendered–more or less and to the best of my ability–that's an ongoing battle.
When I think of Rinpoche now, I still usually think, not of his face, but of that head of shiny black hair facing me and the power that filled that room.
May all beings near and far, large and small, born and to be born benefit from this.
No additional entries found
Website Development by Blue Mandala using Wordpress MU.
All content and source Copyright © 1994-2021. Shambhala International (Vajradhatu), Shambhala, Shambhala Meditation Center, Shambhala Training, Shambhala Center and Way of Shambhala are registered service marks of Shambhala USA
Privacy Policy