Wednesday
Filed under Arts and Poetry
Writing a dharma story for children
by Becky Hazell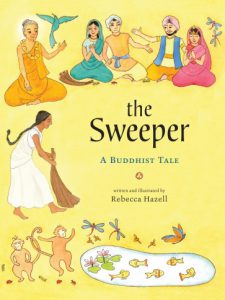 Writing about dharma for children can be tricky. The story can't be too simplistic or moralistic because it won't engage a child, but you also want to offer something meaningful. I remember a sweet book someone gave us when I was pregnant with my first child, called something like Growing Up Buddhist. It was so well intended but so preachy that I couldn't get through it myself, much less expect to read it to my child.
So when I wrote The Sweeper, A Buddhist Tale, I kept my audience clearly in mind, along with Nobel Laureate Isaac Bashevis Singer's take on what literature is about: "To instruct and entertain." I've written award-winning nonfiction books for young readers based on Shambhala principles before, but this is my first fictional story for children. It's based on a famous anecdote about the Buddha giving meditation-in-action instruction to someone who would never find time to do sitting meditation. Some say the story is about a monk, but that made no sense to me; why become a monk if you never ever get to meditate? Other versions say the Buddha gave the instruction to a woman servant, which made more sense to me. So I wove a story around a busy servant girl who dreams of greatness. Who was she, and what was her life like before and after his instruction? Continue…
Entries filed under Arts and Poetry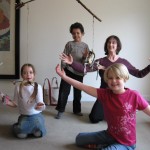 "A work of art is created because there is basic sacredness, independent of the artist's particular religious faith or trust.  Sacredness from that point of view is the discovery of goodness, which is independent of personal, social, or physical restrictions."   Chogyam Trungpa Rinpoche
continue
Posted February 14, 2009 by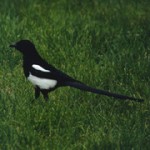 By/de Nathalie-Pascale Alexandra Boisseau I am told that the magpies like to steal and accumulate shiny and precious objects. This evening in one nest, I found a mirror, And unbearable sadness. Sadness, what are you? As I struggle to console you, to fix you, to understand you, to control you, You ask ...
continue
Posted February 1, 2009 by nataliepascal-boisseau

RSS feed for the Arts and Poetry category
View all posts from authors in Arts and Poetry: cghenderson Jeffrey_Fink JillAvey Richard_Guerin Noel_Smith LisaHarris richard_white
Sites with content in this category: https://shambhalatimes.org/ https://shambhalatimes.org/ https://shambhalatimes.org/ https://shambhalatimes.org/ https://shambhalatimes.org/
Website Development by Blue Mandala using Wordpress MU.
All content and source Copyright © 1994-2017. Shambhala International (Vajradhatu), Shambhala, Shambhala Meditation Center, Shambhala Training, Shambhala Center and Way of Shambhala are registered service marks of Shambhala USA