Saturday
Filed under book reviews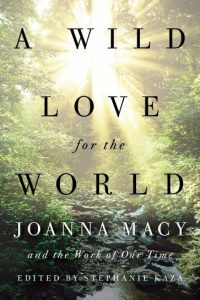 Edited by Stephanie Kaza
Book review by Christine Heming
As an activist, Buddhist scholar, general systems thinker and deep ecologist, Joanna Macy's work is far-reaching.  Many know her for creating "The Work That Reconnects" and "The Great Turning," and with her husband Fran, a real-world vision of nuclear guardianship.  A Wild Love for the World is a collective tribute, indeed a celebration of the life and work of Joanna Macy. It may surprise the reader to know the full range and depth of her contributions to humanity. It will also lift your spirits.  As David Abram writes in the Forward:
Such a magical creature is Joanna Macy. . . . how is it possible that a single human life can have touched and transformed so many others, in so many different places.  Yet this is hardly a mystery.   By offering herself so unconditionally to each locale and situation wherein she finds herself, Joanna's life radiates out to touch and enliven every cell within our larger, spherical Body.  By giving herself with such abandon to the very presence of the present moment, Joanna's tears and her joy – like those of any genuine bodhisattva – reverberate backward and forward through time to nourish all moments within the broad life of the breathing Earth.
Stephanie Kaza has skillfully edited a wide range of voices (40 in fact) from every continent and over a dozen countries, and shared their stories of the wide-ranging impact Joanna Macy has had on their lives and their work.  Arranged into five themes meant to more fully convey her broad legacy, this book leads us through the work for our time.
The first theme, "Our Planet, Our Self," centers on Joanna Macy's unshakeable love for the Earth and her sense of connection with all of life, which she refers to as the "ecological self."  Within this section, there's an excellent chapter by Donald Rothberg who writes about her connection to socially engaged Buddhism and the impact of her powerful group practices.  Rothberg writes:
At the heart of Joanna's work, and perhaps her most important contribution to socially engaged Buddhism practice, is the development of powerful group practices such as the Truth Mandala, the Council of All Beings, and the deep time practices with ancestors and future beings.   Continue…
Entries filed under book reviews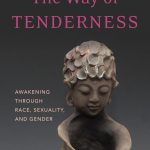 Este artículo ha sido traducido al español aqui. The Way of Tenderness – Awakening Through Race, Sexuality, and Gender         By Zenju Earthlyn Manuel Review by Christine Heming As a heterosexual white woman I often feel that relating to diversity, particularly race, sexuality, and gender, is akin to walking ...
continue
Posted February 24, 2019 by archives-staff

RSS feed for the book reviews category
View all posts from authors in book reviews: alexvangils
Website Development by Blue Mandala using Wordpress MU.
All content and source Copyright © 1994-2021. Shambhala International (Vajradhatu), Shambhala, Shambhala Meditation Center, Shambhala Training, Shambhala Center and Way of Shambhala are registered service marks of Shambhala USA
Privacy Policy