Tuesday
Filed under book reviews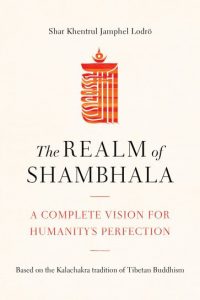 Review and Brief Commentary by Christine Heming
Shambhala is . . . the ultimate manifestation of peace and harmony. It is the realization … of those two qualities and the revelation of their capacity. Like the sun hidden behind clouds, every so often we can get a glimpse of its dazzling rays.
Part 1: The ultimate meaning of Shambhala
The Realm of Shambhala is an excellent introduction to the view of Shambhala based on the Kalachakra tradition. There are details about Shambhala in this book that were unknown to me, and there are differences in the language and emphasis of the author, Khentrul Rinpoche. But the essence of what is presented in The Realm of Shambhala is remarkably familiar. Although the Vidyadhara, Trungpa Rinpoche, made it clear that he was not teaching the Kalachakra tantra, his knowledge of this tantra and its influence on what has been handed down to his students is quite apparent when one reads this account written by Khentrul Rinpoche, a Kalachakra lineage holder.
The Preface, written by the Venerable Tempa'i Gyaltsen, tells the story of the origin of this teaching: After a six-month teaching tour, Khentrul Rinpoche realized how little people understood about Shambhala, what it actually was. He set about writing this short accessible book "to clarify the confusion surrounding Shambhala and to provide the basis for connecting with its deeply profound nature."
In the Introduction, Khentrul Rinpoche, touches on the problem of extreme views – scientific materialism and religious extremism – that dominate much of the thinking within our world. He presents the teachings of the Kalachakra as a balanced approach to life, a middle ground. He says the Kalachakra can be differentiated from other Buddhist tantras because of its expansive scope ("the theory of everything"), its clarity and its profound methods.
According to Trungpa Rinpoche, the Kalachakra tantra is within the anuttarayoga yana, like Chakrasamvara and Vajrayogini. All of these tantras exist for the same reason – to lead practitioners to complete enlightenment. But there seems to be something particularly potent about the Kalachakra, and it is the tantra with a direct connection to Shambhala. As the story goes, it was the first king of Shambhala, Suchandra (Dawa Sangpo in Tibetan), who invited the Buddha to give him teachings that would enable him to attain the supreme enlightenment while remaining the sovereign of Shambhala. The teaching the Buddha gave to Suchandra, as well as many other kings, was the Kalachakra.
Shambhala According to the Kalachakra
Khentrul Rinpoche distinguishes between Shambhala as a "realm" and Shambhala as a "state of mind"- a state of mind that can be cultivated through the practice of a spiritual path. He describes this mind of Shambhala as "the perfection of peace and harmony." Peace refers to our own personal experience, and harmony is the natural expression of that peace through our connections with the environment and our relationships with others. It is a state of mind in which there is no conflict, no contradiction and no separation. Perfection means that it is the ultimate manifestation, the full realization of those qualities. He uses the metaphor of the sun hidden behind the clouds; we glimpse its dazzling radiance, and with the right methods, we can strengthen the conditions that reveal more and more of its essence.
Various ideas about Shambhala have existed both in the traditional cultures of central Asia and, more recently, in Western cultures. Khentrul Rinpoche recognizes our Shambhala lineage as an example of using the principles of peace and harmony to create an enlightened society, in particular through Shambhala Training. He describes the Vidyadhara Trungpa Rinpoche as a visionary who received teachings from the kings of Shambhala. He also notes that the Vidyadhara's teachings on Shambhala incorporate ideas from the Kalachakra. But he stops short of seeing our path as a complete path to enlightenment. It appears his knowledge of our teachings and vision is limited to Shambhala Training. Continue…
Entries filed under book reviews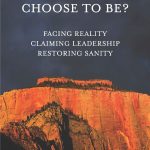 Christine Heming reviews Margaret Wheatley's new book, Who Do We Choose to Be? Who Do We Choose To Be by Margaret Wheatley "Is it possible to use our influence and power to create islands of sanity in the midst of a raging destructive sea." I was drawn to Margaret ...
continue
Posted May 27, 2019 by archives-staff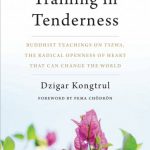 Training in Tenderness:  Buddhist Teachings on Tsewa, The Radical Openness of Heart That Can Change the World By Dzigar Kongtrul Reviewed by Christine Heming "Just give me some tenderness beneath your honesty." – Paul Simon Some weeks ago, I listened to the testimony of Mr. Michael Cohen before the US ...
continue
Posted March 31, 2019 by archives-staff
The way of tenderness: despertar a través de la raza, la sexualidad y el género Reseña de Christine Heming Como mujer blanca heterosexual a veces tengo la sensación de que relacionarme con la diversidad, particularmente la raza, la sexualidad y el género es como atravesar un campo de ...
continue
Posted March 8, 2019 by luz_rodriguez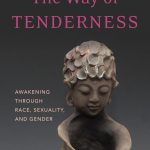 Este artículo ha sido traducido al español aqui. The Way of Tenderness – Awakening Through Race, Sexuality, and Gender         By Zenju Earthlyn Manuel Review by Christine Heming As a heterosexual white woman I often feel that relating to diversity, particularly race, sexuality, and gender, is akin to walking ...
continue
Posted February 24, 2019 by archives-staff

RSS feed for the book reviews category
View all posts from authors in book reviews: alexvangils
Website Development by Blue Mandala using Wordpress MU.
All content and source Copyright © 1994-2021. Shambhala International (Vajradhatu), Shambhala, Shambhala Meditation Center, Shambhala Training, Shambhala Center and Way of Shambhala are registered service marks of Shambhala USA
Privacy Policy