Sunday
Filed under Community Articles
This Shambhala Day I lived out the mindfulness story, the very famous one about the cliff and the strawberry.
A man is hiking and falls near the edge of a cliff. He is about to tumble to the ledge below where he sees a tiger waiting with an open mouth and a growl. The man is perched on the cliff not knowing if he can escape. Then, suddenly, he notices something. It's small, red, juicy and edible. He reaches for the wild strawberry and savors it. My how delicious!
The year of the earth pig, 2019, would be different for members of the New York Center. Like the story, we were on a kind of
precipice facing many dilemmas and decisions. With our long-time Center recently closed, we were newly homeless.  Although we would celebrate Shambhala Day at a rented venue, so much was shockingly changed.
For the first time, our New Year's ceremony was held many days past the lunar holiday.  How would we spend Tuesday, the actual day of Shambhala Day? For twenty years I had always been with local sangha on this important day. What to do? I decided to host a small gathering for neighborhood friends. Continue…
Entries filed under Community Articles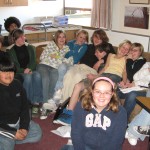 Students are practicing meditation in the unlikeliest of places: a small public school in rural southeastern Utah, USA. Encouraged by a once-a-week meditation group, students have learned to relax, pay attention to their breath and decrease negative emotions. How it Began In 2005, my supervisor at the ...
continue
Posted January 31, 2009 by tom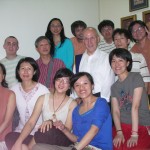 Written for the Dot The Taipei Shambhala Meditation Group happily hosted Shambhala President Richard Reoch for three days during his October 2008 tour of Asia. This followed Acharya Arawana Hayashi's earlier February 2008 visit to Taipei which featured an inspiring program: "Shambhala and the Great Eastern Sun ...
continue
Posted January 31, 2009 by Yeachin Tsai

RSS feed for the Community Articles category
View all posts from authors in Community Articles: Claire_Crevey AnnicaCrouse Sueschubel alexvangils Kathryn_Rile John_Smith Jennifer_Holder Thacher richxyz Luz_Rodriguez Ashley_Dinges Chris_Morel Dennis_Pack Alexandra_Kalinine PauletteMGraf Mark_Whaley Dia_Ballou Larry_Barnett carolecrea cghenderson charizzzard Heather_Alinsangan donnawillia
Sites with content in this category: https://shambhalatimes.org/ https://shambhalatimes.org/ https://shambhalatimes.org/ https://shambhalatimes.org/ https://shambhalatimes.org/ https://shambhalatimes.org/ https://shambhalatimes.org/ https://shambhalatimes.org/ https://shambhalatimes.org/ https://shambhalatimes.org/ https://shambhalatimes.org/ https://shambhalatimes.org/ https://shambhalatimes.org/ https://shambhalatimes.org/ https://shambhalaarchives.org/ https://shambhalatimes.org/ https://shambhalatimes.org/ https://shambhalatimes.org/ https://shambhalatimes.org/ https://shambhalatimes.org/ https://shambhalatimes.org/ https://shambhalaarchives.org/ https://shambhalatimes.org/ https://shambhalatimes.org/ https://shambhalatimes.org/ https://shambhalatimes.org/ https://shambhalatimes.org/ https://shambhalatimes.org/
Website Development by Blue Mandala using Wordpress MU.
All content and source Copyright © 1994-2019. Shambhala International (Vajradhatu), Shambhala, Shambhala Meditation Center, Shambhala Training, Shambhala Center and Way of Shambhala are registered service marks of Shambhala USA