Saturday
Filed under Regions, Pacific Northwest
A concise description of the outer, inner and secret levels of Shambhala Center design
by Russell Rodgers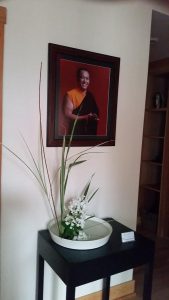 Recently, the Kootenay Shambhala Centre in Nelson, British Columbia, purchased a building. Because we had to acquire the services of a non-sangha architect for the renovations, it seemed like a good idea to summarize for them in plain language some of the basic elements of how a Shambhala Centre functions and how it is designed. This summary is offered here as something that may be useful to other centers working with architects and designers who are not necessarily Shambhala practitioners. Continue…
Entries filed under Pacific Northwest
Click here for all leadership-related posts This post is part of a series intended to enhance the accessibility―and potential benefit―of key Shambhala leadership resources. It features an excerpt from the document Tenets of Shambhala Governance available on Shambhala's Governance webpage. DECISION MAKING AND PARTICIPATION IN SHAMBHALA ...
continue
Posted June 26, 2010 by James Northcote
Join the Shambhala Sun for Wisdom for Difficult Times: What the Buddhists Teach October 2-4 in San Francisco. The Shambhala Sun is pleased to host our first-ever Urban Retreat, this one in San Francisco—bringing together eminent teachers from the three major Buddhist traditions. Tsoknyi Rinpoche, Sylvia Boorstein, and Zoketsu Norman ...
continue
Posted August 2, 2009 by mollydeshong
On June 29th, the Bellingham Shambhala Center celebrated the 50th wedding anniversary of Jenny and Paul Warwick, two senior students of Chogyam Trungpa Rinpoche who've played major roles in the Shambhala mandala since they entered the dharma in the 1970s. Acharya Jenny Warwick was the Director ...
continue
Posted July 4, 2009 by Greg Heffron
Looking for a weekthün, Warrior Assembly or other Shambhala program in the Pacific Northwest or beyond? The Programs Elsewhere in Shambhala section of the Kootenay Shambhala Centre's Programs page makes finding programs easy. From: Kootenay Shambhala Blog
continue
Posted April 24, 2009 by James Northcote
[caption id="attachment_504″ align="alignright" width="150″ This document has drawn immensely appreciative feedback. The following excerpt from the Preface might help explain why: The Kootenay Shambhala Centre is in the town of Nelson, B.C., Canada. We have had the usual disagreements about whether it is appropriate to do ...
continue
Posted February 27, 2009 by James Northcote
On the last Saturday in September 2008, almost sixty people from two countries met to discuss working together regionally, to support each other and to share insights and aspirations. All attendees actively keep their centers functioning and happy, from the holders of big vision to the ...
continue
Posted January 31, 2009 by beckyhazel

RSS feed for the Pacific Northwest category
View all posts from authors in Pacific Northwest:
Website Development by Blue Mandala using Wordpress MU.
All content and source Copyright © 1994-2020. Shambhala International (Vajradhatu), Shambhala, Shambhala Meditation Center, Shambhala Training, Shambhala Center and Way of Shambhala are registered service marks of Shambhala USA
Privacy Policy