Wednesday
Filed under Community Articles, Regions, Eastern, SE Europe, Regions, Northern Europe, Regional Announcements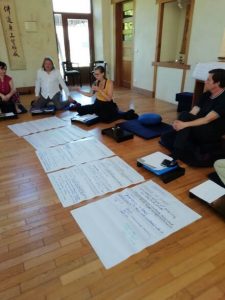 The European sangha is composed of different regions with their own cultures and languages. The establishing of these regions and their collaboration takes time and is in process for years. Some regions exist for more than 20 years. Some others are relatively new. The European Regional Directors and Coordinators (ERDC) meet regularly, using zoom. They find inspiration and learn from and with each other in these calls.
From Thursday May 29 until Saturday June 1, 2019, European Shambhalians from all directions gathered in Dechen Chöling for the First European Forum. The seeds for this meeting came from various conversations at the Kalapa Garchen in 2017 and the German regional meeting in 2018. They were further developed in the conversations of the ERDC.
Entries filed under Regions
"In order to perform we have to relate to reality.  So to begin, we must have some training on how to relate to reality.  It's not a matter of questionning the nature of reality, it's learning about your style of relating to reality." Venerable Chögyam Trungpa Rinpoche
continue
Posted February 23, 2009 by Jessica Sarapoff
Sculptures in Resin (1970-1995) & "Infinity Boxes" (2002- 2004)   A mini retrospective spaning on 35 years  March 10 – April 12 Centre culturel Jean Gagnat; Limoges, France
continue
Posted February 23, 2009 by Jessica Sarapoff
How the Shambhala Institute (now ALIA) Began It might have something to do with the beaches where I grew up—under every rock, in every tidal pool, there was scuttling, swimming, clinging life of every shape and colour. I loved this fertile zone where the land and sea ...
continue
Posted February 22, 2009 by SusanLS
Moving to the Kalamazoo area of Michigan in 1997 from Northern Michigan was as deliberate as it was vague. Robert, an astrologer, had generated astrology charts for us which put our natal planetary positions on a map to help determine a good area for us ...
continue
Posted February 22, 2009 by Jill_Walker
Written for the Dot The Buddhism scene in Singapore is quite crowded and creative with regular programs held for free in many temples, monasteries, and dharma centers around the city. Many well-known visiting teachers give teachings on various traditions and different aspects of Buddhism. Hosting a home-based ...
continue
Posted February 20, 2009 by Citra
In 2004, I returned to my hometown in South Africa after 30 years away. I found a sparse and scattered dharma scene. In Cape Town, the only Tibetan Buddhist center was that of Rob Nairn, Akong Rinpoche's senior South African student. A few months after I arrived, ...
continue
Posted February 20, 2009 by Jennifer_Woodhull
Two years ago the Berkeley Shambhala Center (BSC) opened the doors of Streetspace, a store-front, multi-purpose space located in downtown Berkeley, California. BSC has occupied the same second-floor space in a dzong-like building for over thirty years, while remaining virtually invisible to pedestrians and traffic. By ...
continue
Posted February 18, 2009 by
¡Hay que experimentar Dechen Choling en invierno para creer que realmente existe un sitio así! Hay que estar ahí, sintiendo la energía desnuda en este lugar bendito: los árboles majestuosos sin hojas, el estanque helado, el aire crujiente, el cielo azul con algunas nubes blancas y ...
continue
Posted February 16, 2009 by Adrian_Bude
Written by Joel and Sarah Mandel Sarah and I are long-term Shambhala Buddhist practitioners.  As we approach retirement age, we've been thinking about how, where and with whom we would like to spend the rest of our lives. I'll bet many of us are considering the same ...
continue
Posted February 1, 2009 by Joel Mandel
Students are practicing meditation in the unlikeliest of places: a small public school in rural southeastern Utah, USA. Encouraged by a once-a-week meditation group, students have learned to relax, pay attention to their breath and decrease negative emotions. How it Began In 2005, my supervisor at the ...
continue
Posted January 31, 2009 by tom
Written for the Dot The Taipei Shambhala Meditation Group happily hosted Shambhala President Richard Reoch for three days during his October 2008 tour of Asia. This followed Acharya Arawana Hayashi's earlier February 2008 visit to Taipei which featured an inspiring program: "Shambhala and the Great Eastern Sun ...
continue
Posted January 31, 2009 by Yeachin Tsai
On the last Saturday in September 2008, almost sixty people from two countries met to discuss working together regionally, to support each other and to share insights and aspirations. All attendees actively keep their centers functioning and happy, from the holders of big vision to the ...
continue
Posted January 31, 2009 by beckyhazel
Earth Mouse | Year in Review (click to enlarge) A year of pageantry and proclamation, celebration of the feminine principle, and renewed aspirations for peace. In the Earth Mouse (2008–9), the Shambhala mandala had plenty to celebrate with the enthronement of the Sakyong Wangmo; the first visit ...
continue
Posted January 16, 2009 by

RSS feed for the Regions category
View all posts from authors in Regions:
Website Development by Blue Mandala using Wordpress MU.
All content and source Copyright © 1994-2021. Shambhala International (Vajradhatu), Shambhala, Shambhala Meditation Center, Shambhala Training, Shambhala Center and Way of Shambhala are registered service marks of Shambhala USA
Privacy Policy