Friday
Dharma Teachings
Having Fun With Brain Science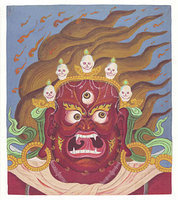 Investigating the Protector Principle
by Russell Rodgers, Nelson, B.C.
When the subject of protectors comes up, so does the question of whether they really exist or not. The answer depends on how you ask the question. For instance, it does seem as though coincidences happen in our lives that trigger re-examination of whatever course of action that we are on. Perhaps we are about to buy a house, and something happens at our job that makes us feel insecure about the future. We could say that it was the protection principle, or even the action of a protector, or we could just say that it was a coincidence. If you believe that coincidences aren't strictly coincidental, you might be inclined to say that you received a signal that "the timing wasn't right."

Here's another example, one that I'll develop in detail. In this example, the answer to the question depends on what you think your mind is. In the West, we have been raised to think that our minds are synonymous with our brains. In this model, images of the world are formed on the basis of electronic impulses coming through the nerves from the sense organs. According to this model, we are not looking at an external world but at images assembled in our minds. Therefore, from within our direct subjective experience, there is no identifiable location for mind: it is all mind. The external world is mind, thoughts are mind, and the impression of a self looking out is also mind. Whatever we experience is mind. This is similar to the chittamatra mind-only school. This school uses elaborate arguments to support its view, but the scientific logic is simpler and more familiar, so we'll stick with logical extensions of the scientific model.
If one gives too much importance to that one particular mental feeling of a personal self looking out at the world, then anything that happens that isn't self appears as external. We could look at apparent feedback from the apparent world and deduce that there must be an external agent "out there". Because we believe in ourselves as agents, it is easy to see agents everywhere.
Another way we could interpret guidance from the seemingly external world would be to say that coincidental feedback from the world happens in self-existing patterns that don't need an agent. We could leave it at that. Then, all we have to do is recognize the pattern that is happening and react appropriately for what we know will come next according to the pattern. In the scientific model, reading the patterns would be reading our own minds. If fact this is pretty much what scientifically inclined people would be inclined to say. "It's all in your head: there's really nothing out there. It's all psychological."
On the other hand, one could extend the implications of the scientific model to a further point of agreement with Buddhist thinking. Logically, we could deduce that the mind is a kind of space that isn't just empty, but has potential to form both a seeming external world and a self. From this point of view things that happen are neither "out there" or "in here". They just happen in the space. They are like images or reflections in a mirror. The mirror in this case is an analogy for mind. If a mirror was so big that you couldn't see the edge, you wouldn't know it was there. You would only see the reflections. From this point of view, both protector and self are appearances in the space of mind, (or the mirror if you prefer that analogy).
So far we have described five ways of viewing the protector principle: as external agents, as pure coincidence, as patterns of coincidence, as artifacts of our personal psychology, and as reflections empty of true existence in the mirror of non-dual mind.
If, culturally, you believe in protectors as external agents, you will probably attribute patterns of coincidental feedback to them. In fact, there are many reports of people in Tibet actually meeting protectors in person. This would be undoubtedly be regarded as superstition by the scientifically minded. It is worth pointing out, though, that according to our scientific model, what you are experiencing right now, in this very moment, is brain-matter thinking, feeling, and being aware. If that is the case, then what do we really know about matter? In our ordinary conception of matter, can it think, feel and be aware?
What we know about the world depends on our senses, but they operate only in certain frequencies and inputs, and on a Newtonian level, not a quantum level. And, after all, we are only looking at the reflections. On top of that, our conceptual framework has a big influence on what we experience. Tell that to the Tibetan who has just seen a protector that makes perfect sense in his framework. If we think that matter is, well, just matter, and that life is completely mechanical process, we will experience a world without magic. It will be hard to find meaning if our humanness is basically a complex computer made of electrified meat. Perhaps we are missing something here.
Since we customarily behave as though there is a personal self and an external world, it seems fitting in our case to use the idea of protectors as unseen agents "out there". If one is an agent-self, it makes sense that there are other agent-selves. Because this way of thinking is so familiar, we can easily tune into our world in a way that suits our normal way of thinking. This in fact is how the protectors are presented in the chants. Personally, this is my favorite interpretation. It's helpful because it creates the possibility of making requests and offerings. I find that making gestures of this sort helps to direct the awareness towards more and more subtle layers of feedback from the world.
As to which of the five ways of viewing the protector principle is actually correct—I suspect that they all are, each from their own point of view. At the same time, they are equally incorrect. One of the beauties of being a meditator is that thoughts and concepts are seen as just thoughts. They are transparent and consequently fluid. They are only symbols for reality.
As meditators, we can appreciate and hold multiple perspectives. We can do this because we know that what actually exists is separate from our concepts and not solidified in any way. Leaving things open allows phenomena to play. It allows us to be surprised and take delight as events present themselves on the spot. We can allow events to guide us. We can allow our practices to sensitize us without making too big a deal out of it.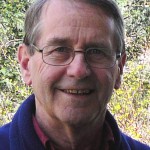 ~~
Russell Rodgers has been wondering about protectors for the 37 years that he has been practicing. He resides in the Kootenay mountains of British Columbia, in the town of Nelson.
Post Tags:
Dharma Teachings
,
don season
,
protector principle