Sunday
Dharma Teachings
Don Season Teachings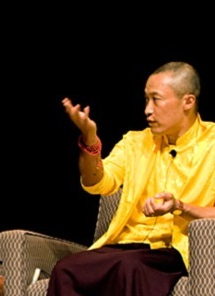 Teachings and Q & A from Sakyong Mipham Rinpoche
compiled and made available by Hamish Maclaren
The following two videos are from a 2008 Shambhala Online session with the Sakyong teaching about the don season. Both videos include teaching as well as question and answer and both now have English and Spanish captions/subtitles.
The Sakyong covers an enormous amount in this talk and the Q & A, but to give a flavor of just some of it, here are a few quotes that I hope you will find interesting and helpful.

"…it's not just a season to be overly worried, but really to re-gather and regroup; and actions that we have started earlier might come to more fruition now. So in some ways you could say it's disrupting or stopping our progress, or ongoing-ness, whatever it may be. And so obstacles apply in many, many contexts. And obviously they're a part of our life. I think it's something to realize that we're all susceptible and we always will have them. Part of what the Buddha said is that obviously in the context of however we're practicing, there will always be obstacles; and sometimes in fact the greater our practice is, or the more we're engaged, the greater our obstacles become."
"…it is something that we should include as part of the journey, and part of the path, if we can look at it the right way; and also learn from it, in terms of what's actually occurring."
"I think the inner, deeper, really embedded and quite subtle aspect of our obstacle or parche that cuts our flow or continuity, is those things that really stop our mind from engaging in practice or warriorship. So that has to do with view; and that's having tremendous doubt; basically having doubt about the whole path, about the dharma, having a lack of trust in it."
"So obviously at this time of year a lot of things are blossoming, karmic-ly speaking. There's a bit of that energy or a kind of frequency from those actions; and what's interesting here is that the antidote or how we can have the antidote is the notion of being mindful, paying attention, carefulness."
"And this has the quality of the tiger, in the Shambhala teachings of mindfulness, paying attention, heedfulness."
"I think it would be nice annually to get into a habit where we can at least slow down for a little bit and reflect on what's happening."
"Also this particular time of the year is a time of reflecting and sort of bringing to mind and the quality of confession or where we look at what have we done, and tried to bring about… how our life has gone, and then renewing our desire for the upcoming year. … But in order to have a fresh start you can't just think forward, you have to also think backwards and think, 'Oh, this is what happened; I would like to improve on these aspects'."
"……it may not necessarily change next year, unless we have a little more hands-on orientation to what's going to happen this next year, and see what we can learn from this last year…"
"And then from the practice point of view, what we do is we are fresh starting or restarting our own view of what it means to be a practitioner. The view of practice, restarting that; restarting our view of meditation; and restarting our view of how we're going to engage, and how we're going to just live life, in terms of as a practitioner."
"And then also restarting and rekindling our bodhichitta, mind of enlightenment, loving kindness and compassion. Restarting and re-grounding our sense of trust or faith or devotion in terms of the practices; a sense of clarity."
"Also I think from the notion of the energy of our being, rekindling our own windhorse, as a practice of restarting our windhorse and doing that. And ultimately resting our mind; resting our mind in the nature, universal nature, the essence. So it is a time of deep meditation."
"… certain signs and obstacles may be messages; we need to wake up and look at what's going on. So these … could be an obstacle or they could be something that happens more from the protector level. And within all of our traditions we have these … quality of doing protector practice; and it's really protecting our body, speech and mind; helping us on the journey. And I think it's again like sickness, or any of these things that arise, it's an incredible opportunity to see how our mind reacts to it.
"…one thing that I was particularly concerned about is that my hope is that everybody is able to sustain and continue on the journey. And we may not be aware that we have sort of pulled over on the side of the road, as it were."
"…if we're able to have a sense of purpose in terms of our path, and a deep confidence in that, and a deep sense of satisfaction and happiness with our being on the path, then everything begins to be included; … but really if we have a deep sense of seat, then they no longer become obstacles."
"We have to have a sense of appreciation of our own experiences and our own emotions, before we can transcend as it were. So this particular period of time is a wonderful opportunity for us; I think culturally just going through and paying attention; a sense of renewing and freshness, internally reflecting and looking."
~~
In the description of the video on YouTube, beneath the video, you will see links to articles about the don season, working with obstacles and protector principle.
Download audio MP3 file of the talk and the Q&A at Community Videos – Shambhala by clicking here.
Post Tags:
community videos
,
Dharma Teachings
,
don season
,
Sakyong Mipham Rinpoche