Tuesday
Filed under Regions, Germany
Elder practitioners gather to share their inspirations, concerns, and delights
by Petra Hunsche and Josje Pollmann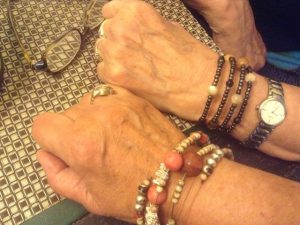 The first 'Gathering of Elders' in Cologne will be remembered as a warm and empowering experience. About twenty-five elder sangha members from different European countries participated in this joyful meeting during a weekend at the end of October.
Three old Shambhala friends–Yeshe Fuchs, Josje Pollmann, and Mieke Corts–took the initiative to generate this inspiring meeting. During a private chat in Hamburg, they enjoyed the feeling of being together 'just as friends in their golden age.' But on that occasion, they realized that the Shambhala sangha offers little opportunity to share the utter joy of having practiced such a long time, and to exchange thoughts with other about the wisdom of leading your life as an older practitioner. Continue…
Entries filed under Germany
Nadine Zerbel and Eric Rugani were married on May 29 in a French-German Shambhala ceremony performed by Catherine Eveillard and Herb Elsky. Nadine and Eric hosted their 80 guests at Dechen Chöling, which gave friends and family a much appreciated direct experience of this magical place. The ...
continue
Posted October 3, 2010 by
Starting the 8th of November, is a joint exhibition in the Benedictushof Centre for Spiritual Pathways in Holzkirchen (near Würzburg, Germany) of photographer Zsolt Suto and sulptor Max Schmelcher. The background story behind this expo: You might remember that the pictures were taken in 2oo7 while traveling in the footsteps ...
continue
Posted November 8, 2009 by
The practice is based on the traditional Buddhist teachings of the five buddha families, and a basic attitude of openness or friendliness called "maitri." The practice is done by maintaining a particular posture in a colored environment, either with glasses or in specifically designed rooms; each posture ...
continue
Posted April 21, 2009 by Jessica Sarapoff
Achtsamkeit im Leben mit den Kindern üben Was Kinder sehr von Eltern brauchen ist Achtsamkeit: ganz und gar da sein. Kinder leben in der Gegenwart im Hier und Jetzt, nicht in der Zukunft und nicht in der Vergangenheit. Wenn wir jedoch stets beschäftigt sind und uns von unseren ...
continue
Posted March 20, 2009 by
When I received the invitation for the Buddhist Youth Festival 2008, my first thought was "Yes!" Of course, I wanted to spend 5 days in a wonderful atmosphere – to dance into the new year with lovely people again. It was definitely a "first thought-best thought" ...
continue
Posted February 23, 2009 by
"In order to perform we have to relate to reality.  So to begin, we must have some training on how to relate to reality.  It's not a matter of questionning the nature of reality, it's learning about your style of relating to reality." Venerable Chögyam Trungpa Rinpoche
continue
Posted February 23, 2009 by Jessica Sarapoff

RSS feed for the Germany category
View all posts from authors in Germany:
Website Development by Blue Mandala using Wordpress MU.
All content and source Copyright © 1994-2020. Shambhala International (Vajradhatu), Shambhala, Shambhala Meditation Center, Shambhala Training, Shambhala Center and Way of Shambhala are registered service marks of Shambhala USA
Privacy Policy