Tuesday
Filed under Arts and Poetry, Community Article, Editorial Staff
By Irene Woodard

An Excerpt from the Touching the Earth Collective February 2023 Newsletter
I love this painting and I love the title, Big View
There was no need to look for an image for the new year.  Jeff Wigman painted this in 2022 and showed it in his one-man show, in a gallery in Troy, New York. The image had stayed with me, a rabbit looking out to water and a horizon. We are the viewers, looking at the rabbit, sitting on a cliff, looking out to a body of water on a cloudy day…And that pretty much sums it up. We, human animals, are watching the rest of the species, and we are all looking at the horizon, the future.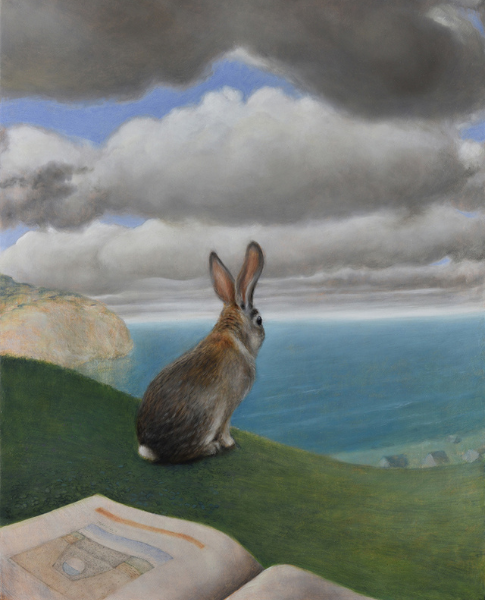 This year, the Water Rabbit year, well, like the rabbit in this painting, portends to be questionable. The clouds are grey, and there is a slip of blue sky. The rabbit is alone, and there is a book, and green green grass…what is the rabbit thinking, what are we thinking and feeling?
The rabbit's eyes are directly on the line of the horizon, they are not looking up or down, but straight ahead into the present moment that has big, vast space and big, vast possibility. It is only a rabbit, we are only human beings. Eyes open, very open ears, and facing east, the rabbit is gentle and vulnerable, sitting out there in the open, with a big view.
Our wish for this very important and historic year for the Shambhala Touching the Earth Collective is that we maintain a Big View. Our opportunity is to share the mission and values of our Collective into the Shambhala Culture, into the Land Centers, integrate it into programs such as Warrior Assembly, and use it to protect the earth as we never have before. With a big view, it's possible. Now, let go.
Onward!
Love
Irene
To explore the wonderful world of Jeff Wigman's art, please visit his website: 
https://www.jeffwigmanart.com/
*****
This post is an excerpt from the Shambhala Touching the Earth Collective January 2023 Newsletter. To read the complete newsletter please click here.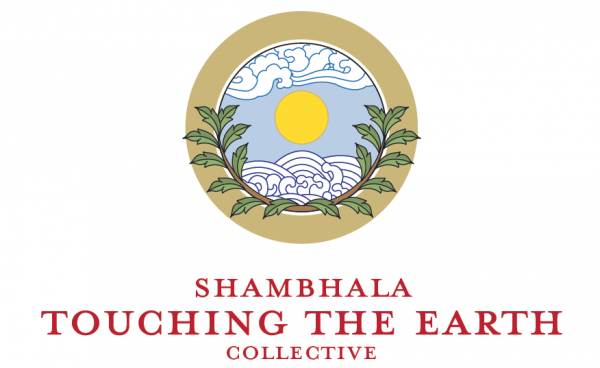 Entries filed under Editorial Staff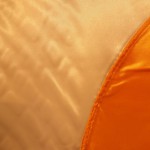 Cheerful Shambhala Day! We are updating this article to include the link to watch the broadcast, if you missed it live. Link to the broad cast in English is below, if you need help with translation, please contact:
[email protected]
Watch Shambhala Day 2021: Year of the Iron ...
continue
Posted February 17, 2021 by archives-staff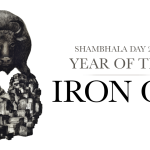 From the Editorial Team: This article is an invitation to the live broadcast of Shambhala Day 2021: The Year of the Iron Ox, and contains information about many other Shambhala New Year gatherings and events. Shambhala Day Live Broadcast This year Shambhala Day is on Friday, February 12. ...
continue
Posted January 20, 2021 by archives-staff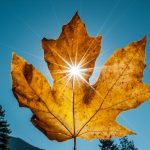 Harvest of Peace is one of four annual Nyida Day celebrations in Shambhala culture. Each of these holidays mark the changing of the seasons, hence the name Nyida Day (Nyi = sun and Da = moon).  This seasonal transition, the autumn equinox in the northern hemisphere ...
continue
Posted September 21, 2020 by archives-staff
Dear Shambhala Times readers, In response to yet another instance of violence against Black Americans, the Times Editorial staff has paused our scheduled editorial calendar for the moment, and want to begin by amplifying BIPOC (Black, Indigenous, People of Color) voices, particularly BIPOC dharma teachers, doing work ...
continue
Posted June 4, 2020 by archives-staff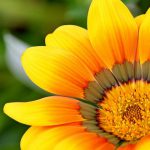 From the Editorial Team— Many resources have been shared by the Shambhala leadership and Community members to help us all through this moment of isolation and uncertainty. Your editorial team has gathered them together here so that this page can be a resource for everyone. We will ...
continue
Posted April 2, 2020 by archives-staff
Queridos amigos: Mañana, 5 de febrero es el día de Shambhala 2019 y daremos la bienvenida al año del cerdo de la tierra. Ahora más que nunca nos parece importante reunirnos como comunidad y apoyarnos de forma auténtica, terrenal y real. Esperamos que la retransmisión del día ...
continue
Posted February 7, 2019 by luz_rodriguez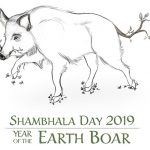 Este artículo ha sido traducido al español aqui. Dear friends – Tomorrow, February 5, is Shambhala Day 2019 and we will welcome the Year of the Earth Boar. Now more than ever, it feels important for us to gather as a community and in support of one ...
continue
Posted February 4, 2019 by archives-staff
Queridos lectores: Ya saben que las operaciones del Shambhala Times se cancelaron en el otoño de 2018 por la reducción presupuestaria. Es un placer anunciar que ahora, gracias a una beca generosa del Consorcio de Shambhala (Shambhala Trust) y del Grupo europeo de donantes, se reanudan las ...
continue
Posted February 2, 2019 by luz_rodriguez
Este artículo ha sido traducido al español aqui. Dear Readers – As you may know, in Fall 2018, operations of the Shambhala Times were suspended due to budget cuts. We are delighted to share that now, thanks to a generous grant from the Shambhala Trust and the European ...
continue
Posted January 29, 2019 by archives-staff

RSS feed for the Editorial Staff category
View all posts from authors in Editorial Staff: jillian_johnson
Website Development by Blue Mandala using Wordpress MU.
All content and source Copyright © 1994-2023. Shambhala International (Vajradhatu), Shambhala, Shambhala Meditation Center, Shambhala Training, Shambhala Center and Way of Shambhala are registered service marks of Shambhala USA
Privacy Policy