Monday
Filed under Editorial Staff
Este artículo ha sido traducido al español aqui.
Dear friends –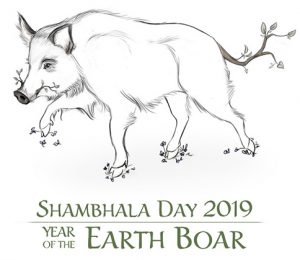 Tomorrow, February 5, is Shambhala Day 2019 and we will welcome the Year of the Earth Boar. Now more than ever, it feels important for us to gather as a community and in support of one another in a way that is genuine, earthy, and real. It is our hope that the Shambhala Day live broadcast will convey this feeling.
We hope that you'll consider joining online or with your local community for the live Shambhala Day broadcast. The program this year will include greetings from the two live broadcast locations of Halifax and Dechen Chöling, a lhasang, live worldwide group practice led by Acharya Christie Cashman, a fundraising request, Shambhala culture from around the world, reading the I Ching for this year, and singing the Shambhala Anthem together.
Additionally, we encourage you to check with your local Shambhala community for regional gatherings throughout the week.
Thank you for being a part of our collective community journey.
Our warmest regards,
The Shambhala Day 2019 Team:
Veronika Bauer
Jennifer Crow
Camren Von Davis
Ashley Dinges
Wendy Friedman
Faradee Rudy
Susan Ryan
Mimi Valiulis
Mark Whaley
Entries filed under Editorial Staff
Queridos amigos: Mañana, 5 de febrero es el día de Shambhala 2019 y daremos la bienvenida al año del cerdo de la tierra. Ahora más que nunca nos parece importante reunirnos como comunidad y apoyarnos de forma auténtica, terrenal y real. Esperamos que la retransmisión del día ...
continue
Posted February 7, 2019 by luz_rodriguez
Queridos lectores: Ya saben que las operaciones del Shambhala Times se cancelaron en el otoño de 2018 por la reducción presupuestaria. Es un placer anunciar que ahora, gracias a una beca generosa del Consorcio de Shambhala (Shambhala Trust) y del Grupo europeo de donantes, se reanudan las ...
continue
Posted February 2, 2019 by luz_rodriguez
Este artículo ha sido traducido al español aqui. Dear Readers – As you may know, in Fall 2018, operations of the Shambhala Times were suspended due to budget cuts. We are delighted to share that now, thanks to a generous grant from the Shambhala Trust and the European ...
continue
Posted January 29, 2019 by alexvangils

RSS feed for the Editorial Staff category
View all posts from authors in Editorial Staff: Luz_Rodriguez alexvangils
Website Development by Blue Mandala using Wordpress MU.
All content and source Copyright © 1994-2020. Shambhala International (Vajradhatu), Shambhala, Shambhala Meditation Center, Shambhala Training, Shambhala Center and Way of Shambhala are registered service marks of Shambhala USA