Wednesday
Editorial Staff
How to Watch the Shambhala Day Broadcast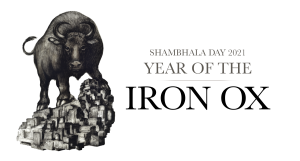 Cheerful Shambhala Day! We are updating this article to include the link to watch the broadcast, if you missed it live. Link to the broad cast in English is below, if you need help with translation, please contact: [email protected]

Watch Shambhala Day 2021: Year of the Iron Ox
---
The theme of this year's live broadcast is Celebrating Shambhala Culture and will have a particular focus on Shambhala contemplative arts and culture. Presenters will include Acharya Arawana Hayashi, Acharya Dan Hessey, and arts and culture features from Centres and Groups around the world.
Programming elements will include a lhasang, Kyudo shot, Ikebana demonstration, tea ceremony demonstration, calligraphy exhibition, and Miksang presentation. This will truly be a celebration of our rich Shambhala culture.
The official live broadcast will be on February 12 and will begin at:
10:00 a.m. Pacific Standard Time
11:00 a.m. Mountain Standard Time
12:00 p.m. Central Standard Time
1:00 p.m. Eastern Standard Time
2:00 p.m. Atlantic Standard Time
6:00 p.m. Greenwich Mean Time
7:00 p.m. Central European Time
5:00 a.m. Australian Eastern Daylight Time (Saturday, Feb. 13)
7:00 a.m. New Zealand Daylight Time (Saturday, Feb. 13)
To participate in the live broadcast you can register here. 
---
Shambhala Day Fundraising
As usual, all funds raised as part of the Year of the Iron Ox, Shambhala Day 2021 Campaign will support the Shambhala community and Centers, Groups, and Members Services, as coordinated by Shambhala Global Services (SGS), which comprises Shambhala Canada, Shambhala USA, and Shambhala Europe. You can click here to view an overview of Shambhala Global Services and how they support our local community. Help SGS continue to support more people hearing about the profound practice of meditation and the Shambhala dharma.
Post Tags:
broadcast
,
Culture
,
iron ox
,
Kyudo
,
losar
,
Shambhala Day