Saturday
Filed under Regions, Regions, Southern States
A collaborative group comes together to host Shambhala programming in New Orleans–and beyond! An interview with group member and Ziji Collective participant Fred Meyer.
by Carol Henderson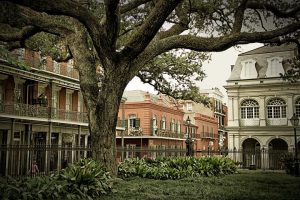 Shambhala Times:
I'm curious about how all of this came about, so maybe you could start by sharing how your working group came together, and how you decided to offer this particular program in what (for Shambhala!) is an unusual location.
Fred Meyer: The Shambhala presence in New Orleans started to coalesce when I moved there from Boston in 2014. I've been in Shambhala since I was young, and I was attending Shastri Nick Kranz's social meditation Tuesday nights at the Boston Shambhala Center as much as I could during my final two years in Boston. I was really getting a tremendous amount out of that group and out of social meditation as a practice, and when I moved to New Orleans I made a commitment to start a group there.
Entries filed under Southern States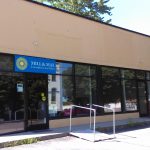 The Lexington Shambhala Center is moving to a new home by Craig Smith-Sargent and Mary Sehlinger The very exciting news here in Lexington is that we will be moving our center to a new location! We will be creating a beautiful uplifted space, and also increasing our financial stability. ...
continue
Posted July 16, 2017 by CGH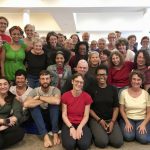 A coalition of meditation centers sponsors community conversation around race, power, and unity in North Carolina by Catherine Neill A long time ago, though it's only been two weeks, we were in church on a Friday night in Durham, North Carolina to hear Rev. angel Kyodo williams. Everything ...
continue
Posted November 22, 2016 by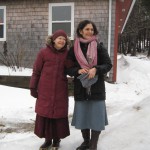 A report on Hope Martin's recent teaching at Gampo Abbey. Hope is leading a Shape of Awake weekthun in Atlanta March 22 – 28th. Hope Martin with Ani Pema Chödrön During this year's Yarne retreat, Hope Martin, a Master Teacher of the Alexander Technique, was invited by Ani Pema Chödrön to ...
continue
Posted February 23, 2015 by Dan
By Lisa Montanarelli The week before Shambhala Day, the Atlanta Center offered "The Shape of Awake," a weekthun with Hope Martin. Based in New York City, Hope has taught the Alexander technique for 25 years. She brilliantly combines this technique with meditation instruction to help meditators let ...
continue
Posted July 9, 2011 by Lisa_Montanarelli
By S. Marie Vernon The lodge is cozy and comfortable with a huge fireplace that constantly invites us to "come sit by the fire." It's our Winter 2010-2011, Weekthun and Oryoki Retreat in North Alabama. Twenty three of us are here for the event with our teachers, Shastri ...
continue
Posted March 23, 2011 by SMarieVernon
Jake Lorfing describes his adventures and shares photos from teaching contemplative photography to teenagers. We didn't know what to expect entering the Gardner Betts Juvenile Justice Center to meet the eight girls, ages 14-17, who had signed up for a weekly Miksang Photography class. Four volunteers ...
continue
Posted February 14, 2011 by
You are invited to view teachings from Acharya Moh Hardin and Sangyum Cynde Grieve, courtesy of the Dallas Shambhala Meditation Center. You may view Part One in the series on this page, and then click here to view Parts Two-Six January 23-24, 2010 Being vs. Becoming
continue
Posted March 21, 2010 by
By Aaron Manier During the final days of the don season, a determined group of warriors assembled at the Atlanta Shambhala Center to participate in a week of intensive exploration of the body, heart, and mind. This weekthun experience was led by Hope Martin, a skilled teacher ...
continue
Posted February 22, 2010 by
Earlier this December, we held a double celebration day at Pema Karpo Meditation Center. Khenpo Gawang finished his first eight-session Shambhala Online class and unveiled his first book, The Sadhana of Shakyamuni Buddha. Taking the Wisdom chapter from The Way of the Bodhisattva by Shantideva as ...
continue
Posted December 26, 2009 by candia_ludy
Tuesday, September 22, His Holiness the Dalai Lama opened a three-week tour of North America in Memphis, Tennessee. His Holiness was the recipient of the 2009 International Freedom Award given by the National Civil Rights Museum, housed in the former Memphis motel where civil rights leader ...
continue
Posted October 7, 2009 by candia_ludy
By Collette Frix Only two humble old houses comprised the entire Atlanta Shambhala Center when Sakyong Mipham Rinpoche last visited in 2003. Our shrine room then could seat a mere 28 people. Six years later we have managed to construct a new building with a large shrine ...
continue
Posted June 12, 2009 by
Written for the Dot by Bob Williams In Texas we say, "It's your turn in the barrel!" when you're center stage and under fire. Why? Because when you're in the barrel, it's easy for others to take aim and shoot. There's nowhere to escape.
continue
Posted March 16, 2009 by
End of the Sky, Songs of Dharma A CD by Lama Karma Chotso Produced by Rachel Faro Special Guests: Steve Gorn, Inner Voice Now available on iTunes! To order a CD or for more information go to www.endofthesky.net Lama Karma Chotso is a fully ordained Kagyü nun teaching and living in ...
continue
Posted March 8, 2009 by

RSS feed for the Southern States category
View all posts from authors in Southern States:
Website Development by Blue Mandala using Wordpress MU.
All content and source Copyright © 1994-2021. Shambhala International (Vajradhatu), Shambhala, Shambhala Meditation Center, Shambhala Training, Shambhala Center and Way of Shambhala are registered service marks of Shambhala USA
Privacy Policy