Sunday
Regions, Southern States
Lexington on the Move
The Lexington Shambhala Center is moving to a new home
by Craig Smith-Sargent and Mary Sehlinger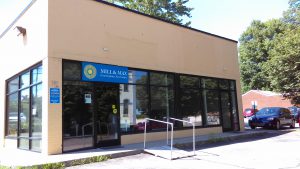 The very exciting news here in Lexington is that we will be moving our center to a new location! We will be creating a beautiful uplifted space, and also increasing our financial stability. We held a community gathering on Sunday, June 4, so all of our members and friends could learn more details and provide input regarding our plans for moving forward.
What's Been Happening?
On April 8th our main building at 315 W. Maxwell was put up for sale. We have accepted an offer of $257,000 for the building and held a closing on May 16. Our final event at our old Center location was the community gathering referenced above.
The decision to sell the Maxwell Building was made by the Center's Governing Council in March. At that time it was also decided we would either: 1) move into our property at the corner of Mill and Maxwell Streets (M&M) or 2) sell both the Maxwell Street and M&M properties and purchase a third building elsewhere. Either of these options would require extensive renovation to make the new location suitable for a dharma center; in the case of the M&M building it would also include a build-out to increase the total square footage.
A search committee has been diligently looking to see if there is a property that meets our usage and financial criteria better than the M&M building will do. We have started moving into our new building at 385 South Mill Street in Lexington, Kentucky, next door to our original building. Our programs have been held in this space since June 4th.
How Did We Get Here?
Over the previous eighteen months or so it had became increasingly apparent that it was no longer sustainable for us to own and maintain two buildings. The very old Maxwell Street building needed expensive maintenance, utility bills were sky-high, and it was not an accessible space. Our human and financial resources were stretched thin, even when we had a rent-paying tenant in one half of the M&M property. Then in September of 2016, our tenant gave notice that his business would be moving.
This event precipitated the formation of a Buildings Options Committee, tasked with exploring all possible options for how our Center could move forward. The three most viable options were presented to the sangha at a community meeting last November, and were also presented to the entire membership via a survey shortly thereafter. The message from the community was clear; about two thirds of those who gave feedback felt it was time to move on from the Maxwell Street building. Among the group who wanted to sell that building, there was an almost even split about whether to move to M&M or to move to an entirely new location. Our Center leadership has based all subsequent decisions based on this community feedback combined with a deep review of Center resources.
A great deal of thought and care that has gone into the decision-making process. Since September, the Building Options Committee has met 14 times, the Council has discussed this topic at every monthly meeting, we've reviewed property listings and looked at multiple properties for sale, deeply studied our financial situation, and consulted with three potential builders and/or architects.
What's Next?
Now more than ever we need the involvement of our community to share and support this exciting new chapter in the life of our Center!
The Community Meeting on June 4th provided an opportunity for members to review and give feedback regarding renovation plans for our new space. Items we would not be keeping from the old space were offered in exchange for donations.
Ideas and questions have been gathered by our Center leaders and project volunteers.
We have moved out of the Maxwell Street building. Lucia Gilchrist generously offered to coordinate all aspects of the move, including sorting through everything and packing.
Just about everyone is expressing a sense of optimism, fearlessness, and excitement about this forward movement. Lungta is high, and the various teams that are involved in facilitating these changes are working with good cheer and remarkable energy. Ki Ki So So!!
---
Craig Smith-Sargent is the Lexington Kentucky Center Director                                                                                                                Mary Sehlinger is the chair of Lexington's Building Options Committee
Post Tags:
Center News
,
lexington
,
Shambhala on the Move