Monday
Community Articles
Building Changes
COLUMN: Shambhala on the Move
Updates from Halifax
by Michelle Munro, Center Director
Insurance Work
This winter, as did many Halifax residents, we incurred water damage to various sections of our building. Due to the heavy volume of claims, we are just now getting this sorted out . To make a long story shorter, given the age of the building the insurance company required an asbestos test before the repair work could be done.
The plaster sample sent in for analysis came back positive, so the repair work will have to be done in an air controlled and contained environment according to regulations. This is referred to as Type 3 remediation, which allows for the most stringent air quality control. It includes sealing off the front reception area entirely, the Snow Lion room and hallway, for approximately four weeks. The work is scheduled to begin in October.
We are cooperating fully with all recommendations made by our insurance company to ensure a healthy environment is maintained for all who use the Centre. They have assured us there is no risk currently, while the asbestos is undisturbed. They will take strict precautions during the work, which will be regulated by an inspector who is a specialist in this area. It is very common to find these conditions in an older building, and there are standard processes to ensure that repairs are made safely.
Not all walls have been tested. Only the ones requiring repair have been tested and are being removed. We will have to plan for asbestos testing and remediation in any potential future renovations to the front end of the building. This work is currently being covered under our insurance policy, at no cost to us. The good news is that in the end, we will have a healthier building. During the work, people will have to enter through the wheel chair access ramp. Fortunately, keys to the front door also work for that side entrance.
Kitchen Renovations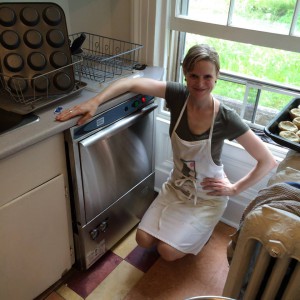 After consideration (and before the news of the asbestos removal) we decided to move ahead with the kitchen renovation full force! Having a new kitchen has been expressed as a shared community priority during countless conversations. Given the location of the load-bearing walls, it's become clear that if the design were to change to expand into the coat room or reception area the cost would increase quite a bit. Since we have money in the bank for this project specifically, we have decided to put it to good use. This renovation will benefit many and will be a great lungta boost for our community! We aim to complete the project by the end of September. In the meantime, there will be a makeshift kitchen upstairs with limited use. The short-term inconvenience will be well worth it in the long run.
We appreciate our members' dedication, support, and service as we ride this wave of transition!
~~
For more information, please visit the Halifax Shambhala Center website.
Post Tags:
Center News
,
Halifax
,
Shambhala on the Move