Saturday
Community Articles
Becoming Who We Want to Be: Toronto Shambhala
COLUMN: Shambhala on the Move
by Margaret May
This is part one in a two-part series on the transformation of the Toronto Shambhala Center.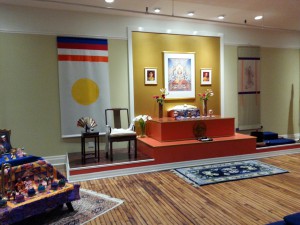 November 2012: Wendy Friedman (Director of Shambhala Culture and Decorum) and David Mukpo (Kusung Commander for the Dorje Kasung) are in town to lead an experiential workshop on bringing the court principle into everyday life. On the third floor of the building where the Toronto Shambhala Centre has lived since the late 1980s, a group of us stand on the landing outside a heavy orange door.
Wendy asks us to notice how it feels to stand here and to imagine how it feels for a person coming to the centre for the first time. We step through the door (it is heavy isn't it?) and see a black lacquered nook with a shelf and a photo of a smiling man in robes. Below the photo is a lovely arrangement of flowers; to the right, a wall with double yellow doors and elaborately painted borders. We struggle to manoeuvre around a very large desk covered with books. We pass a door and then a hallway stretching away and down a wider hall where double doors suggest another room.
Wendy asks us: What does this feel like? What is this big black shelf with flowers on it? Who is that? What does this calligraphy mean? Do you have to give money to come here? What are these books on this big desk? What's behind those doors? Can I go in there?
We're only five steps in and already we can see how confusing and inaccessible the centre seems. And we thought the only accessibility issues were the two flights of stairs and no elevator! We continue through the entire centre. Is this Toronto or Tibet? What is Shambhala? Why are the pictures faded? Why are there two of the same image—is one not strong enough to speak for itself?
For at least a decade, many community members felt the change the centre needed was to buy our own building. Suddenly there was another path to change—something we could actually accomplish. Wendy challenged us: "If you want to create something meaningful, you have to make it look like what you want it to become." And so we began to open ourselves to a fresh experience of what was oh-so familiar and so unchanged in a very long time.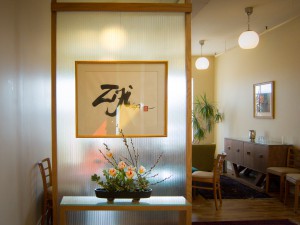 January 2013: Stephen Vosper, chair of The Sakyong's Panel on Shambhala Environments, leads about twenty of us in an exploration of the environment through the principles of lha, nyen, and lu; heaven, earth, and man; outer, inner, and secret. We sit, walk, and stand throughout the centre. We feel each room, corner, and space, noticing where we feel connected (or not). We open up to understand the dynamic energies in the relationships we each have with this environment.
We thought we needed more space, more storage, and more kitchen. Then we noticed how the space we have is poorly used and very cluttered! A large closet by the front door is used to store cleaning supplies, ladders, and paint cans; the doors to the community room nearly prevents people from getting in or out; a massive desk we use as our "bookstore" blocks the entrance. A large trestle table and grubby sofas pressed up against the walls make it awkward for people to talk to each other.
In groups we tackle specific areas where we can play around and discover how moving, removing, or adding something different changes how the space feels. We are redefining space and noticing more details. We carry things from room to room and even throw some things out. Stephen says it's not about throwing away treasures but knowing where they belong. He also shares the Sakyong's view on manifesting a Shambhala environment—the need for food, conversation, and meditation—and his own understanding of the history and meaning of some of the symbols and interior architectural elements in our shrine rooms, which date back to the late 1980s.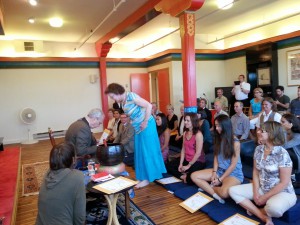 Shortly after Stephen's workshop we form the Sacred Spaces Team, charged by the Council to come up with a plan to renovate our space. We start decluttering by emptying and reorganizing closets and cupboards. We innovate new storage space without adding walls or cabinets. We give items away. We consult with the community, inviting everyone to share their wish lists. There's a notebook for comments and a mural outlining the process and possibilities. Markers and sticky notes are nearby so people can join in the conversation as they comment on ideas, floor samples, or wall paint. People share ideas over tea.
The working group's process involves revelations on multiple levels. We explore ideas and discuss feedback (improve the lighting! paint! new floors! get rid of the frayed carpet and sagging sofas!). We concur, then reconsider. Doubt arises and feelings get intense.
But we agree on the principles and the vision. We want the space to be welcoming to everyone, as well as accessible, comfortable, and intuitive. We want it to make sense to people coming to the centre for the first time. We want to eliminate barriers, both physical and symbolic, and manifest kindness. To realize our aspirations for the space, we on the Sacred Spaces team recognize we have to apply these principles to our interactions with each other. We sit with each other, feeling what we feel and sharing it—being kind to each other in the midst of intense feelings.
What is the Earth expression of this Heaven we envision? It takes time to figure it out. Everyone has a different priority. We realize that we have to carry out the plan in phases, focusing first on the community spaces—entrance, community room, coat room, and bookstore. But it is an entirely other activity to actually join Heaven and Earth. We bring in samples and then more samples. We so want Stephen to just tell us what colour to paint the walls! It depends on the light, he says. We have to trust ourselves. We get stuck. We learn how choosing the flooring is a key for the colour palette. We get more playful. We go shopping. We keep asking how things feel when it comes to paint colours and lighting options. And then we roll up our sleeves and start the work.
It takes two weeks to demolish, rebuild, repaint, and reopen. With a crowbar in his hand, a founding member asks more than once, "Are you sure we want to take this down?" Yes. We're sure. Then he leans into the task and pulls the Tibetan-inspired decoration off the wall. There are over thirty volunteers and one contractor. The new furniture arrives. We welcome 80 participants to Rigden Weekend into our new space. The community celebrates at Harvest of Peace.
~~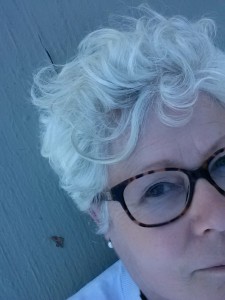 Margaret May is a student of Sakyong Mipham and is active in three of the four pillars of Shambhala. She currently holds the position of Director of the Toronto centre, where she feels honoured to be part of a community inspired by the Sakyong and the Shambhala teachings. Being involved with the Sacred Space Team was a delightful experience for Margaret—particularly in terms of learning that when one lets go, brilliance arises. She is thrilled by the spontaneity and joy of her three- and one-year-old granddaughters. Margaret worked in the cultural sector for 30 years, more than half of which as a planner for an international museum-planning firm.
Post Tags:
center renovations
,
Shambhala on the Move
,
Toronto
,
Toronto Shambhala