Monday
Featured Stories
Shambhala is on the Move!
A summary of recent moves and renovations occurring across the Shambhala mandala. Did we miss your Center? Let us know!
Ottawa Shambhala's "Recentering"
Phase one of our "Recentering Project" is complete: the lease is signed for our new Shambhala Center at 119 Ross Avenue. Now, in phase two, "Creating Space", we are renovating our beautiful new space and preparing to pack up and move.
We removed an interior wall and ceiling, and we are excited as we wait for the design plans and the first new colors and furniture. We invite members and friends to get involved in creating our new space. Many opportunities await you. Click here for photos.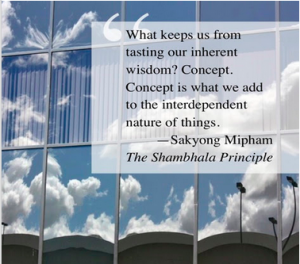 Washington DC Shambhala Center Expands
Have you ever thought, "There's a lot more we could do if only we had additional space"? Well, good news! We just learned that the apartment directly above our center will soon be available.
The Council is abuzz about the possibilities of this space. Center members agree. Forty percent of members responded positively. We enjoyed a lively exchange of ideas and plans about this project on Shambhala Day, including a virtual tour of the space.
Moving along with awakened energy, the council voted unanimously to lease the space for a year, with the option to renew, beginning April 1st. We are heartened to move forward in the year of the Wood Horse. As one recent commentary on the energy of this new year put it: "Group actions of all types should have a special energy this year, and it is a good time to follow through on ideas that arose during the more introspective Year of the Snake in 2013. It is also an auspicious time for breaking through obstacles on all levels."
Dallas Shambhala's New Virtual Face
Have you visited the center's website lately? New and beautiful things are happening to our virtual face to the world.
In more concrete news, the Center is preparing for its big move in May 2015. Please help us buy our next location by donating to our capital campaign here. The San Antonio Shambhala Center recently purchased their first property and has renovated it to meet their needs. See the inspiring video here. We can do this!
St. Petersburg/Tampa Shambhala Meditation Center's Moving Pizza Party
On the evening of Feb. 10th we moved everything out of the shrine room in preparation for a complete renovation of our sacred practice space. We appreciated the help of everyone who came to lend a hand during this exciting time for our center. And the pizza was good! See our website for more information by clicking here.
Vancouver Shambhala Center's Touches
For 35 years people have been walking through the cherry blossoms on our quiet street and into the Vancouver Shambhala Center. Now, with Phase 1 of renovations complete, you walk in the door and notice the spacious and welcoming feeling that came from taking a wall and door down. You may hear the new dishwasher humming away in the refreshed and renewed kitchen, and notice the cleaned out cupboards. You see the new 108" Douglas Fir sliding doors that allow the community room to double in size.
The gold carpet in the shrine room – where Chogyam Trungpa Rinpoche discovered a terma (a hidden treasure teaching) in 1978 — is the harbinger of the upcoming Phase 2 of renovations. Soon walls will be painted, fundraising will allow for new furniture and lighting fixtures, and final touches will be made.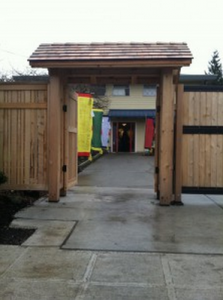 Seattle Envisions More Space
The Seattle Shambhala Center is bursting at the seams. Our shrine rooms are crowded with new and old practitioners. Multiple events compete for space on the same day. Our practice and community are attracting a lot of interest.
We have talked for years about opening an additional space, but our discussions never have reached fruition. Now, it may be time for Seattle Shambhala to blossom.
A leadership group met this winter to clarify our goals for a new, larger rented space. We documented our aspirations in a statement that everyone is invited to read (click here). More recently, Joann Schindler and Adam Feuer led another group to clarify how we can move forward as a community in an inclusive and invigorated way. We developed a list of qualities we hope to feel as the process unfolds, including: openness, generosity, abundance, bravery, and magic (click here for the full list). The participants formed three teams: community involvement, fundraising, and a real-estate search team.
On Sunday, March 9th, we continued this vital process with a facilitated community meeting. Together we are engaging in visioning a growing, and sustainable space for Seattle Shambhala. See more by clicking here.
~~
If your Center is working on a renovation, move, facelift, or other development, we want to know. Once you have gained momentum and financial support, we encourage your Center leadership to use the Shambhala Environments website to help you begin to develop a clear vision of the space you are looking for, and the best path towards finding it.

Shambhala Times would like to thank James Northcote for keeping us up-to-date on these developments, and Mona Barbera for volunteering her editing skills to drafting this article. We couldn't do what we do without our amazing volunteers!
Post Tags:
Center News
,
Dallas
,
Ottawa
,
Seattle
,
Shambhala on the Move
,
St. Petersburg
,
Tampa
,
Vancouver
,
Washington DC