Saturday
Scene and Heard
Movin' and Shakin'
COLUMN: Shambhala on the Move

A summary of recent moves and renovations occurring across the Shambhala mandala. Did we miss your Center? Let us know!
Asheville, North Carolina
We are at our new location in Reynolds Village! The address is 60 North Merrimon Ave, #113. This location was previously occupied so there are already interior walls and flooring. We began meeting in Reynold Village on Sunday August 16th. Mindfulness meditation practice will continue on Sundays from 10am to noon (come for any part or all), and Thursdays from 7:00 to 7:45pm followed by a dharma reading and conversation while we upgrade the space. Everyone is welcome. Meditation instruction is available. Please come by and check it out!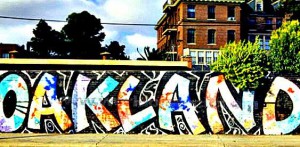 Berkeley and Oakland, California
We are delighted to announce the opening of a new Shambhala weekly sit in the Temescal neighborhood of Oakland! Many of our members have expressed the desire for a regular sitting group in Oakland. We are curious what natural connections Shambhala practitioners can make in Oakland, and we hope that this satellite will provide significant opportunities to support people and projects with a similar social vision.
Northern California Shambhala, the San Francisco and Berkeley Shambhala Centers are co-partners backing this project. The Ziji Collective will host the weekly open house, with the intention of creating a culture of inclusion and warmth. After considerable research and discussion, a search committee representing these various organizations has settled on the Temescal Arts Center (511 48th St, Oakland) as the best place to launch this group. A ten-minute walk from the MacArthur BART station, in a busy, commercial neighborhood, we envision this vibrant, accessible space attracting numerous meditators of diverse backgrounds. Please check out our Facebook page for latest events, news, and musings.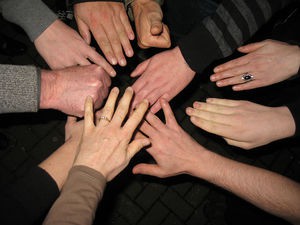 Birmingham and Huntsville, Alabama
The Birmingham Shambhala Center has gathered volunteers to help a Huntsville location open up. Bill and Carol Elliot of Huntsville have been working to remodel two older Victorian homes, one of which will be the Shambhala loction and the other will become a wellness center where they plan to offer massage therapy and other wellness-related services. Director of the Birmingham Center, Tonya Veitch, said the Birmingham Center hosts 100-200 people each week for meditation and other activities, including recovery outreach, youth programs and social justice campaigns. More than 1,100 people receive the center's email newsletter.
"Huntsville will be its own center," Veitch added, "but we are happy to help them with support and encouragement. From my discussions with Bill, he believes Huntsville is a great fit for the Shambhala teachings, and we will help them anyway we can."
Anyone who is interested in helping support the opening of the new Huntsville center, may contact Kelly Phillips by email at: [email protected].
"We're really excited about this because there's really nothing like Shambhala in Northern Alabama," Phillips said.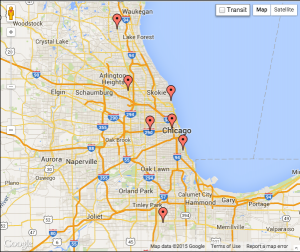 Chicago, Illinois

The Shambhala Center of Chicago has several new locations in the Chicagoland area. We encourage you to visit any of our locations during open hours.
Main Downtown Center | West Loop
Shambhala Chicago's main home is located in downtown Chicago, Illinois. The space was purchased last year and has completed renovations.
37 N Carpenter
Chicago, IL 60607
Edgewater (Northside)
6361 N Broadway
Chicago, IL
Hyde Park (Southside)
The home of Ira Abrahms & Rachel Krucoff
5441 S. Kenwood Ave., Apt. 3 (top buzzer)
Chicago, IL 60615
Des Plaines, IL (Northwest)
St. Martin's Episcopal Church
1095 East Thacker Street
Des Plaines, IL 60016
Oak Park, IL (Near West)
Hug the Moon Wellness Studio
350 Harrison St
Oak Park, IL 60304
Libertyville, IL (Northern Suburbs)
American Legion
715 N. Milwaukee Ave
Libertyville, IL 60047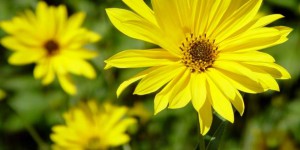 Halifax, Nova Scotia
With the move of Shambhala International to new headquarters, the Halifax Shambhala Centre has an opportunity to make changes to the physical environment as well an opportunity to re-envision our community's path going forward.
The Strategic Planning Committee (SPC) was formed to facilitate the process of determining priorities in Halifax based on the Sakyong's wishes for all centres to turn the flower outwards, and shift to more of a cultural center based on the principles of basic goodness. While nurturing the activities of the Shambhala community, our centres would also be an inviting space to host others in the Halifax community interested in creating a good human society, and a seat from which we can go out into the community.
The SPC has been meeting for several months. The members of the committee are representative of our community – younger and older students, various practice levels, different areas of expertise, and also include HSC staff. Its mandate is to develop the vision for the centre (its activity into the future, within and beyond the centre space), the building configuration that will best serve that vision, and the revenue generation methods to support it. From this work, the strategic planning commiittee will create a proposal to be submitted to the Sakyong and Kalapa Council for approval. See more on the Facebook page here.

New York, New York
Thanks to the support of members and friends, the Shambhala Meditation Center of New York has renewed our lease and committed to staying another five years in our large and beautiful center on West 22nd St in Manhattan. This spring we embarked on a REFRESH CAMPAIGN to invigorate our space and make it more comfortable, inviting and useful for our current and future needs.
A small army of talented volunteers and professional community members have come together to paint walls, redesign decor, hand build new furniture, replace worn cushions, refinish hardwood floors, reorganize the space and much more. These changes reflect our desire to energize our community and pave the way for many exciting new initiatives and programming at the Shambhala Center in the coming years.
Donate to their REFRESH CAMPAIGN by clicking here.
Santa Rosa, California
In an effort to discern the direction the center wants to go in, Santa Rosa recently held their 2nd Community Activate Gathering.
After presentation of the results of the 1st Community Activate Day, there was a good deal of discussion about the Catch 22 we are in:
1) How do we decide on the kind of place we are looking for without first knowing what kinds of programs and activities we will be creating for our center?
2) How do we create the programs and activities without having a center that makes it possible to develop the programs that would characterize our new center?
After coming to a recognition of this dilemma, people collectively came to the conclusion that the Masonic Lodge had a lot to offer us as a temporary space; and that we should embrace and appreciate that, and take full advantage of our time here to gather our resources, raise our energy to serve our existing community and magnetize new members – to do this through our programs and by creating and offering inviting community-based activities. At the same time, our intention would be to raise considerable funds to find and relocate to our ideal center, whether it is a long-term lease or purchase.
"Kinspiration" groups were identified and people signed up to participate in one of the three groups:
– Programs we might develop/offer
– Community Outreach to bring new people/members in
– Fundraising and Financial/Business Planning for our new center
In many ways it feels like we are off to a good start in terms of offering programs and maximizing the space. We have a number of programs planned for the Fall to energize the center activity.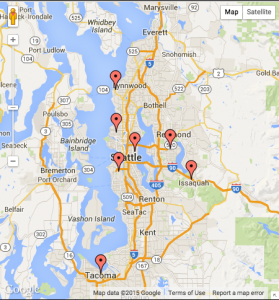 Seattle, Washington
Seattle Shambhala offers group sitting, discussion, and meditation instruction around the Seattle area in multiple satellites, as well as in our main location in Madison Valley.
The Seattle Shambhala Center's main location is in the Madison Valley neighborhood of Seattle:
3107 E Harrison St
Seattle WA 98112
Eastside Shambhala Meditation
Eastside Shambhala hosts group sitting, discussion, and meditation instructions Tuesday evenings in Redmond at the Dream Clinic
15436 Bel-Red Road,
Redmond WA 98052
Issaquah Shambhala Meditation
Issaquah Shambhala Meditation hosts group sitting, discussion, and meditation instruction Wednesday evenings in Issaquah.
Village Green Yoga Studio (upstairs)
Gilman Village
317 NW Gilman Blvd,
Suite 2,
Issaquah, WA
Ballard Shambhala Meditation
Ballard Shambhala Meditation hosts group sitting, discussion and meditation instruction Tuesday evenings in the Ballard neighborhood of Seattle.
Soma Yoga Studio
1423 NW 70th St
Seattle WA 98117
West Seattle Shambhala Meditation
West Seattle Shambhala Meditation hosts group sitting, discussion and meditation instruction Tuesday evenings in West Seattle across from the Delridge Community Center and Skatepark.
Youngstown Cultural Arts Center
South Classroom
4408 Delridge Way SW
Seattle, WA 98107
Edmonds Shambhala Meditation
Edmonds Shambhala Meditation hosts group sitting, discussion, and meditation instruction the first Wednesday evening of every month in the town center of Edmonds, a few minutes away from I-5.
Innate Health Clinic
420 5th Ave South, Suite 103
Edmonds, WA 98020
Tacoma Shambhala Meditation
Tacoma Shambhala Meditation hosts group sitting, discussion, and meditation instruction every Tuesday evening at the Good Karma Center for Joy in downtown Tacoma.
Good Karma Center for Joy
711 St. Helens Ave.
Tacoma, WA 98402
See more online by clicking here.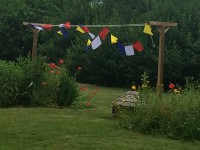 West Chester, Pennsylvania
Still Seeking a New Space for Our Group!
Earlier this summer, we announced that we would be moving to a new space. Unfortunately, a combination of contingencies leads us to conclude it's better to wait to find a larger space. We would have been taking on a four-year lease in a space that we would likely outgrow in less than four years. Of course a healthy community is a good sort of problem to have. We will continue to hold classes and sittings with our generous hosts at West Chester Friends Meeting.
Shambhala Times would like to thank all the centers for sharing their news and James Northcote for keeping us up-to-date on these developments. Thank you also to the great work being done by the Shambhala Environments team! We couldn't do what we do without our amazing volunteers!
Post Tags:
Asheville
,
Berkeley
,
Birmingham
,
Chicago
,
Halifax
,
New York
,
Oakland
,
Santa Rosa
,
Seattle
,
Shambhala on the Move
,
West Chester